Profile on our CEO, Dr Silvia Pfeiffer
This article first appeared in DigitalHealthX and is re-posted here with approval.
Hi Silvia, Thanks for taking the time to talk to DigitalHealthX. We're excited to share your journey and of Coviu. It's great timing as you've also just released your new book "Beyond the Clinic".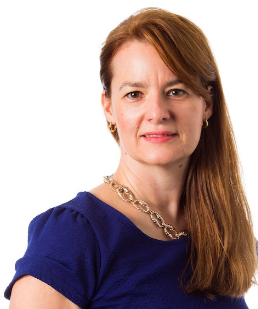 Tell us about your background, you've had a mix of research and commercialisation experiences over your career with Vquence and now with Coviu, always in video, and have also published several books on video standards.
I studied Computer Science and Business Management in Mannheim, Germany and then did a PhD in Computer Science. Some of my publications in international journals found an interest by CSIRO so I was invited for a PostDoc. Australia's charm and the complications of the DotCom bust made us decide to stay in Australia. My research was always in video and standards - I became involved in MPEG and then decided that video needs to be a native citizen of the Web, so created a video search engine, which we spun out of CSIRO in 2006 into a company called Vquence. I continued to be involved in standards, now at the W3C because we needed a native video capability on the Web. This made me work for Mozilla and Google and become a co-editor of the HTML5 specification. I even published two books on HTML5 video. My work contributed to the universal availability of video now - the likes of Netflix, YouTube and Brightcove would not be what they are doing now without our standards. Even today I still contribute to the Web captioning standard WebVTT and of course real-time video WebRTC.
What did you learn at Vquence (your first startup) that has helped you with Coviu? What's your advice to entrepreneurs on their first startup?
At Vquence, we made all the mistakes in the textbook. You have to understand: I was a research scientist with an interesting idea that was indeed ready for the market, but I had no idea about how to create a business, no idea about how to sell, create a product, the legal environment or even accounting. I had to learn it all. The environment in Australia also wasn't ready for startups - the kind of help you get now as a founder didn't exist. On top of this, we created a product that was ripe for the US, but Australian companies were still very hesitant. My advice to entrepreneurs is to start your company with a paying customer - if you can't find one, keep tinkering in private.
What is Coviu? And why is it more than a TeleHealth platform?
Coviu is a business tool for healthcare practices with the goal of making telehealth a new source of income. A traditional telehealth platform provides video calling functionality, mostly with a focus on hospitals. Coviu takes telehealth to the next level. We do this in three different ways:
We make the patient experience as simple as possible - patients receive a booking invite via email and just need to click on a link to join a video visit - there's no software to install and no service to sign up for.

We make video visits a business tool by providing workflow integration and transaction support for the practices, such as the support of online appointment bookings and remote credit card payments. This makes practice administrators and owners very happy!

Finally, we make the clinician experience as simple and as rich as possible - clinicians just sign in and click on a link to join a booked video call.
Most importantly we offer rich digital tools for clinicians to make the online consult even better than the in-person consult. This is done through an add-on marketplace where Coviu and Coviu's partners publish tools for medical specialisations. This may include standardised medical assessments, medical questionnaires, or increasingly artificial intelligence based tools that use computer vision and audio analysis to measure and monitor body functions.
Who was your first big customer? How did that happen? And what hurdles did your technology have to cross to meet their requirements?
Our first corporate customer was Ramsay Healthcare. I simply reached out to them via LinkedIn after reading that they had an interested in digital transformation. I met with their IT manager and we discussed their challenges. They decided to explore the use of Coviu and telehealth on a couple of different projects. This was very early on in the development of Coviu and I credit them on their patience! Now, a number of teams are using Coviu in Ramsay Healthcare frequently, mostly for multi-disciplinary team meetings.
The hurdles we had to cross were both technical and regulatory. We had to fill in a lot of forms to confirm that we are conformant with their security and privacy requirements. We also did a number of custom developments, including a translation of the user interface into French, because of a collaboration they wanted to support into New Caledonia.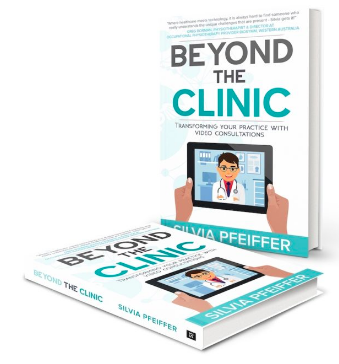 Tell us about your book "Beyond the clinic", what inspired it, and how do you see it shaping the industry in future?
My new book is about to be launched at the Wild Health Summit on the 20th November in Sydney. It's called "Beyond the Clinic" and is now available on Amazon. It focuses on giving healthcare businesses a framework to follow when introducing video visits to their business and takes them through the steps to make it a sustainable success. We've learnt from many of our customers and have also seen a couple of failures, so wanted to put the learnings and the recipe for success into the hands of more clinicians and healthcare businesses. My hope is that it will help the healthcare industry lose its fear of telehealth and start embracing video visits as just another successful means of delivering healthcare to patients.
Telehealth has been a technology that was ready for healthcare over a decade ago through SMS, phone calls and video. In economies without high-speed internet, it has been a major force for improving access. In Australia, how has the regulatory landscape shifted recently?
In economies without high-speed internet, SMS and phone calls do indeed work - video visits are very rare there because of the poor state of their Internet. Though with the introduction of 4G a 5G, that's now changing and they may even leapfrog western countries stuck in their old way of thinking and old way of reimbursing for healthcare.
Video visits are Coviu's focus, because they provide the best possible information for clinicians to triage, diagnose, and treat patients. Other systems focus on SMS, text chat and phone calls, but Coviu wants to make online consultations better than being there.
We easily forget the state of technology a decade ago - it really wasn't viable to deploy video visits to patients directly back then.
Three things had to come together to make this work:
Video quality: Telehealth services require high-quality video pictures for clinicians to triage and diagnose patients. High-quality video pictures used to require a larger amount of bandwidth than the standard Internet would provide - e.g. the CSIRO VICCU project required 30 Mbit/s to connect an emergency room in Katoomba Hospital to the experts in Nepean Hospital at a time when home Internet would provide only about 200 Kbit/s. Modern codecs are able to deliver high-quality video pictures at much lower bitrates - HD video is delivered at 1-5 Mbit/s and the latest 4K video at 15-25 Mbit/s.
Internet bandwidth: Connecting to people's homes requires first of all everybody to be on the Internet and secondly to have sufficient bandwidth. Only recent years have seen quasi-universal uptake of Internet connectivity by end users because everyone now owns either a mobile phone or a tablet with Internet connectivity. At the same time, efforts such as 4G connectivity, NBN connectivity, the launch of several new satellites, and more recently the introduction of 5G connectivity are finally providing near-universal high-bandwidth Internet access anywhere in Australia.
Software solution: It's not sufficient to have video connectivity - you need to build an actual business software solution for practices before telehealth becomes viable as a business service. That includes the ability to book a telehealth consult online, hold telehealth customers in waiting queues before they can be triaged or attended to, and make them pay for consultations. Such software used to be difficult and expensive to create, because of the patent situation around codecs, the small number of companies that were developing and licensing such technology, and the huge effort required to support users that were experiencing trouble with their connection. Coviu is built on a new technology called WebRTC which addresses all these issues - and our team were actually involved in creating this standard back when we were still working at the CSIRO.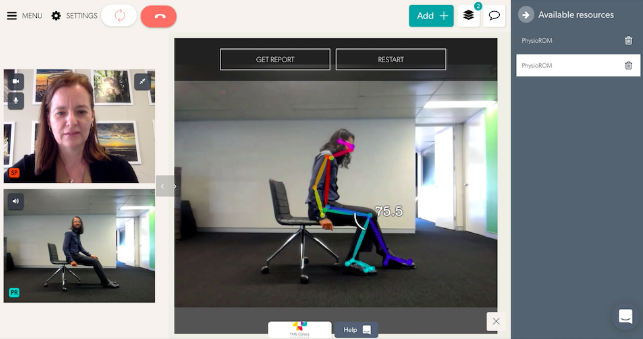 What other economies are really adopting Video for TeleHealth and do you see Coviu growing into other countries?
Video visits are seeing a lot of adoption in the USA and China and increasingly in Europe. All countries are trying to figure out the reimbursement side of things, but China with its centrally focused decision making has been able to make the largest changes recently and adopt video visits as a core means of delivering services in their hospitals.
At HIMSS AsiaPac 2018 I was amazed to see the changes China has made in just the last couple of years. Their example hospitals - which are servicing millions of Chinese citizens every year - have worked towards the goal of "Making data travel instead of people". Many hospitals have created a separate Internet Hospital entity that is using their existing clinicians to provide outpatient services via telehealth. All of this is built on integrated EMR systems, which are hooked up to all patient touch points, including WeChat, mobile apps, medical devices and even in-hospital kiosks. This has led to a massive reduction in patient wait time, an ability to track schedules down to the minute, and a huge increase in patient satisfaction. Telemedicine is accepted by 97% of patients. China's challenge is now to reach the smaller rural hospitals with these changes.
What have been some of the toughest moments in building the company and spinning out from CSIRO?
There are many tough moments in a startup, and particularly in a spinout project. You worry about whether CSIRO will continue to fund a project beyond its research stage and allow it to prove the commercial market, which is necessary when looking for investment. You worry about getting all the paperwork and approvals in place from CSIRO. You worry about getting the right team together. You worry about the progress of technology development - you can imagine new functionality faster than you can build it. You worry about giving customers the best possible support and the best possible solution. You worry about the business model and competitors and IP management and legal documents. You worry about getting the right partnerships.
I would say, raising capital has most certainly been the toughest part of creating a spinout from CSIRO. I pitched for many months to many people - finding the right partner who believes with us in the future of telehealth and the vision we have for the industry was hard. We're so excited to have the right investors on board that are supportive and mentor us really well.
Do you think Australia is competitive in its global technology innovation rate, in terms of spin-out from research? What commercialisation models have worked overseas that can really enable spin-out formation in Australia in your opinion?
There are a lot more excellent innovations in CSIRO and our Universities that are commercialised. The commercialisation models are no different for us than they are overseas: licensing, spinning out, open sourcing are really the three key approaches. We don't have a problem in determining commercialisation models. What we have a problem with is supporting the process of commercialisation.
Focusing on spin-outs alone: we need to encourage researchers and engineers to take technology and create a new business both by giving them fair shareholdings on their new businesses as well as giving them speedy processes and funding to get started. We need to match researchers and engineers to the right sales and business development managers that understand the business domain and how to sell and grow a business - or we need to train up the researchers/engineers to do this themselves. Some of this is starting now in Australia through accelerators, mentoring models, government grants and peer support networks. But we're about 10-15 years behind the US on this, so it's not surprising that it takes time to get this right.
Coviu has been winning some awards recently …
Yes, we've won a couple of really interesting awards:
HealthHack 2017 in Sydney

created a relationship with a Canberra company called Thaum (https://thaum.com.au/), who are doing machine intelligence consultancy. Together, we developed what we call PhysioROM - a range-of-motion calculation algorithm for live video calls, which won HealthHack 2017.

An improved development of PhysioROM working in the browser in a live video call just won us the

Innovation Challenge at HIMSS AsiaPac 2018

.

On 1st November 2018 I won a

Special Recognition Award of the Pearcey Foundation

- this is a peer-recommended award offered by successful entrepreneurs in the ICT industry to their peers and I was stoked to be part of such an amazing line-up this year.

Our team also participated in

HealthHack 2018 in Brisbane

and won with an AI approach to automatically translate sign language.
It's been an amazing year!
What exciting areas for growth do you see at Coviu in the next year?
Coviu's focus for the next year is on integrations. We'd like to partner with more companies to bring more interesting tools into video visits. This includes both workflow tools - such as practice management software - as well as clinician tools - particularly as diagnostic and therapeutic tools similar to PhysioROM. Part of this will also be regulatory work that needs to be done - and we'll be looking towards more investment to get this done. We're enabling increasing numbers of healthcare businesses with video visits across Australia and will enter international markets.
Thanks so much for your time Silvia. We wish you great success!