Coviu Case Studies
Learn how healthcare organisations are using Coviu to improve their businesses and continuity of care.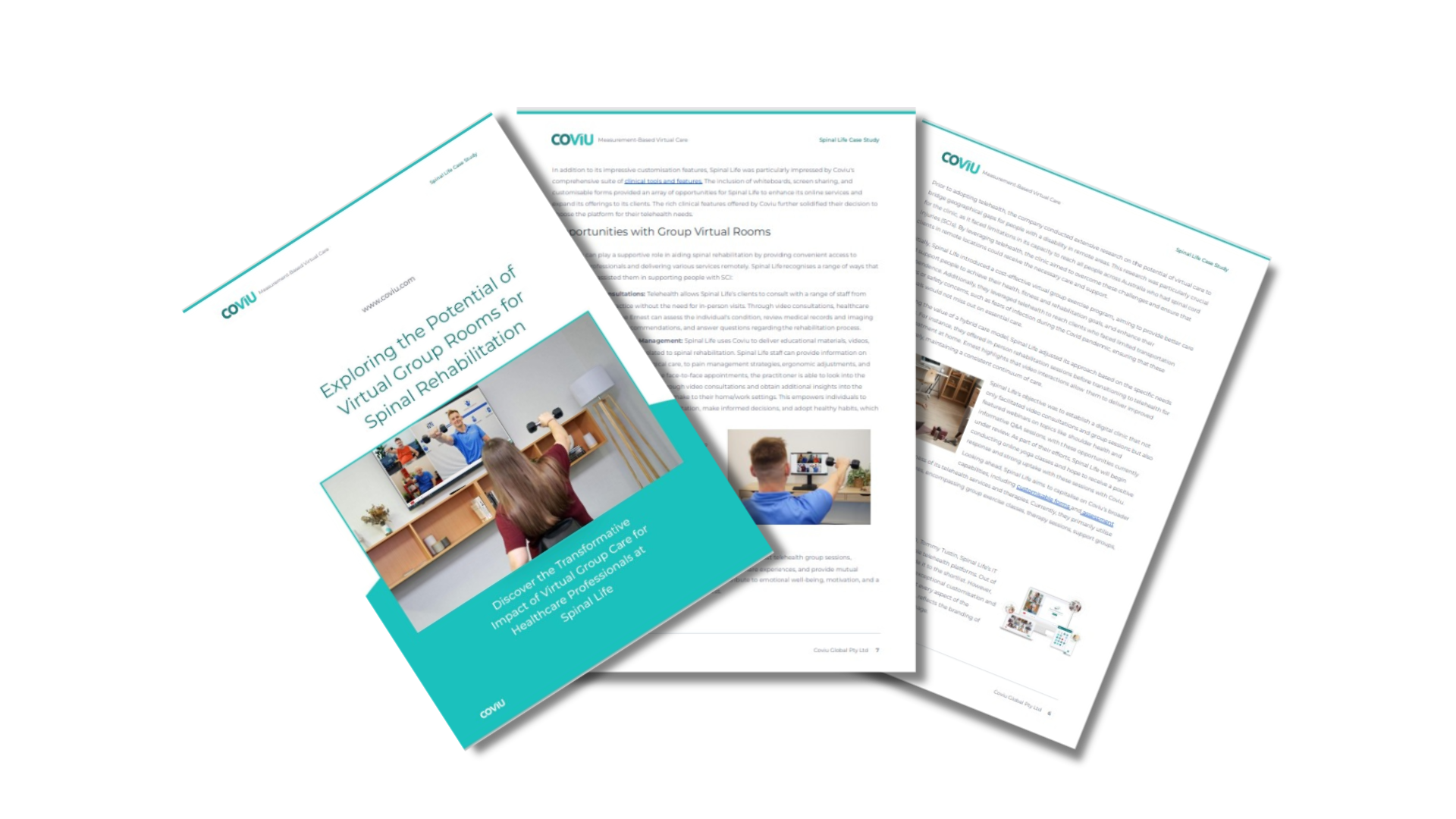 Case Study - Spinal Life
Exploring the Potential of Virtual Group Rooms for Spinal Rehabilitation
Coviu's recent case study discusses how Spinal Life Australia is enhancing its mission to bring substantial and meaningful enhancements to the lives of individuals with physical disabilities through virtual group rooms. Coviu spoke with Ernest Starowicz, an Exercise Physiologist at Spinal Life, who shed light on Spinal Life's experience with the virtual care platform.
Success Story - Plant Medicine
Alternaleaf - Transforming Access to Plant Medicine through Telehealth
Alternaleaf's Imogen Phillips discusses its telehealth client management platform that supports its mission to improve patients' access to medical cannabis. The clinic recognised that many clients faced barriers when discussing plant medicine openly with their doctors due to factors such as lack of education or societal stigma. Therefore, the goal was to create a streamlined process for patients to access medical cannabis and receive appropriate medications. Download Alternaleaf's story today to learn how virtual care could work for your clinical practice and reap the benefits.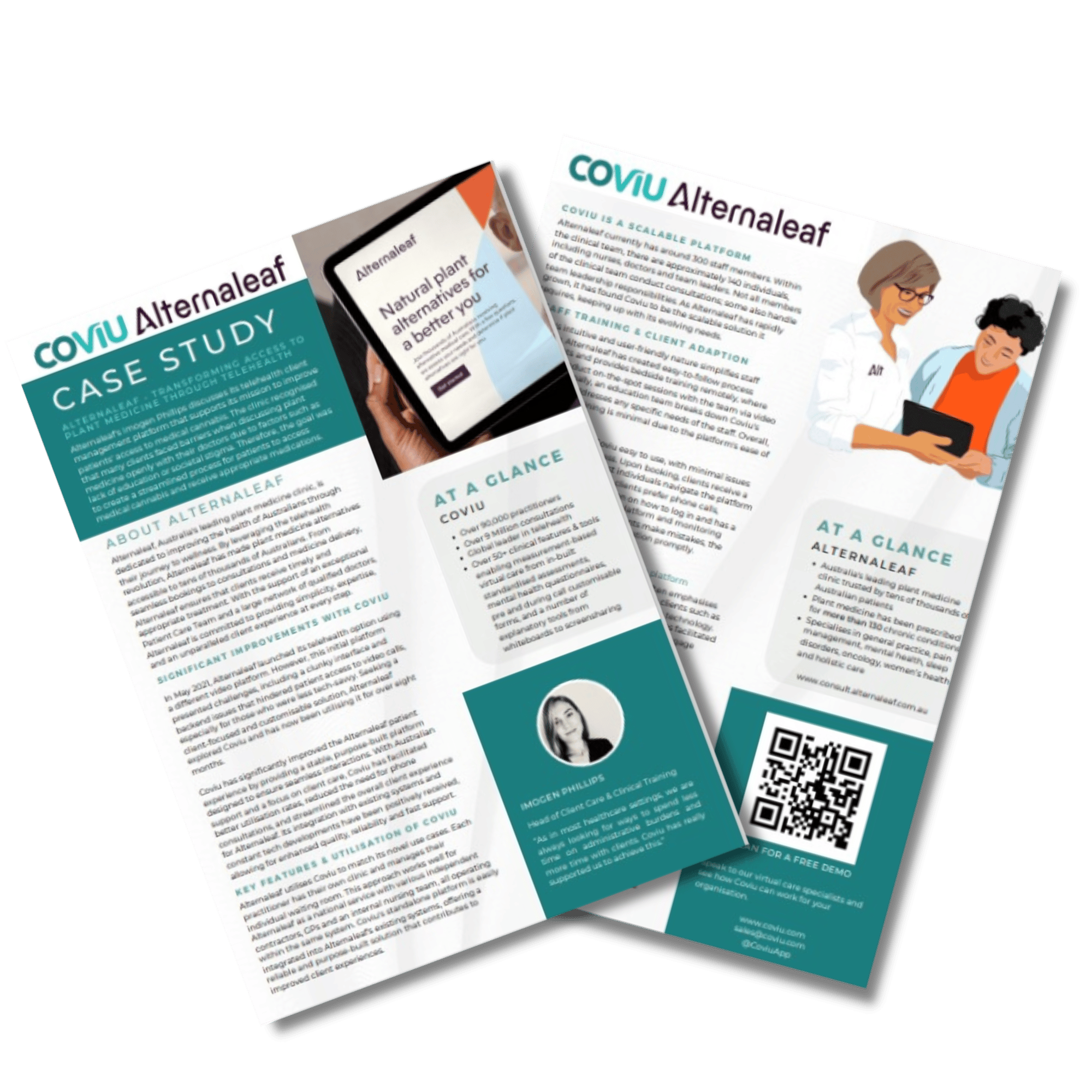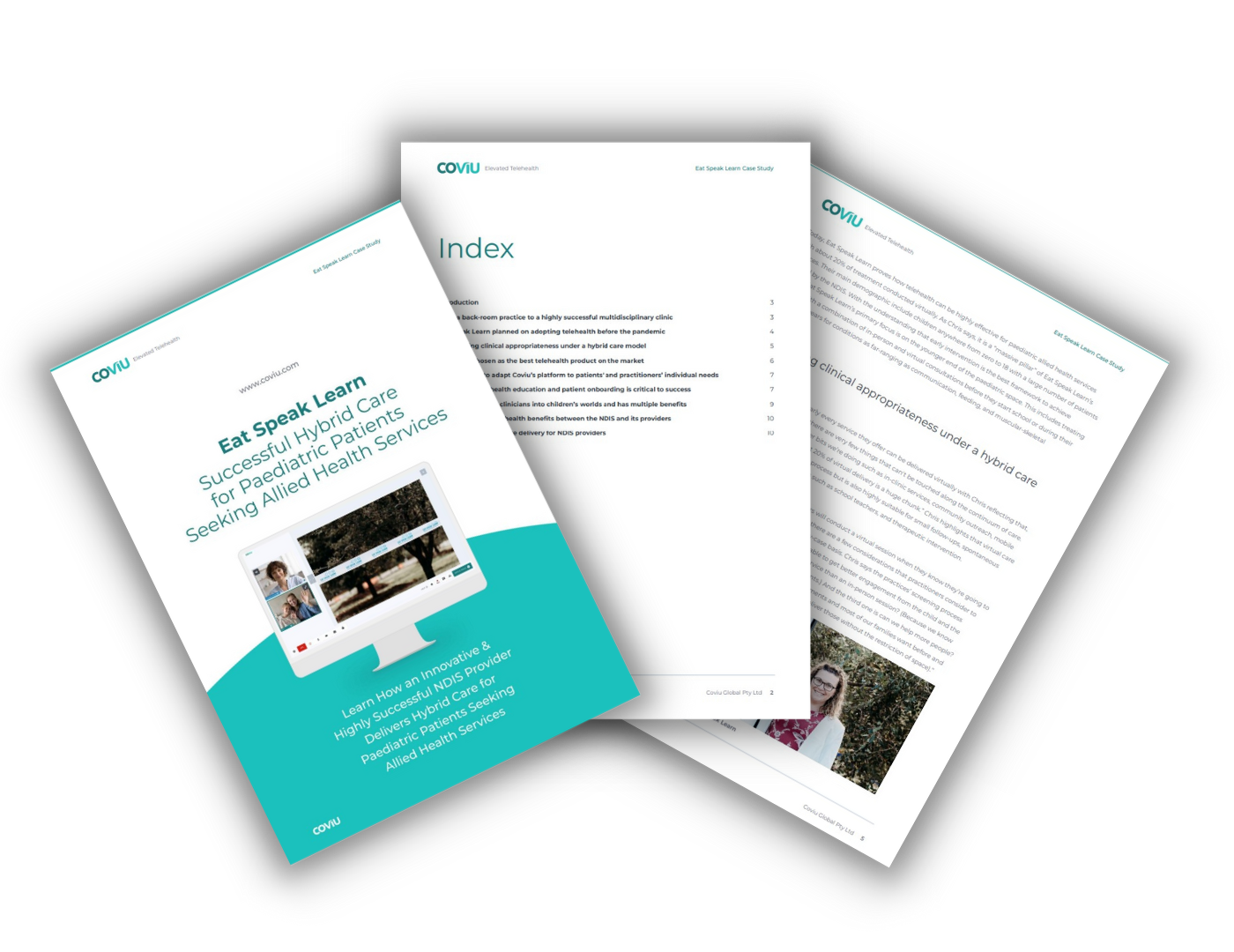 Case Study - Eat Speak Learn
Eat Speak Learn: Successful Hybrid Care for Paediatric Patients Seeking Allied Health Services
Apart from the clinic's unique practice of recognising patients' achievements in a form that is not only tangible but gives back to the environment and community, Eat Speak Learn stands apart as a leading example of an NDIS provider successfully delivering their services under a hybrid care model. With a mantra that 'almost every service can be delivered under a telehealth model provided clients are well supported in the virtual environment', Co-Founder Chris MacDonald, shed light on the huge success the company has had with Coviu's virtual care engagement platform.
Case Study - Pearson Assessments
Benefits and Challenges of Delivering Pearson Assessments Remotely
In-built clinical assessments are creating new opportunities for healthcare. Coviu explores how its ongoing partnership with Pearson Clinical has opened up a range of new possibilities for clients and allied health providers through virtual care. But like anything, these opportunities are not without difficulties. The case study weighs up the science, features, benefits, and challenges of the Pearson assessments available through the Coviu elevated telehealth platform.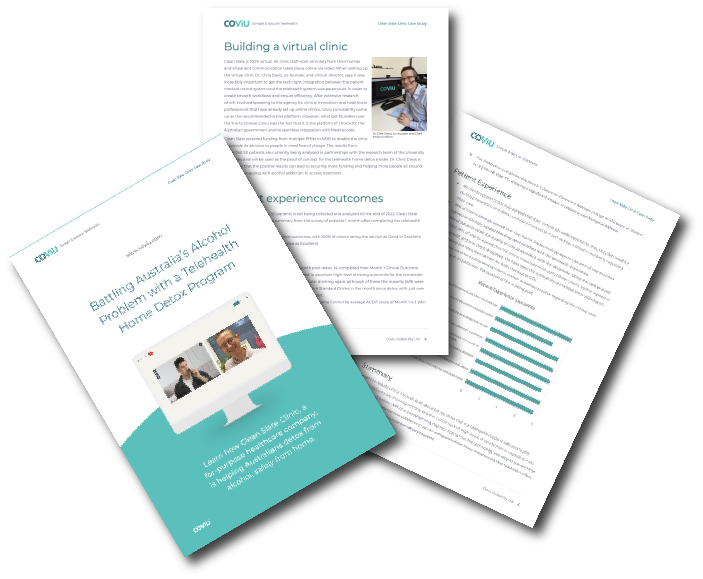 Case Study - Addiction
Battling Australia's Alcohol Problem with a Telehealth Home Detox Program
The Clean Slate Clinic is a Telehealth program that supports Australians to safely undergo alcohol detox from home. Since establishing at the beginning of 2021 over 50 patients have successfully undergone an at-home alcohol detox program completely via telehealth. This new model has proven to be safe, effective, and convenient, making alcohol treatment widely available to all who need it, regardless of their location.
Case Study - Virtual Training
Web Coaching at Organ and Tissue Authority - Up-skilling Clinical Staff with Virtual Role Plays in Coviu
At the start of 2021, the Australian Government's Organ and Tissue Authority (OTA) launched a virtual training program for over 600 Donation Specialist Nurses nationally. The DonateLife Web Coaching Program is aimed at improving the communication skills of nurses who discuss organ and tissue donation with families and loved ones of people during end of life conversations. Following the launch of the program, Coviu interviewed Bernie Dwyer - National Training Coordinator at the OTA to learn more about virtual training and outline the function of Coviu's Web Coaching add-on in facilitating the training sessions.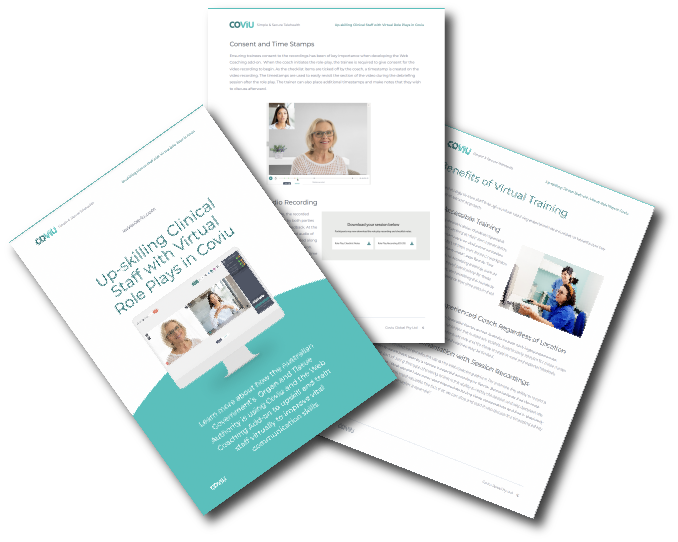 Case Study - Pyschology
Video Telehealth at Benchmark Psychology - Designing a Human-Centred Service
How can we digitise health care services without compromising human interaction? For Benchmark Psychology this was one of the key questions when designing video telehealth services for their clients. Using Coviu's video telehealth platform Benchmark Psychology was able to achieve exactly that - create a video telehealth service that is just like an in-person experience.
Case Study - Children and Youth Mental Health
Telepsychology at NSW Department of Education - Rapid Roll-Out During The Pandemic
This case study outlines how the DoE was able to implement a Telepsychology platform that allowed school counselling staff to continue providing support and therapy to students during the uncertain times of the pandemic. To learn about their experience first hand, Coviu interviewed Pauline Kotselas, Leader of Psychology and Wellbeing Services, Child Protection, Health, Mental Wellbeing and Karina Worrall, the Principal Psychologist at DoE.
Case Study - Allied Health
Telehealth at Youthrive - Expanding Footprint and Improving Access to Services
Youthrive, a social enterprise that provides speech pathology, occupational therapy and psychology support to children and their families. The case study explores how Youthrive was quickly able to switch their business model, during the lockdowns of the COVID-19 pandemic, to take full advantage of video telehealth.
Are you a provider or a patient?
As a patient, you do not need to sign up to a Coviu account. Your healthcare provider will use their account and send you a link to join at the time of your consultation.