Enhance Your Virtual Waiting Room Experience With Tonic Media
Coviu
Aug 17, 2023 9:38:00 AM
Reimagining the patient experience, the virtual waiting room feature is created to improve the design and delivery of virtual healthcare
---

In recent years, the introduction of phone and video consultations, chat features, group therapy and remote patient monitoring has encouraged rapid uptake of virtual care across Australia, with a total of 8.4 million telehealth consultations in the first quarter of 2023 alone.
However, maintaining quality of care through these digital platforms requires continual improvement of the patient and client experience. This starts in the waiting room, a part of the patient journey which can often be overlooked in virtual care settings.

Reimagining the Virtual Waiting Room
Designed to reimagine the patient experience, the Coviu and Tonic Media Network virtual waiting room is created to improve the design and delivery of virtual healthcare.

Providing a new alternative to playing music in the waiting room, the feature greets patients and clients with specifically curated video content that spans across evidence-based, expert health advice, mindfulness videos, wellbeing exercises, and carefully curated lifestyle programming while they wait for their virtual care consultation.

Using the waiting time to engage the patient can help relax them, inform them with health and wellbeing tips and provide a warm environment which readies them for their clinical consultation. The video content is regularly updated and creates an enjoyable environment before the consultation begins.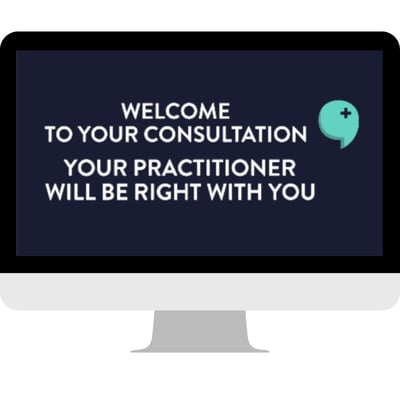 Commenting on her experience using the virtual waiting room feature, Dr Joanne Thorburn, Clinical Psychologist at Embodied Psychology said, "Our virtual care clients are often coming from other things and can be distracted when they log on for their consultation. Introducing a virtual waiting room that is more than just boring music, has allowed us to create an engaging and welcoming experience that helps to focus our clients and get them prepared for the consultation. It also sets the expectation that while your clinician may not be there right when you log on, the time is not wasted and there are options for you to learn and relax."

Patient and Practitioner Benefits

Studies show that patients and clients that have a positive waiting experience are more likely to have a positive impression ahead of their session, leading to improved satisfaction and higher retention rates. Patients and clients occupied with informative and entertaining content while they wait are less likely to become impatient or feel their wait time is prolonged.

In line with these findings, the videos selected for the Coviu and Tonic Media Network waiting room encourage patients to stay engaged and focused while they wait can also lead to higher attentive levels during the appointment, facilitating more effective communication and collaboration between practitioners and their patients or clients, leading to better health outcomes. They are also chosen to promote healthy lifestyle choices, self-care techniques, and mental health resources, which can align with the practitioner's goal of promoting overall health and well-being.

Silvia Pfeiffer, CEO of Coviu said, "At Coviu we strive for the continuous improvement of our service offering, putting patient experience at the centre of our innovation and evolution. The very first interaction a patient has with a medical practice is often in the waiting room, and we believe that making this a positive space in a virtual setting is just as important as it is to make your physical waiting room look nice."

"Working with Tonic Media Network allows our customers to connect to Australia's largest health and wellbeing media network, giving patients access to a more enjoyable experience while they wait for their virtual appointment."

Richard Silverton, CEO at Tonic Media Network said, "The online health landscape is evolving rapidly, and patients are finding themselves in new and unfamiliar spaces. We're thrilled that the Tonic Virtual Waiting Room combines Coviu's cutting edge technology with Tonic's skills in engaging audiences with carefully programmed, trusted health information and lifestyle content. Together, we're improving the experience of telehealth services for both the patients and health professionals."

View a sneak peek of the video content here!


Media Coverage

About Tonic Media Network
Tonic Media Network is Australia's largest health and wellbeing media network, created in collaboration with health professionals and out-of-home specialists. Our mission is to improve the health and wellbeing of all Australians, by delivering health education and information at their point of care, empowering them
to ask the right questions about their own health, in partnership with their health practitioner. With assets strategically located inside 5,300 Medical Centres and Pharmacies, we reach 16 million health consumers each month.