Coviu telehealth software is now backed by the Australian Government
The Government-owned organisation Healthdirect has chosen Coviu's software to power its national video call service 'healthdirect Video Call'.
Coviu won the contract outperforming major international competition due mainly to Coviu's of ease of use. Our prioritisation of privacy and security and our deep technical background made us the perfect video technology partner.
This September, we powered Video call to over 5500 clinicians and over 1000 individual clinics, reaching millions of Australians each month!
Through this journey to make healthcare accessible to each and all we have developed a cutting edge enterprise solution for our larger customers
Enabling immense administrative capabilities, monitoring, reporting and clinical overview. Coviu delivers a powerful telemedicine solution
If you are curious about embracing telehealth, please don't hesitate to get in touch. Coviu is your trusted telehealth solution.
Upcoming Events: We will be attending the Australian Physiotherapy Conference, 'Transform 2019', on the 17th-19th of October and the Australian Rural & Remote Mental Health Symposium on 28th-30th October.
Please pop by our stall and say hello! We're always open to discuss how telehealth can make a difference to your business.
Healthdirect Chooses Coviu to Power its Nation-Wide Video Call Service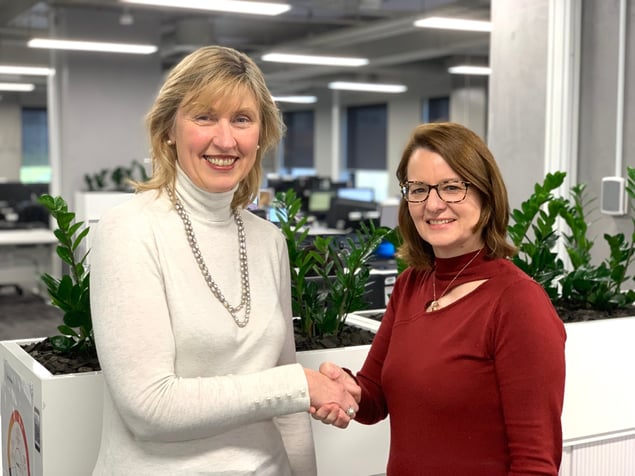 Karen Borg (CEO Healthdirect) and Dr Silvia Pfeiffer (CEO Coviu)
As of September 1st, over 5500 healthcare providers and their online clinics in hospitals, medical centres and GP practices across Australia have begun migrating across to the new Coviu powered healthdirect Video Call platform.
These providers will have access to Coviu's new enterprise solution waiting area and call interface, in addition to our traditional in-call clinical tools. As always, patient and provider entry into their digital practice is only a click away, as Coviu is browser-based.
healthdirect Video Call ensures healthcare is accessible for all, by breaking down traditional face-to-face care barriers such as geographic isolation, physical disability and mental health stigmas.
Healthdirect Australia is currently offering this service for free to GPs and practices wishing to access the new MBS items for mental health via telehealth in drought-affected areas.
---
New Enterprise Solution: Reporting Feature for Clinical Governance
As a result of our partnership with Healthdirect, we have created an amazing new Enterprise Solution that is now available. This all-in-one virtual clinic solution is perfect for larger organisations that are responsible for multiple (virtual) clinics - or organisations that have multiple practitioners across a wide array of specialities.
The New Dashboard: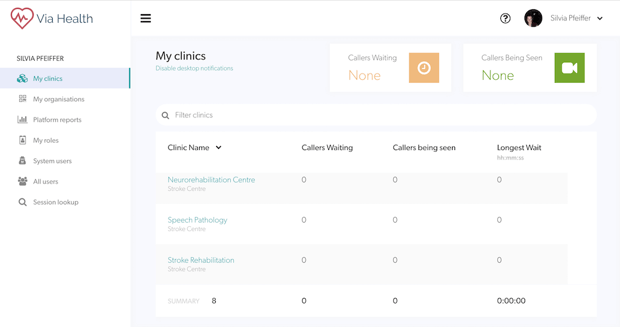 The New Waiting Area: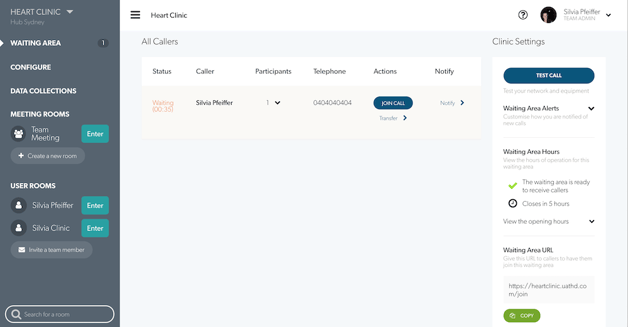 Some of the new features include:
A dashboard allowing you to subdivide and monitor multiple clinics, add as many virtual clinics as you need - these my match your physical clinics or may be completely online-only.
A 'Waiting area' feature helping to triage and tend to on-demand callers similar to how you would tend to walk-in patients. Waiting room hours are completely customisable and can be set to any time zone.
Custom alerts via sms, email or browser notifications for clinicians or reception staff when patients enter the waiting area.
The ability to send notifications to waiting patients directly from the waiting area dashboard.
A new capability of this product is the reporting feature, which allows you to access a variety of data reports for your organisations and clinics.
For example, downloading the 'consultations' report provides you with specific data about which clinic hosted each call, how long the patient waited before being accepted into each call, the bandwidth during the video call and more.
Just click the blue 'download' button and an excel spreadsheet will automatically be download onto your device.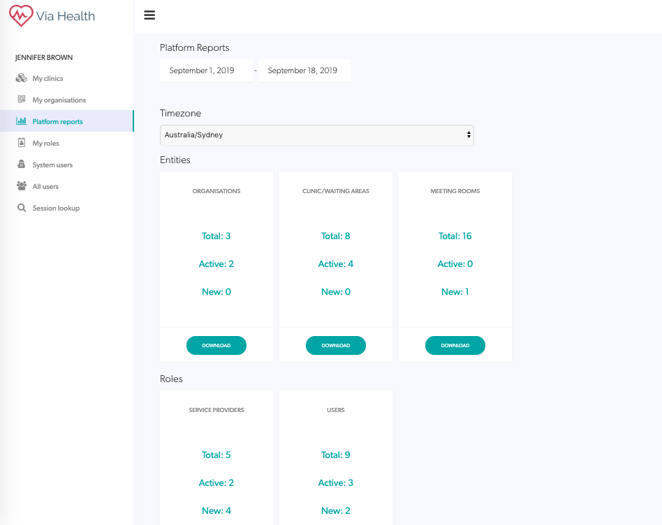 In addition, when in a call, the new interface has:
A visible timer for all parties
The ability to invite a participant to the call, from the call interface, via a text or email notification.
The ability to transfer patients from one clinic to another, should they accidentally have turned up in the wrong clinic.
We offer the enterprise solution only for a minimum commitment of 1 year and a minimum number of users , because it includes a lot of custom setup, including running under your own domain.
For an in-depth product tour of the enterprise solution, please book a demo with our Customer Success Manager Linzi, or contact us for further information.
---
Linzi from Coviu Support is here to help you!

We understand that setting up and running your telehealth clinic can be overwhelming at times.

Whether you need some assistance with setting up your online booking button, scheduling a text-only session or dealing with some technical difficulties, please reach out to our Customer Success Team via support@coviu.com.

We are always ready to help and are dedicated to relieving your anxieties about telehealth, so you can leave the conversation with a can-do attitude!

Please feel free to chat with us anytime.

Coviu Support is accessible every day, and we are often available during extended work hours - to resolve issues promptly.

So if you have been considering telehealth, but are in need of a little assistance to get you started, rest assured that Coviu is here for you.

To get in touch with us, click the button below:

Reach more patients through the Coviu directory

You may have heard about our exciting NEW service - 'Online Doctors Directory of Australia' (ODDA), which is launching to the public this November. We would love for you to be a part of it!

ODDA is a listing site for all practitioners offering telehealth - currently limited to Coviu practitioners only. Providers across a wide range of specialities, such as general practitioners, mental health professionals, speech pathologists and specialists are invited to join.

Patients will be able to search the directory for an appropriate practitioner, and will then be linked directly to that practitioner's own website through an online booking button.

This is a great opportunity to launch your telehealth service and help your patients find you online!

The directory listing is free for Coviu customers with a professional account, so sign up to a Coviu account before November to be a directory launch partner. Other listing options will be made available later.

Express your interest below!