NEW this month: Our Enterprise Solution
August Newsletter:
We have 3 NEW exciting services for telehealth businesses!
This month is full of exciting announcements, so let's jump straight into it!
1. Coviu's New Enterprise Solution
If you are a larger organisation, are responsible for multiple (virtual) clinics, or have multiple practitioners across a wide array of specialities, this solution is for you! With immense administrative capabilities and functionality, it is a must-see. Get a first look below.
2. Our 'Snapchat-like' text-only rooms without a memory
This add-on is now available and facilitates accessible, private and discreet sessions, whilst still allowing for the use of Coviu's clinical in-call features. It is particularly useful for mental health consultations. Read below for more details about this feature and our partnership with Swinburne University, or click here to read more.
3. Our Telehealth Directory - Online Doctors Directory Australia (ODDA)
Gain exposure and increase the reach of your digital practice by listing on ODDA! The service is currently in pre-launch and is free to join for all Coviu users on a professional package. Read more about it below.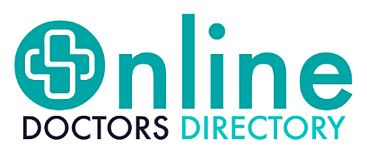 We will be attending the Australian Physiotherapy Conference, '
Transform 2019
', on the 17th-19th of October, so please pop by our stall and say hello!
---
But first our latest innovation: Traffic lights for your Video Connections
Since last week, when you enter a video call in any Coviu account, you will see funky coloured dots over the top of the videos of your connections with patients or peers.
This 'traffic light' feature on the bottom right of the video display indicates the quality of your internet connection to them. Green is good, yellow is ok, red is bad.
Click the traffic light to see the actual bandwidth with which you are connected to them - a minimum of 350Kbps is required for a video call - anything below that will lead to drop-outs.

From now on, when you are in a call, you can see with one look whether the bandwidth is sufficient or not and you can make the necessary adjustments such as switching networks, moving to a better location or reducing the video quality to maintain a stable audio connection.
As always, we thank you for your continued dedication to improving healthcare access and scalability. Coviu will continue to co-design our platform with our users, so if there is ever anything you would like to see on the platform, please do not hesitate to contact us.
First Look: Enterprise Solution Now Available
Here is your first look at this new, all-in-one virtual clinic solution!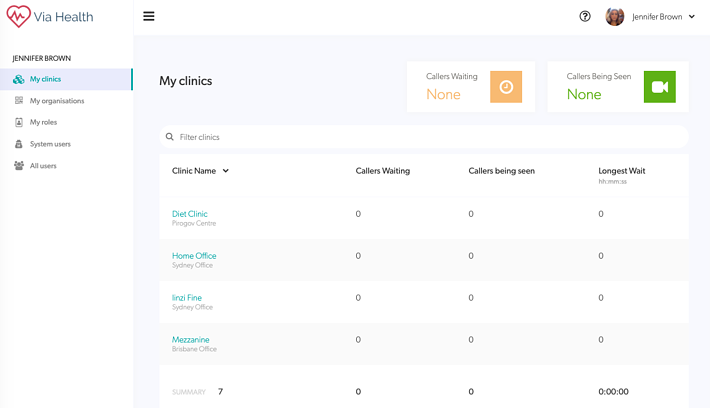 Some of the new features include:
A dashboard allowing you to subdivide and monitor individual organisation and their associated clinics, add as many organisations and clinics as you need.
A 'waiting area' feature helping to triage and tend to on-demand callers similar to how you would tend to walk-in patients. Waiting room hours are completely customisable and can be set to any time zone.
Custom alerts via SMS, email or browser notifications for clinicians or reception staff when patients enter the waiting area.
The ability to notify incoming patients from within the waiting area.
Data for clinical governance such as the number of calls hosted, patient waiting times statistics and call duration.
The new organisations dashboard: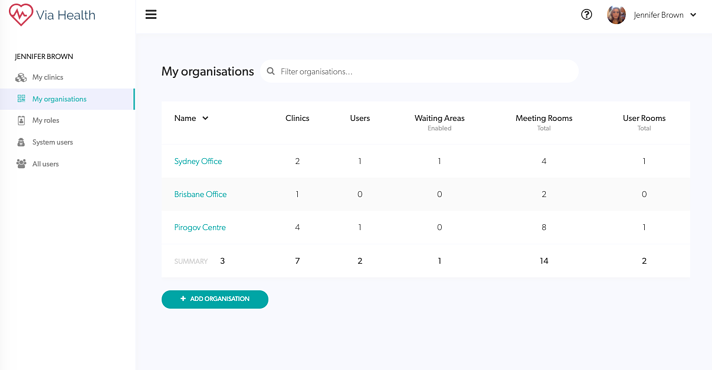 The waiting area feature: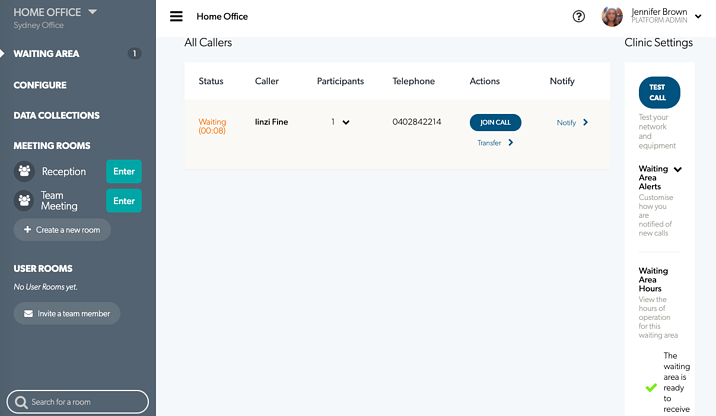 Send notifications to incoming callers (left) and what the patient sees (right):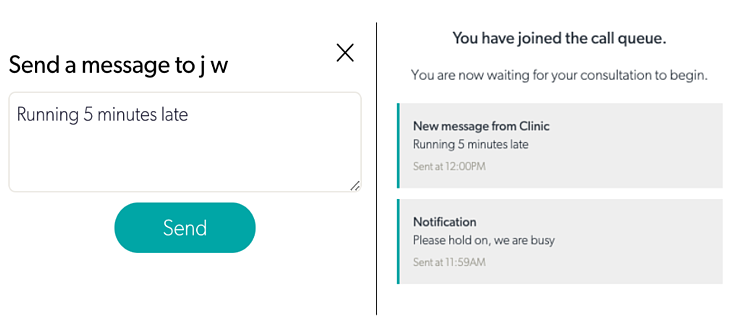 In addition, the call interface has:
A visible timer for all parties
The ability to invite a participant to the call, from the call interface, via a text or email notification.
For an in-depth product tour of the enterprise solution, please book a demo with our Customer Success Manager Linzi, or contact us for further information.
---
New 'Snapchat-like' mental health service

Swinburne University approached Coviu in late 2018, regarding using our WebRTC video telehealth platform. Once discussions began, it became clear that students needed something even more accessible, private and discreet. Thus, the idea for a text-only feature was born.

Coviu's development team created a new interface with snap-chat like abilities, where patients can text with their clinicians in real-time, yet the conversation is not stored and simply 'vanishes' once the session ends.

The text interface continues to enable the use of clinical tools Coviu offers during video consultations, such as file sharing and a shared whiteboard feature.

To learn more about the text-chat add-on and its success at Swinburne, click here.

If you would like to know more about using this new feature in your practice, click the button below:

Free advertising for your telehealth clinic: Join the Coviu directory

As a loyal Coviu user, we are thrilled to invite you to become a launch partner of our new service - 'Online Doctors Directory of Australia', launching in November.

Don't be fooled by the name! This is a listing site for all practitioners offering telehealth via Coviu. Providers across a wide range of specialities, such as general practitioners, mental health professionals, or speech pathologists are invited to join.

Patients will be able to search the directory for an appropriate practitioner, and will then be linked directly to that practitioner's own website through an online booking button.

This is a great opportunity to help launch your telehealth service and help your patients find you online! The directory listing is free for Coviu customers with a professional account.

Express your interest below!