How to Market Your Digital Practice in 5 Easy Steps:
Now that you've chosen your telehealth software and are set up for video consultations, one question remains:
How will you attract patients to your new service?
This is arguably the most challenging aspect of setting up a digital practice and many clinicians become easily discouraged when patients don't 'flock' to their telehealth service.
Fear not! We have devised 5 simple marketing steps for you to implement, which will not only help transition your existing patients to telehealth, but will also expand your reach and attract new patients to help fill those books. Even better, most of these steps are free!

1. Update your Website and Implement an Online Booking Button:
Did you know that 83% of adult Internet users are searching for health information online? And that 41% of patients would actually prefer to book appointments online instead of phoning the office? There is no longer an excuse to avoid setting up an aesthetic-pleasing and informative website. Your patients are online, and it's time to meet them there.
If you already have a website for your practice, you need to create a new section exclusively for telehealth that lists the services offered and clearly presents the 'book appointment online' button. If you choose Coviu's telehealth software, we will provide you with an easy to use, customisable link for you to embed this button on your web page. This will be the first point of contact for many of your patients, so layout, colour and content choices are very important.
Here is an example of an appealing telehealth web page with the embedded booking button.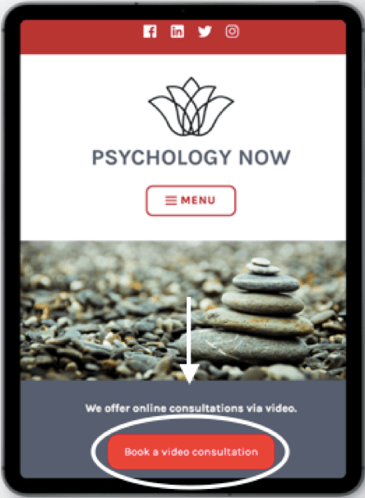 Ensure you also include a popup for when the site is first opened that mentions something along the lines of 'video consultations now available', and ensure all visitors are prompted to the telehealth page to determine if this new service is right for them. This may be a task best suited for your web developer.

2. Send Updates via text and Email to Existing Patients
Your patients, particularly those who do not attend regular appointments, may not be aware your practice now offers video consultations. You will need to send out a series of emails to contacts you have acquired over the years to let them know about your new service.
The emails should be brief, easy to read and focussed on telehealth. You should include a brief description of what telehealth is, the services you offer and how it will benefit the patients. A link to the website's telehealth booking page is also essential. You may also want to include an announcement about your telehealth practice in other general emails you send out, such as monthly newsletters.

3. Utilise Social Media
A 2017 survey by Pew research Centre identified that '74% of Internet users engage on social media; 80% of those Internet users are specifically looking for health information, and nearly half are searching for information about a specific doctor or health professional'. It is evident that social media is now a major marketing tool for healthcare professionals.
At a minimum, Facebook, LinkedIn and Instagram are the best platforms to use as they are free and help you build a professional brand image by posting updates or interesting content. These are the first social media platforms that patients look at when researching a doctor or practice online. Make sure to include that you are now offering video consultations on your profile, and feel free to share case studies, interesting statistics or relevant images that you collect (ensuring you maintain patient privacy, of course). Emphasising these little details will give you a competitive advantage over other practices.
Here is a great article about the benefits of social media marketing in the healthcare industry – and how to do it right.

4. Take Advantage of Free Directories
Before you spend thousands of dollars on marketing campaigns for your new practice, make sure you have utilised your free tools first. The following health information services and directories are often used by people when searching for particular doctors or practices. This means they have great search engine optimisation (SEO) and show up towards the top of the search page, giving your business greater exposure.
Coviu's very own telehealth directory Online Doctors Directory of Australia (ODDA) is a great place to start. ODDA is top ranked on google and listings are free for all healthcare providers (not just medical doctors).
The Australian College of Rural and Remote Medicine (ACRRM) has an entire telehealth-specific directory you can and should apply to be listed on. You will not only be searchable to hundreds of thousands of Australians, but you can also network among other telehealth providers and make great connections.
Healthdirect is a government-funded service that offers free health advice and information. It also has a directory for providers, so make sure you sign up and select the 'telehealth capable' box when setting up your account.
Healthshare is a health directory that also allows clinicians to post their own blog content to gain visibility. This is another great, free option to add to the list.
Listing yourself in the Yellow Pages may seem bit 'old-school', but it is still important for those patients who are not actively searching online. It is also free.
Finally, Yelp is also a great way to be seen by prospective patients. 42% of individuals searching health information on social media look at health-related consumer reviews, so make sure you sign up and consider asking your patients to provide a review.

5. Waiting Room Advertising
Patients often spend up to an hour in the waiting room before their appointment begins. That gives you an enormous opportunity to grab their attention and inform them of your new telehealth service. This can be done in many ways, with the most common being the use of posters, pamphlets and business cards that provide information about telehealth, and why it may be a good option for that patient. Though there may be a small cost to creating these materials, the 'wall space' is free.
Another great option is to place an advertisement on the waiting room TV screen, if you have one. A short video about your new telehealth service, repeated occasionally throughout the hour is a great way to expose patients to your service.
Congratulations!
On completion of these 5 steps, you will be well on your way to increasing the reach and success of your digital practice. Whilst there are many more marketing tools at your disposal, these are the fundamental steps that you need to take before moving on to a more serious (and expensive) paid marketing campaign.
For a more in-depth overview on how to market and grow your digital practice, read our guide here!