Coviu Enterprise is an all-in-one telehealth solution, perfect for larger organisations that want centralised management of all their virtual clinics.
Waiting Area: Help triage and tend to on-demand callers.

Notifications: SMS, email or browser notifications for clinicians, reception staff and patients.

Customisable Clinics: Clinics can set their hours of operation, waiting music, branding and notification settings.

Dashboard: Subdivide and monitor multiple clinics.

Clinical Governance: Download and export a variety of data reports for your organisations or clinics.

White Labelling: Customise your Enterprise clinics with your brand.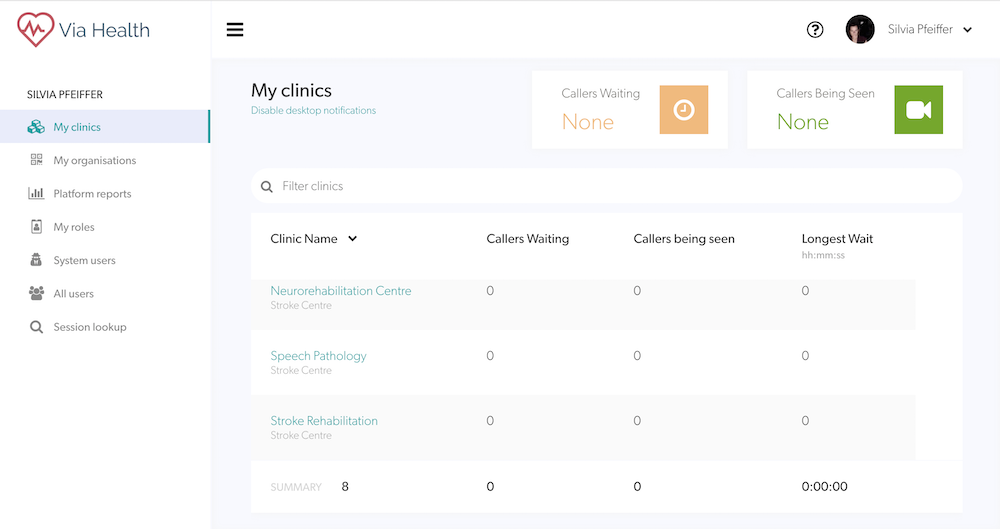 Quick & Easy
No downloads. No patient logins.
Click & connect on any device.
Secure
End-to-end encryption (E2EE) ensures your data is always safe & secure.
Reliable
Over 1 million telehealth consultations have been successfully delivered in Australia using Coviu.
Supported
We're here to support you 18 hours a day through live chat.
Multiplatform
Coviu works in-browser on any device with no downloads required.
Clinically Validated
Coviu has been clinically validated in 6 peer-reviewed studies.
Designed For Enterprise Health
More than just talking heads, Coviu's solution is the result of years of research into telehealth delivery platforms conducted within the CSIRO and Data61.

Using the most cutting edge WebRTC technology, we are deeply commitment to innovation, research validation, simplicity of use and interoperability with existing systems.

Coviu works on any device and is browser-based, meaning neither the clinician nor the patient needs to install software or purchase specialised hardware.
Our platform has hosted over 1 million sessions. We have grown from 300 sessions/day to over 20 000 sessions/day since COVID19.

Coviu's Virtual Clinic solution fits seamlessly into businesses of all sizes. Integrates with EMRs, ERPs, PMSs and other existing hospital infrastructure. Coviu is designed to mimic a virtual clinic such as an emergency waiting room.
Coviu's platform delivers the ability to have patient intake forms, notify clinicians when patients are waiting and the ability to transfer patients between your virtual clinics.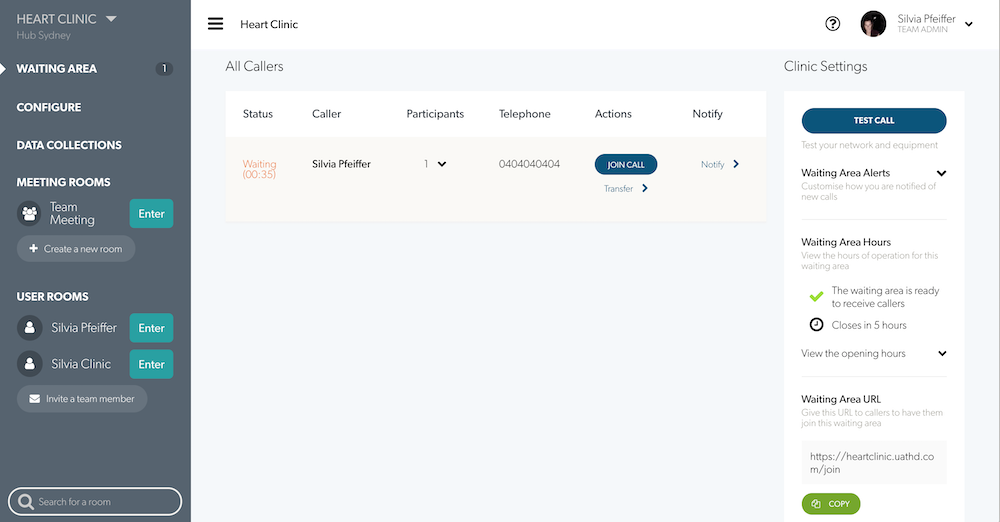 On demand virtual patient triage vastly reduces pressure on Hospital ERs.
Doctors and nurses can now work remotely using Telehealth. This blended model of care has the ability to introduce efficiency into traditional healthcare models.
Evidence suggest that Telehealth can improve healthcare access, patient reported outcomes, continuity of care and at the same time reduces healthcare delivery expenditure.