LinkedIn Live with Dr Silvia Pfeiffer
Did you catch Coviu's LinkedIn Live Event on'Coviu, Elevated Telehealth: A Virtual Care Engagement Platform'?
If you missed the live event, or would simply like to rewatch it, you can view the full video recording here.
---
🌐 Connect with Silvia and Coviu on LinkedIn.
-----------------
Coviu, Elevated Telehealth
A Virtual Care Engagement Platform
We hope you enjoyed learning more about Coviu's latest features and hearing about the journey that led us to where we are today.
From our core, simple and secure Video Conferencing Platform, our Apps Marketplace and our Remote Monitoring Capabilities, the latest inclusions of Phone Consultations and Group Telehealth Rooms are all aimed at helping you improve clinical outcomes, capacity and workflow efficiencies.
The progress that we have seen in the past two years in digital health is immense and we are really proud of how far telehealth adoption and our unique product offering have come. We hope you are excited as us, and we thank you for coming along the journey!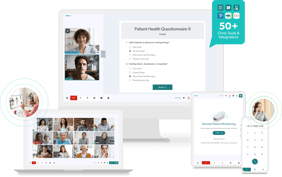 "I use Coviu for my video consultations and find it useful in my clinic management. The added feature allowing phone consultations and access to a dedicated clinic phone number makes it much easier."

- Victor Ojo, Geriatric Psychiatrist
--------------------
Yet to try Coviu? Start a Coviu 2-week free trial and start running consultations within just minutes!
To learn more, book a call with one of our friendly team members here.