Transitioning to Telehealth - Dr. Silvia Pfeiffer Discusses
Coviu CEO and Co-Founder, Dr. Silvia Pfeiffer went live on LinkedIn to discuss transitioning to telehealth!
---

If you made it to the live on Thursday 22 July, we hope you enjoyed Dr. Silvia Pfeiffer's chat on transitioning to telehealth.
In case you missed it, you can access the full recording below:


To recap, at Coviu, we have certainly seen a large number of businesses transition to telehealth in the last 18 months. It has not always been easy and not always been out of choice, but those that have struggled through the transition and have persisted have come out the other end with new insights and options. For many, it has opened up their eyes to a new way of working and interacting with their clients and patients.

Dr. Pfeiffer starts by discussing transitioning mental health services to telehealth, specifically in Australia where the pandemic has left the country going through a hard time by closing down cities, states and borders, effectively putting a large part of the population on house arrest. A lot of these people who are in lockdowns are suffering from mental health issues, and only half of the people that are suffering are seeking help. "Telehealth has a huge role to play in addressing mental health issues, by allowing it to be a convenient way to receive care, and the best way during a pandemic", she says.

The majority of people that didn't go get help for mental health, would if a telehealth solution was available. Many mental health practitioners are now offering telehealth but for those healthcare providers that haven't transitioned to telehealth yet, video telehealth should be considered as your preferred telehealth option.
After all, you need to see the reactions of the patient including posture and eye position to give them the best care possible. "A phone call is not sufficient", says Pfieffer. "This is very important for GPs to understand. Even that first mental health assessment that you do as a GP can be done via video in a caring and respectful way. The available Medicare items for this telehealth service are 92112 to 92117", she says. If you are a mental health clinician, Dr. Pfieffer highly recommends adopting telehealth services.

Dr. Pfieffer then leads into the adoption of telehealth in rural and remote areas. For rural and remote areas, "we need to focus on allied health and specialist care", she says. While some rural and remote regions are struggling to get a GP practice in their region, almost all of them are struggling with allied health and none will have enough cases to support a specialist practice. For example, NDIS plans in rural and remote locations are widely under-utilised and that's predominantly because there are not enough allied health providers accessible in these regions.

The pandemic has for the first time allowed better access to allied health in rural and remote regions. "This includes access to mental health care, but also speech therapy, exercise physiology, physiotherapy, nutrition, and many other services that were not accessible in these regions", says Dr. Pfieffer.

Some of the challenges we are hearing are that rural GPs don't think they can refer one of their patients to a city-based provider who can't really relate to what's going on in the countryside. Patients are having similar challenges, particularly when they have a referral but don't really know which clinician to pick that is appropriate for their condition. And yet, the uptake in rural and remote areas of telehealth during the pandemic has been phenomenal.

"These people didn't take up telehealth because of the pandemic, they did it because they need it always", Dr. Pfieffer says. "The pandemic was simply instrumental in proving that the scarce access to allied health and medical specialist in rural and remote areas can be alleviated through telehealth", she says.


Dr. Pfieffer then dives into delivering telehealth into aged care. She says, "the royal commission has clearly exposed that the care that is provided to our elders is insufficient. One of the options it mentions for addressing this problem is telehealth".

Older people both in-home care and residential care are finding it hard to get to a clinician, often relying on the clinician to come to them. That may be feasible for a residential care home, but house visits are very expensive and time-consuming.
The commission report lists telehealth as a means of avoiding the potential harm and distress for frail older people caused by travel to receive medical care.

Telehealth for our elders is the right thing to do. "It helps them to receive care in place and helps simplify the life of their carer and family", she says. So what does it take for us to deliver telehealth into aged care? In residential care, we need to make space for telehealth to happen. There needs to be consideration to support residential care providers with a telehealth coordinator position. That coordinator can then pick the best clinicians for the residents, organise the sessions for them, and make sure they have a successful session.

Beyond residential care, telehealth is a huge opportunity for home care providers.
It reduces their cost for travel and makes their staff more efficient. The majority of mental health care, exercise physiology, and basic everyday care by a nurse can be delivered via video, particularly with a family member present.

To bring this all together, Dr. Pfieffer says, "several aspects of our healthcare system have started a process to transition to telehealth. And that's very exciting. The key to making it happen is very obvious - it's reimbursements."

Reimbursements will bring out the entrepreneurs that can build new business models around the reimbursements and will allow fairer and more equitable care to be delivered to people in all aspects of life. This includes NDIS, aged care, mental health, rural and remote.

We are all waiting for Medicare to make the telehealth items of the pandemic permanent. "What works in the pandemic to deliver more equitable access to care should be a no-brainer when we go back to normal.", says Dr. Pfieffer.
However, we do expect the government will take this step soon. In the meantime, healthcare providers can use the special circumstances of lockdowns to put on their training wheels.
---
The discussion led to some great questions asked, which can be viewed in the recording! For any other burning questions please feel free to comment on the LinkedIn video, we would love to keep the conversation going.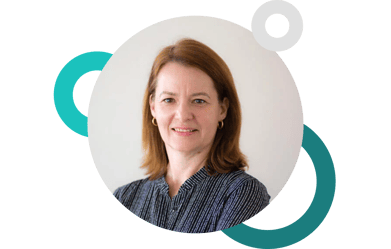 Dr. Silvia Pfeiffer is Coviu's CEO and Co-Founder, driving the global mission of Coviu. With over 18 years experience building new Web video solutions, Silvia has worked at leading corporations including Google, Mozilla, NICTA, and CSIRO. Silvia spun Coviu out of the CSIRO as her second business after founding a Web video analytics company. Silvia has a double degree in computer science and business management and manages sales, marketing, investments, and product strategy in Coviu.


Coviu, the Australian Government's leading Video Telehealth Software of choice.
Sign up for a free two-week trial today, no credit card required - and get started with Coviu.