Communicating for Life: SPA 2023
Coviu, a steadfast supporter of Speech Pathology Australia, stands behind Speech Pathology Week's, mission to spotlight the vital contributions of Speech Pathologists in aiding the 1.2 million Australians with communication disabilities. This week-long initiative, taking place from August 20 to 26, 2023, underscores the inherent right to communication for every individual. In this second #SPA2023 blog, we delve into how Coviu champions SPA's objectives for this annual event.
---
Under the banner of 'Communicating for Life,' the theme for Speech Pathology Week 2023, Coviu recognises virtual care as a pivotal element in enhancing the quality of life for individuals facing lifelong challenges in communication and swallowing. To read our first instalment on 'Celebrating Speech Pathology Week 2023' click here.
How Coviu Supports Speech Pathologists
Originally designed with Speech Pathologists as its core market, Coviu offers a range of tools and features tailored specifically for Speech Pathologists, enhancing their ability to provide effective virtual care and therapy sessions.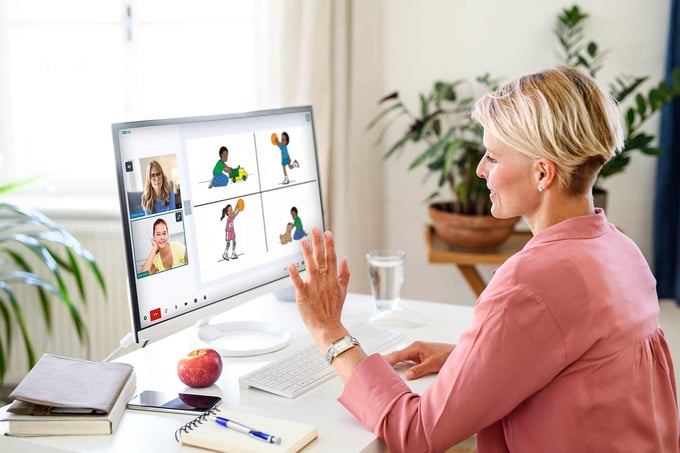 Standardised and Supplementary Assessments and Customised Forms
Coviu revolutionises assessment situations with a wide range of assessment tools including standardised assessments in video calls with Pearson Clinical. Coviu provides a very user-friendly interface that reduces distractions and simplifies assessment delivery. Seamlessly deliver a wide range of gold-standard Pearson assessments including CELF-5, GFTA-3, EVT-3 A & B, PPVT-5 A & B, CELF P-3. Coviu also offers extra language resources through its customisable forms functionality and partnership with eLr and other content providers.
Interactive Whiteboard
Coviu's interactive whiteboard feature enables Speech Pathologists to engage clients in interactive activities, such as drawing, writing, and demonstrating speech exercises. This visual tool enhances therapy sessions and facilitates active participation.
File Sharing, Document Collaboration and Screen Sharing
Speech Pathologists can securely share documents, therapy materials, and resources with clients through Coviu. This feature enables collaboration and allows both parties to access and review materials in real-time during sessions.
Coviu's screen sharing functionality also allows Speech Pathologists to share their screen with clients, presenting educational resources, therapy apps, or specific exercises. This feature enhances the visual learning experience and supports virtual demonstrations.
Remote Medical Interpreters
Connect with on-demand NAATI qualified medical interpreters for over 250 languages within a Coviu call through 2M lingo™. Culturally sensitive and highly trained interpreters for speech pathology sessions are at your fingertips.
Telehealth Consent and Payments
Coviu offers integrated consent forms and payment features, simplifying the administrative tasks associated with telehealth services. Speech Pathologists can securely obtain consent from clients and process payments, ensuring a seamless virtual care experience.
Appointment Scheduling, Virtual Waiting Rooms and Reminders
Coviu provides tools for scheduling appointments and sending automated reminders to clients, reducing the risk of missed sessions and enhancing client engagement. It also provides a stand out waiting room feature where clients can stay engaged with a range of materials from educational reading to videos on health and wellness while being triaged by practitioners.
Secure and Private Communication
Coviu prioritises security and privacy, offering end-to-end encryption for all communication. It is HIPPA and ISO 27001 compliant, meaning Speech Pathologists can rest assured that their virtual sessions and client data are protected.
These tools offered by Coviu empower Speech Pathologists to deliver high-quality virtual care, engage clients effectively, and optimise their telepractice. By leveraging these features, Speech Pathologists can provide comprehensive and personalised therapy sessions, regardless of geographic constraints.


Coviu's Additional Resources for Speech Pathologists
Coviu provides an array of educational materials and training resources designed to elevate the virtual care journey for Speech Pathologists and telehealth providers specialising in speech pathology. These resources encompass a comprehensive library of instructional videos, informative tips, and supporting materials. Additionally, the collection features real-life case studies that vividly demonstrate the tangible clinical outcomes of Coviu's efficacy in facilitating speech pathology services, as evidenced by the experiences of its own clientele. These additional resources for Speech Pathologists include: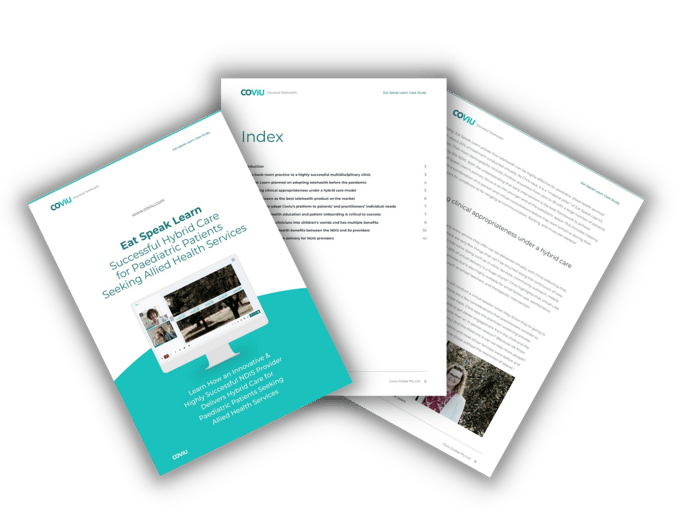 Celebrating children's achievements is a core philosophy of Eat Speak Learn, an integrated practice offering speech pathology, exercise physiology, physiotherapy, dietetics, occupational therapy and psychology for children, with a unique speciality in paediatric feeding disorders. This case study focuses on the organisation's success and best practices in delivering a hybrid model of care through Coviu.
Substantiated by real-life discovery interviews with users, including Lydia Caruso, Partner and Speech Pathologist at Oakhill Speech Pathology Clinic, the case study discusses the common challenges and practical solutions available when implementing Pearson assessments into practice.
Coviu's suite of integrated tools for speech-language pathologists means that you can deliver more engaging therapy to school children being assessed. Coviu customers are able to administer the Pearson speech therapy assessments directly from within a call. With a focus on the NSW Department of Education, as well as a mix of practical examples, this case study is a great overview of how virtual speech-language therapy is highly successful.
Celebrate Speech Pathology Week 2023 With Us
As we celebrate Speech Pathology Australia Week 2023, it is crucial to recognise the transformative power of virtual care in the field of speech pathology. Virtual platforms have revolutionised the way Speech Pathologists deliver services, breaking down barriers to access, enhancing flexibility, and promoting client engagement. Through virtual care, Speech Pathologists can reach individuals in remote areas, provide flexible scheduling options, collaborate with colleagues, involve caregivers, and ensure continuity of care. Coviu continues to support Speech Pathologists in their goals to provide better care and quality of life for patients through virtual care.
Australians interested in finding out more about Speech Pathology Australia's programme for #spa2023 can access their website here.
You can also read our first instalment on 'Celebrating Speech Pathology Week 2023' here.
A Special Offer for You
In celebration of Speech Pathology Week 2023, Coviu is offering the speech pathology community 20% off any Annual Coviu Plan with special code: SPW20! Sign up here and enter the discount code by the 31st of August to claim the offer. Explore our different plan options here.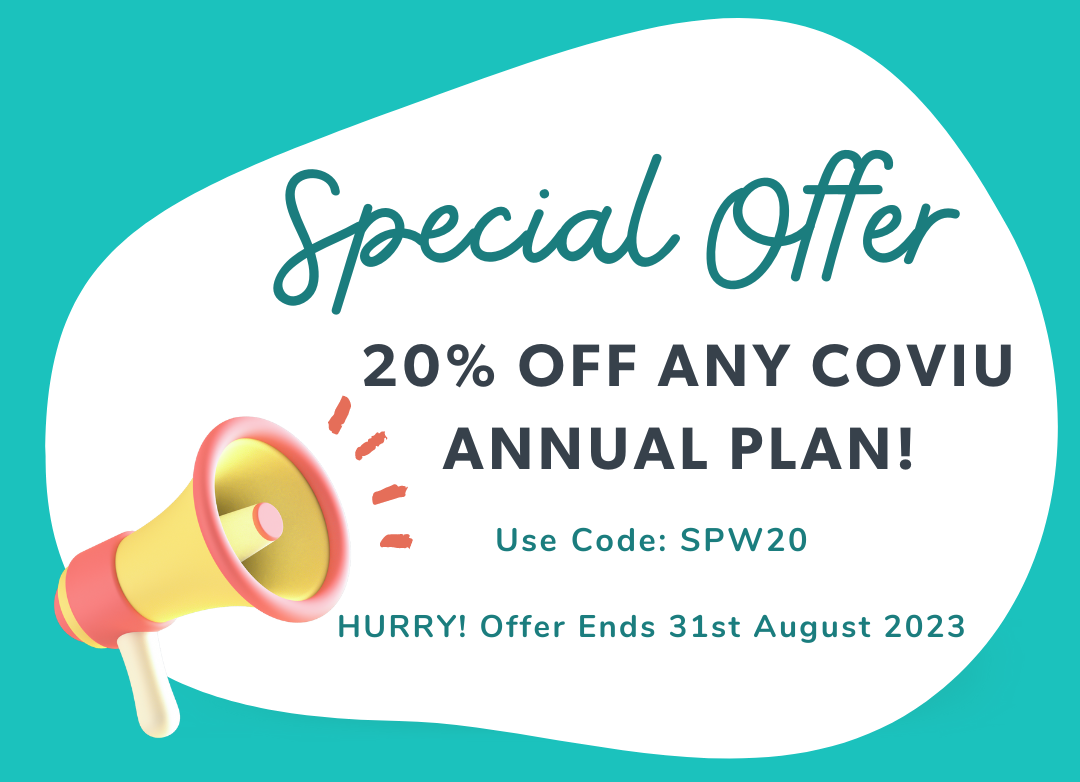 ---
Looking to take your practice online?
Start a 2-week free trial and start running consultations within just minutes! To learn more about Coviu book a call with one of our friendly team members here.