November Wrap Up - Discover The Latest at Coviu!
Coviu
Nov 29, 2022 7:30:00 AM
As everyone starts to wind down and get ready for the holiday break, the Coviu elves have been hard at work! From a number of product updates and initiatives, to important discussions being had around telehealth in Aged Care and Health Equity in Australia, to exciting industry events and team collaboration - there is a lot to dive into this month! So without further ado, let's dig in!
---
In the Press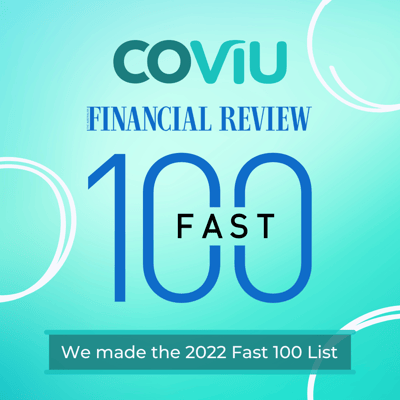 Coviu Ranked 51st on The Australian Financial Review's Fast 100 List
We're excited to announce, Coviu has been ranked number 51 on The Australian Financial Review's (AFR) 2022 Fast 100 List, a prestigious award celebrating Australia's fastest-growing companies! As Coviu grows from strength to strength, we continue to be humbled by prestigious recognitions such as this.
----------------------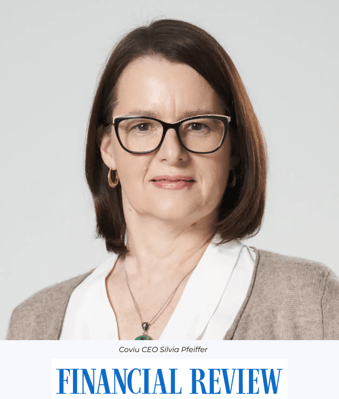 The Australian Financial Review Applauds Coviu's Virtual Care Solution
The AFR recognises Coviu's significant contribution to digital healthcare in two recent articles, highlighting Coviu's evolution from video telehealth to an all-in-one virtual care engagement platform, and the vast opportunities created for health providers through our software.
Coviu CEO and Co-Founder, Dr Silvia Pfeiffer discusses how Coviu's expanded features mean the platform is now being used in new and ingenious ways, from virtual triage in online emergency departments to SMS conversations with patients through phone telehealth.

"We want to transform the industry," Pfeiffer says. "We want to give clinicians a chance to embrace technology, to really embrace the future of healthcare, which will absolutely include virtual care."
----------------------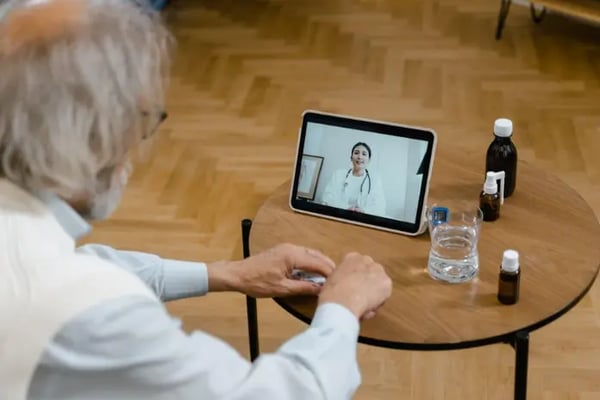 Telehealth Is Important In Aged Care
Telehealth is important in Aged Care, but staff must be properly trained to optimise its effectiveness, Aged Care News reports.
Dr Annie Banbury, Head of Clinical Research at Coviu, believes that more training is needed to support Aged Care staff in transitioning to a 21st-century model of care stating, "there is a need now for nurses to really understand what we call the 'digital ecosystem', and how all these pieces fit together across the whole pipeline of health services. Ensuring they have the skills to work in a digital age is really important".

In order to integrate telehealth services into Aged Care in a sustainable and conducive way that provides high-quality care, Dr Banbury says that training must be provided.
----------------------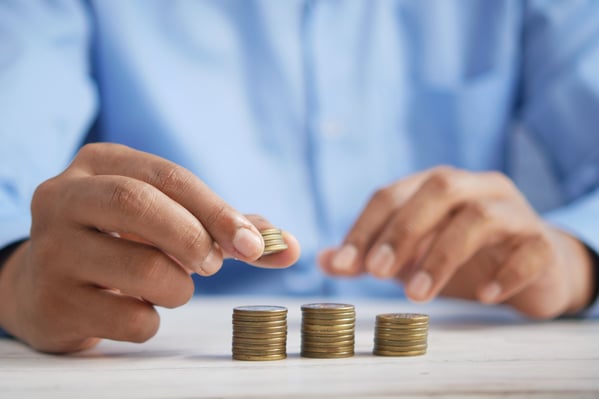 Benefits For Healthcare In Federal Budget


Dr Silvia Pfeiffer tells Dynamic Business, 'the Federal budget is looking like it will take a positive step towards validating the effectiveness of virtual health services in addressing some of Australia's leading healthcare challenges.'
Although the announcements in the Federal Budget this year are encouraging and signify a strong step forward towards Health Equity, Dr Pfeiffer stresses the need for further measures. She encourages Aussies to undertake a 360-degree assessment of the healthcare system, identifying the need for, "patient-end support services for telehealth for disadvantaged Medicare patients, as well as investment needed in virtual care within the NDIS and struggling Aged Care sector". By investing in these areas, Australia would be on track to achieving a more even distribution of healthcare access.
----------------------
Product Updates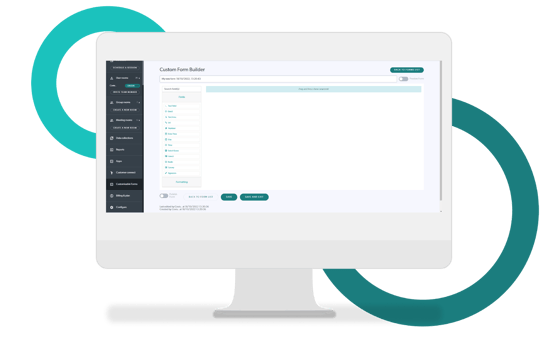 Customisable Form App
The
Customisable Form App
has arrived on Coviu! The App allows you to create and use your own custom forms all from within Coviu, so clinicians can securely gather important patient information.

The App enables forms to be created and published from the Customisable Forms menu to be used and completed in-call by participants. Form fields, content and layout options are drag-and-drop components that can be easily edited, updated and moved around the page. Completed forms are then able to be downloaded as a PDF file. The Customisable Form App is available on Coviu's Essentials, Standard and Premium plans and installed on your account by default.
-------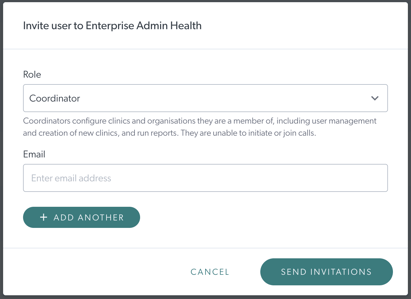 Enterprise Organisation Coordinator Role
This new feature provides the opportunity for a new role to be set with a subset of permissions at Platform, Organisation and Clinic levels on all Enterprise Accounts.


When inviting users to an Organisation, there is now an option to choose Reporter, Coordinator or Admin roles. The users who are given these roles can be given admin-like configuration access to their Platform, Organisation and Clinic, without the ability to join calls.
-------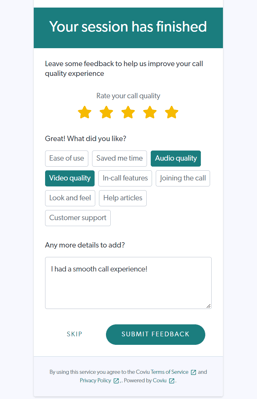 Post-Call Quality Survey
Now when participants end a call, there is an option to give feedback about the in-call experience to help us better understand issues that may arise during a call. This will allow us to address issues faster to optimise your in-call experience. The information submitted in the post-call quality survey will not be shared and does not necessarily warrant a response from the Coviu team. If you need immediate support, please contact us here.
-------


Coming Soon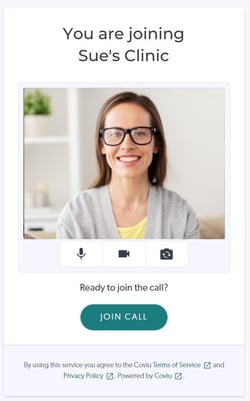 Pre-Call Check For Call Hosts

Coming very soon, when a call host presses 'Join' on a call, they will be able to ensure that their camera and microphone are working and in view before entering the call and joining the patient. Call hosts will also be able to choose to join calls with their microphone or camera off prior to entering a call.


-------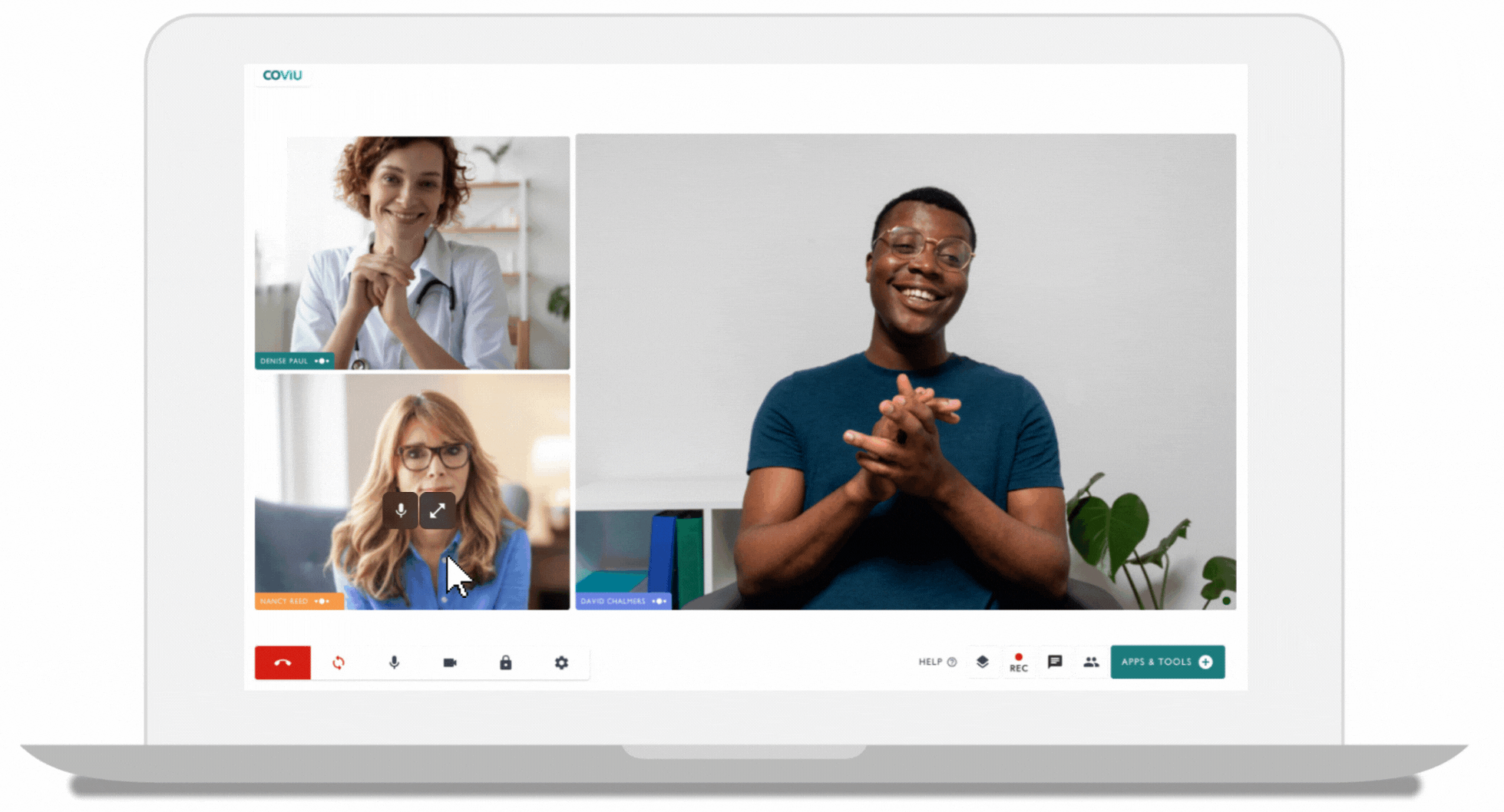 In-Call Mute Function
Call hosts will soon have the ability to mute participants during a call. This will allow hosts to manage speaking contributions in a call, particularly when it comes to group call scenarios. Whilst the call host will be able to mute any participant in a call, only the participants can unmute themselves due to privacy regulations.
----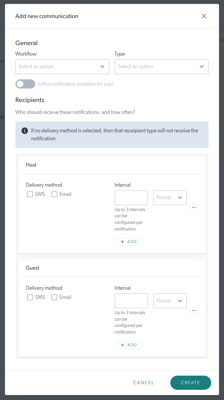 SMS Appointment Reminders
Also coming soon, you will have the ability to set configurable SMS Reminders for hosts and guests for Scheduled Sessions and Customer Connect bookings. In the same way that SMS confirmations can be enabled for appointments, admins will be able to send appointment reminders via SMS provided that a mobile number is listed.
This feature will be installed by default once available and will be configurable to customers with Customer Connect and/or Scheduled Sessions on Coviu's Essentials, Standard and Premium plans. There will be an overall SMS limit per user/per account.
-------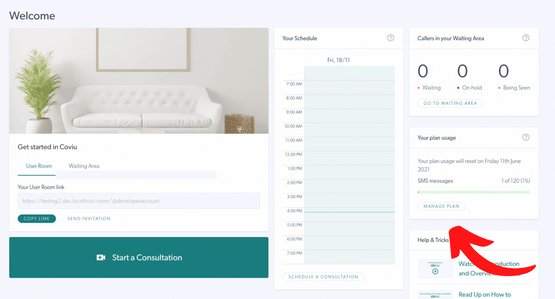 SMS Usage Tracker
As there will be SMS usage limits per user/per account with costs incurred for going over your SMS allocation, we will be enabling an in-app
SMS Usage Tracker
where Admin Users can keep track of their usage. This will be visible in the Dashboard as well as the Billing/Payment area.
----
All product updates can also be viewed here.
----------------------
Coviu News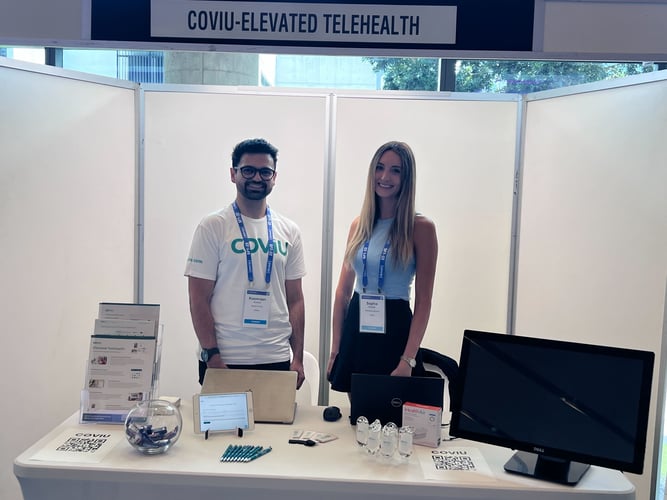 Events


This month, Coviu exhibited and presented at the 22nd Success and Failures of Telehealth Conference in Brisbane. Over three days, we attended workshops, plenary sessions, exhibitions and networking activities, to discuss the growth of telehealth and what the future holds for virtual care.


In addition, we presented on 'Remote Patient Monitoring Opportunities for Primary Care' highlighting the opportunity for remote patient monitoring to address chronic illness at the primary care level and Coviu's integration with RPM applications. Read more about SFT here.
-------
On-Demand Webinar
Watch our free webinar on 'How to Achieve Health Equity' to learn about how Coviu and the 2M lingo™ App work together to achieve improved health outcomes and provide timely access to health services. Watch it here.
-------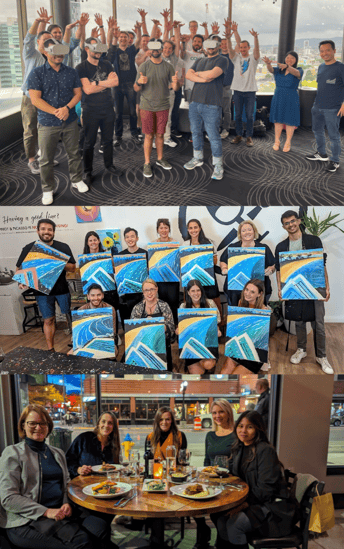 Coviu Team
As a remote-first company, it is always a blast when we get together in person to connect and forward plan. Recently, we held team off-sites in Brisbane, Sydney and Montana USA, to collaborate and celebrate all the hard work achieved thus far with our colleagues from across the globe. It was great to be able to connect and generate ideas toward a more digitally enabled future through Coviu!
----------------------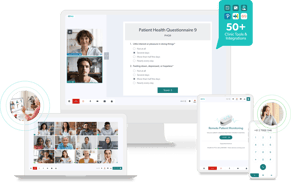 With elevated features and time-saving tools, we're confident you'll love using Coviu. Start a 2-week free trial and start running consultations within minutes! No credit card required.