The Future of Virtual Care 2023
Thank you to our friends, partners & the organisers of the 2023 National Telehealth Conference, where we got to speak about the future of virtual care📝💻🌟.
Coviu is a regular sponsor of the event, which includes three co-joined conferences under the umbrella of 'Connect Virtual Care'. This year it was held at the Hilton, Sydney from the 27th to 28th of April.
The Coviu team connect annually with a leading group of healthtech movers and shakers at the National Telehealth Conference, sharing critical insights into the future of virtual healthcare delivery. This year, the spotlight was shone on Coviu's CEO & Co-founder Dr Silvia Pfeiffer who spoke on the topic 'In the aftermath of COVID, have we hit peak Telehealth and what is the future of virtual care?'
Silvia's presentation drew from Coviu's on-the-ground industry experiences of the current healthtech landscape. The discussion uncovered recent healthcare challenges and solutions to those problems through health technology.
The presentation slides can be viewed in the carousel below.
The current situation in Australia was shown to be impacted by staff shortages, clinician burnout, chronic disease, and scalability issues on Slide 8 of Dr Pfeiffer's Presentation. To address gaps in the current system, Slide 13 of Dr Pfeiffer's Presentation proposed expanded Medicare reimbursements, better training, infrastructure & patient pathways, and more flexible working arrangements.
Further, Dr Pfeiffer described the future of virtual care through the lens of Coviu's measurement-based virtual care platform and the key factors to consider, being:
A more interconnected virtual care landscape
Focus on outcome measurements
Patient-centred care a key driver
Artificial Intelligence
In addition to Dr Pfeiffer's presentation, the team at Booth 3, had a number of engaging conversations with customers and partners, enjoyed the variety of other presentations and walked away with new ideas and fresh information.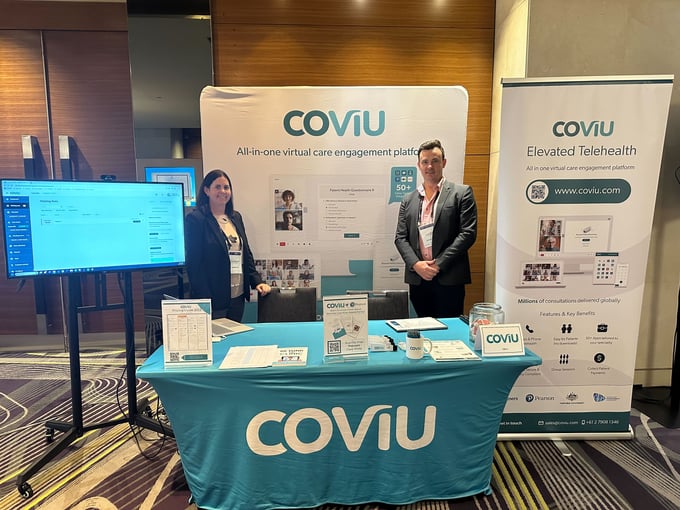 Emerging out of the conference, one thing was clear: the future of the Australian healthcare system depends on healthtech. With the evolution of health technology, better outcomes for patients and clinicians are certain.
----------------------
Time to future-proof your practice?
If you have any questions or suggestions for additional features you'd like to see, please don't hesitate to reach out!
If you haven't yet tried Coviu, you can get started today with a 2-week free trial - no credit card required!