Remote Access for CALD Patients | Medinfo 2023
On 10th July 2023, Coviu's CEO & Co-founder Dr Silvia Pfeiffer and 2M Language Service's Despina Amanatidou, presented on Improving Access to Multilingual Health Services with Coviu's Virtual Care Platform and 2M lingo™.


---
MedInfo is the official conference of the Australasian Institute of Digital Health (AIDH) in 2023 and the world's premier digital health & informatics event. Coviu is regularly involved with industry think tanks and events hosted by the AIDH and led the discussion this year with 2M Language Services on remote access to medical interpreters.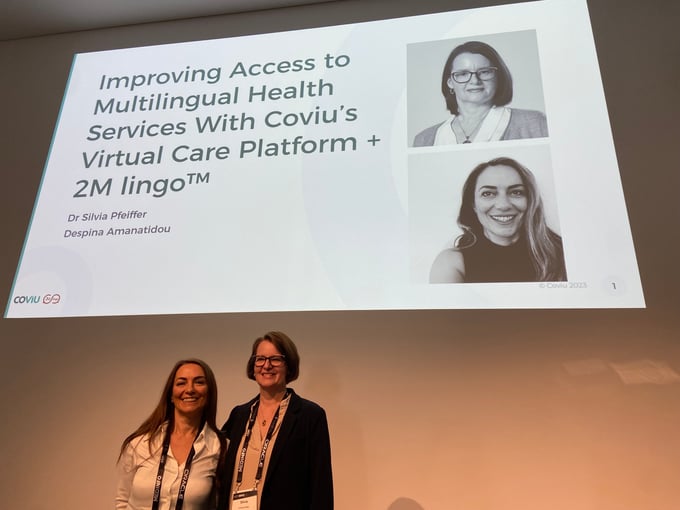 A Presentation on The Power of Coviu's Virtual Care Platform + 2M lingo™

In their presentation, Silvia and Despina emphasised that in Australia, the need for multilingual healthcare services is more critical than ever, considering that over 50% of the population is either born overseas or has an immigrant parent, and one in five Australians speaks English as a second language. Limited access to in-language and culturally tailored health information for culturally and linguistically diverse (CALD) patients can have severe consequences, ranging from inadequate care to life-threatening situations.

Factors Affecting CALD Patients' Health Service Utilisation

At various levels, including individual and family, community and organisational, as well as system and policy, several factors influence the utilisation of health services by CALD patients. Overcoming these barriers is crucial to ensuring equal access to quality healthcare for all.

Approach: Coviu's Virtual Care Platform + 2M lingo™

To address these challenges, Coviu has a long-standing integration with the 2M lingo™ application to provide a user-friendly and reliable solution for accessing virtual multilingual services. This powerful combination helps protect both patients and healthcare providers from the consequences of language difficulties, high costs of care, lack of culturally appropriate information, and unfamiliarity with the Australian healthcare system.

Improving Coordination and Reducing Risks

By integrating 2M lingo™ with Coviu's virtual care platform, healthcare providers can seamlessly bring on-demand, specialist health interpreters into video consultations. This not only improves coordination between providers and patients but also significantly reduces risks associated with incomplete understanding. Studies have shown that medical errors can be halved when trained interpreters are involved, and hospital readmissions decrease significantly for a majority of chronic conditions.

Enhancing Patient Experience and Equitable Access

The presentation discussed how advancements in remote interpreting tools and remote healthcare capabilities alleviate patient stress and safeguard against substandard quality of care, limited access to healthcare services, poor compliance, litigation, and negative health outcomes. Through impactful real-life examples and practical demonstrations, such as the Melbourne lockdowns, Silvia and Despina showcased how the 2M lingo™ application, combined with Coviu's virtual care features, promotes equity of access to healthcare.

A Tangible Solution

Access to online medical interpreters through Coviu's virtual care platform presents a tangible solution to the ongoing challenges faced by CALD communities when seeking healthcare services. By facilitating better understanding and improving the consumer experience, providers also safeguard their interests and mitigate risks more efficiently and effectively.

By harnessing the power of technology and language services, Coviu and 2M lingo™ empower healthcare providers to deliver multilingual care and bridge the gap for CALD patients, ensuring equal access, improved health outcomes, and ultimately, a more inclusive healthcare system for all.
A Big Thank You, Partners and Providers!

Coviu wishes to thank the organisers of MedInfo this year and looks forward to continuing our long-standing relationship with AIDH.

----------------------



Looking to take your practice online?

Start a 2-week free trial and start running consultations within just minutes! To learn more about Coviu book a call with one of our friendly team members here.

----------------------

Find out more about our upcoming events...

Come and join us again in the future! For more event information click here.