MBS Telehealth Items Extended Until June 30, 2021
We are excited to announce that the Australian Government has officially confirmed the extension of the MBS Telehealth reimbursements, until June 30th 2021.

They are also currently working with peak industry bodies to implement post-pandemic, permanent telehealth items, which is thrilling as it will start the transformation to digital healthcare in Australia.

The decision to acknowledge telehealth as an integral part of Australia's healthcare system is a huge turning point for patients and providers alike.

Telehealth services can not only increase patient satisfaction and access to care, but they create efficiencies for health care practitioners who experience reduced no-shows, greater patient reach and an improved bottom line.

To learn more about the benefits of telehealth, click here.

Coviu has also prepared a range of free, downloadable reimbursement fact sheets across different professions, so you can easily determine your eligibility.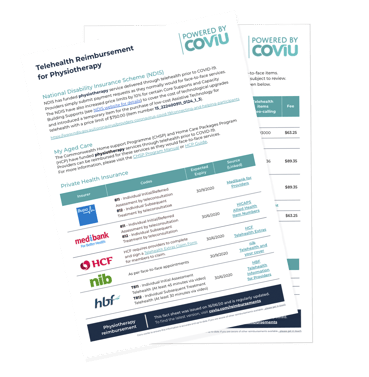 Whilst this announcement is a great step forward, various industry associations have called on the government to provide greater certainty for the future of telehealth funding, so we are watching carefully for any developments in this space. Stay tuned.
---

In the meantime, you can start your 2 week free trial on Coviu (no credit card required).

Or, if you'd like to learn more about how video telehealth could work for your practice, please don't hesitate to reach out.