Reimbursement Webinar, RPM Integration & More!
Coviu
Feb 1, 2022 8:00:00 AM
We hope you had a safe and restful holiday break and are ready for a fresh start in 2022!

This year is already shaping up to be another big year, especially for telehealth with permanent telehealth coming into effect in late December.
The permanent changes validates the critical role telehealth services have played during the pandemic and will continue to play in creating a more equitable and accessible healthcare system for all Australians. We couldn't be more excited to become a part of your long-term healthcare delivery plan
2022 has also seen us deliver over 6 million consultations together on our platform! This is an amazing milestone, showcasing the scale of care being provided virtually.
We have so many exciting things planned this year and we cannot wait to share them with you, so thank you for your continuous support.
Now without further ado, let's get into some exciting updates and announcements.
----------------------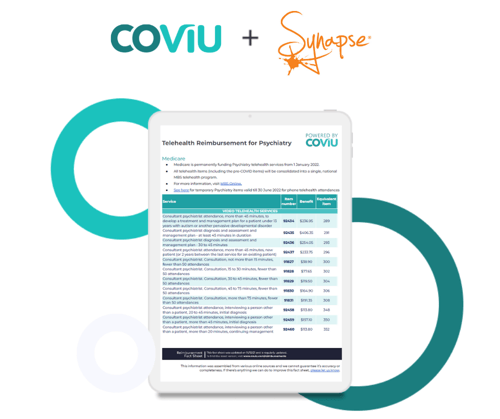 Webinar: Telehealth Reimbursements
Not sure what permanent telehealth means for you and your practice?
Coviu, will be running a webinar with Margaret Faux, CEO of Synapse Medical, the only person in Australia to receive a doctoral degree in Medicare claiming and compliance. The webinar will be on telehealth reimbursements, specifically pertaining to the recent changes.
Telehealth Reimbursements
Tuesday 22nd February 12pm – 1pm AEDT
Register for this free, live webinar and learn about:
What are the telehealth MBS changes

Understanding what these changes mean for you and your practice

How to adapt your practice to adhere to these changes

Q&A - an opportunity to ask your burning questions!
Can't make it? This webinar will be recorded and sent out to all registrants.
----------------------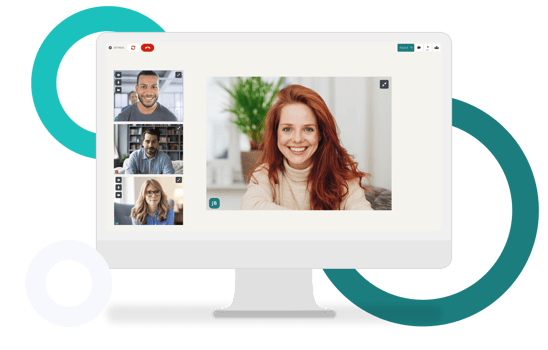 New Plans & Enhancements
Introducing new Coviu plans!
Essentials, Standard & Premium
Coviu plans have been enhanced allowing you the ability to connect with an increased number of participants. In addition a number of features are now automatically included in your plan for free.
The Essentials plan now allows for a maximum of 4 people in a consult with the Standard and Premium plans allowing a maximum of 6 people in a consult. Perfect for group calling, clinic team meetings and more.
Amongst the new plans we have included some new features that are automatically added to your Coviu plan for free. This includes the YouTube Player, Video Player, Blurred Background, Configurable Consent Form and more!
For information regarding Enterprise accounts please see here. To learn how to change your plan within your account, click here.
----------------------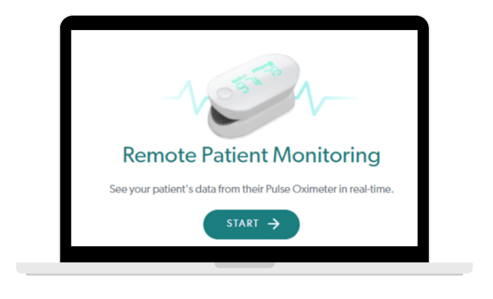 Integrated Remote Patient Monitoring Solution
Coviu has partnered with Propell Health, distributor of iHealth medical devices, to launch an integrated telehealth and remote patient monitoring solution for the management of COVID-19 patients. The solution equips GPs and practice nurses with the ability to remotely monitor patients during virtual consultations using the hospital-at-home care model.


Together, an app was developed, allowing bluetooth enabled iHealth devices, such as pulse oximeters to be displayed in a video telehealth call so the clinician can read the measurements.


Using the platform, clinicians can collect key vitals such as temperature, blood pressure and oxygen saturation levels. The combined integration with Coviu's telehealth services enables a GP or practice nurse to hold a video call with a patient and receive accurate real-time measurements from patient monitoring devices.


This technology is designed to support GPs and practice nurses with the new challenges presented by COVID-19, and enable them to do their jobs in a time-efficient manner, as well as keep them safe from infection. By remotely caring for patients in their homes, this technology will help slow the spread within the community.
----------------------
Coviu Product Updates
iHealth - Pulse Oximeter Remote Monitoring App
The iHealth App enables you to remotely monitor your patients using pulse oximeter devices within a Coviu call. Using bluetooth, the pulse oximeter device will display live clinical readouts via Coviu, allowing the clinician to read for diagnostics.
This App can be purchased from our Apps Marketplace for $10 per month, per account. This App is free on our Coviu Premium plan. Click here to upgrade.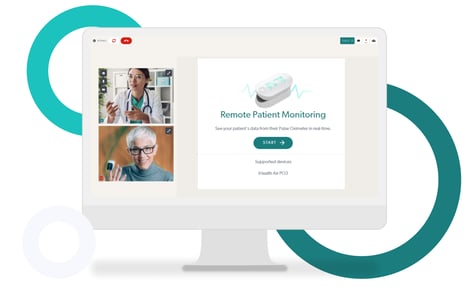 -------
Coviu Dashboard Enhancements
There have been some enhancements to your Coviu Dashboard. We have put the features you use front and centre and given it a fresh new look.
The left-hand side menu categories can now be minimised to reduce the length and clutter of the dashboard along with a nifty feature allowing you to collapse the menu. Additionally, dashboard menu categories will only appear if they are appropriate for the user.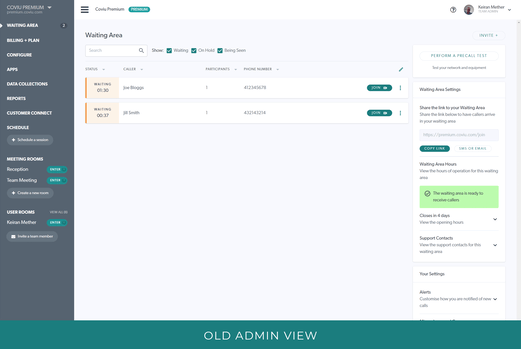 -------
'On-Hold' Functionality in the Waiting Area
We have created functionality allowing you to place a call participant 'On-Hold' whilst within a waiting area call. This feature is particularly useful in sessions in which you have two people in a call yet you only wish to speak with one during a certain point.
The 'On-Hold' button is located in the call manager next to each participant. Clicking this will place the specific guest into a waiting screen and will immediately appear in your 'Waiting' or 'On-Hold' section of your call manager.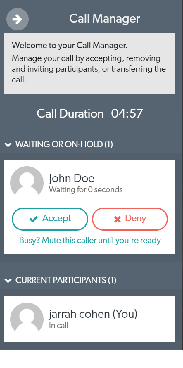 -------
Automated Notifications for 'On-Hold' Waiting Area Calls
Clinic admins are now able to configure automated notifications to communicate to people in the waiting area whose call status is 'On-Hold'. Located under 'Configure' in the Coviu Dashboard, clinic admins can click on the tab 'Waiting Area' and expand the section named 'Automated Messages' where the 'On-Hold' section will appear. Here you can type in your personalised automated message as well as set the time delay to send.
-------
All product updates can also be viewed here.
----------------------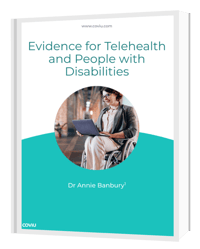 Clinical Evidence for Telehealth & People with Disabilities
Telehealth provides a unique opportunity for innovation in care, especially towards people with disabilities.
Drawing on learnings from COVID-19 responses in Australia and England, experts have recommended including telehealth in the regular health provision for people with disabilities. A recent NDIS evaluation of 2,391 clients found that 63% had transitioned to having at least one service provided by telehealth and 33% were likely to choose video telehealth services moving forward.
So what evidence exists for this? Let's dig in!
----------------------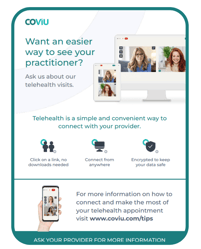 Telehealth Resources


Have you seen our extensive catalogue of telehealth resources?
You can explore an array of content including the benefits of telehealth, building rapport, telehealth blogs and news, a guide on how to market your practice, as well as a downloadable poster you can print to market your telehealth practice within your clinic to your patients and clients.
----------------------
See you on Coviu!