Woolworths Move Shakes Up Traditional Healthcare Models
Coviu
Apr 17, 2023 3:02:39 PM
With Woolworths announcing telehealth services at $45 a session through their brand healthylife, Australians have even more healthcare options, compromising clinics set on traditional face-to-face delivery models.
---
The announcement of convenient online consultations through healthylife, should cause a stir among practitioners choosing not to offer telehealth. It is a wake-up call for the healthcare industry to implement telehealth more widely as patients begin to take matters into their own hands.
For clinicians looking to secure the future of their practice, telehealth is no longer a nice to have, but a must. Woolworths' new platform only underscores this fact further; those stuck in their ways will be left behind.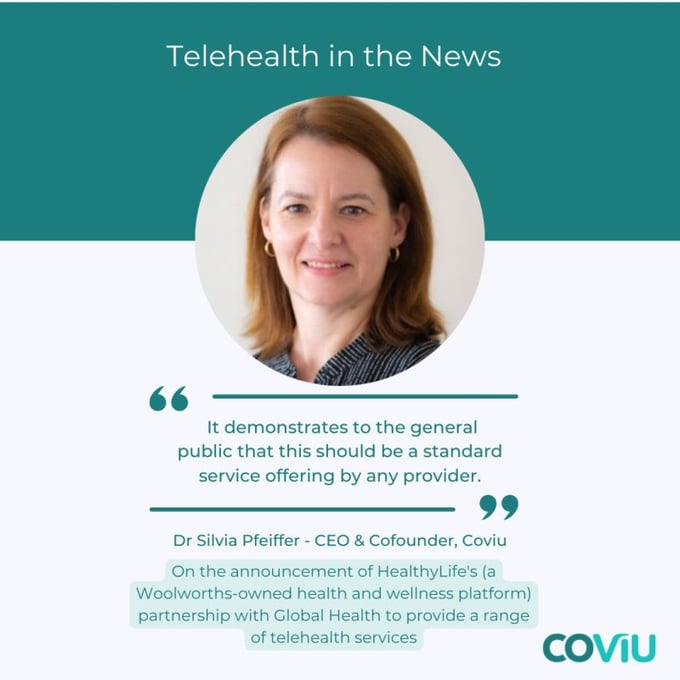 Dr Silvia Pfeiffer, CEO of virtual care platform Coviu, commented in Wild Health Summits on the new telehealth services provided by healthylife (Woolworths-owned health & wellness platform) & Global Health.

"It demonstrates to the general public that this should be a standard service offering by any provider," Dr Pfeiffer said.

"Now patients will be voting with their feet whether they want easy access to healthcare, or whether they want to stay and go through the more complicated processes with their existing GP or healthcare provider."
However, the risks of patients seduced by the convenience of a platform that is not purpose-built for the healthcare industry, include a reduction of quality healthcare outcomes and issues of security, privacy and compliance.
Setting a virtual clinic up with Coviu protects clinicians from those risks as we head into a future that is inevitably hybrid.
-----------------
Read Wild Health's coverage of the announcement here.


---
What does this mean for your practice? It means it's time to get Coviu, the Australian Government's virtual care platform of choice. Plus, it only takes minutes to set up. Sign up for a 2-week free trial and get started today.