Healthtech's Biggest Event | DHF 2023
Coviu had an exceptional experience at the Digital Health Festival held on June 6-7 at the Melbourne Convention and Exhibition Centre in Melbourne. With an impressive attendance of over 5000+ participants, the event was the place to be for the latest insights in digital healthcare, forging new partnerships, and reconnecting with industry peers.
This year, Coviu was delighted to have Despina from our esteemed partner, 2M Language Services, join us. Despina represented the 2M lingo™ app, an on-demand interpretation service that seamlessly integrates with Coviu calls, offering interpretation services in over 250 languages, including AUSLAN and indigenous dialects.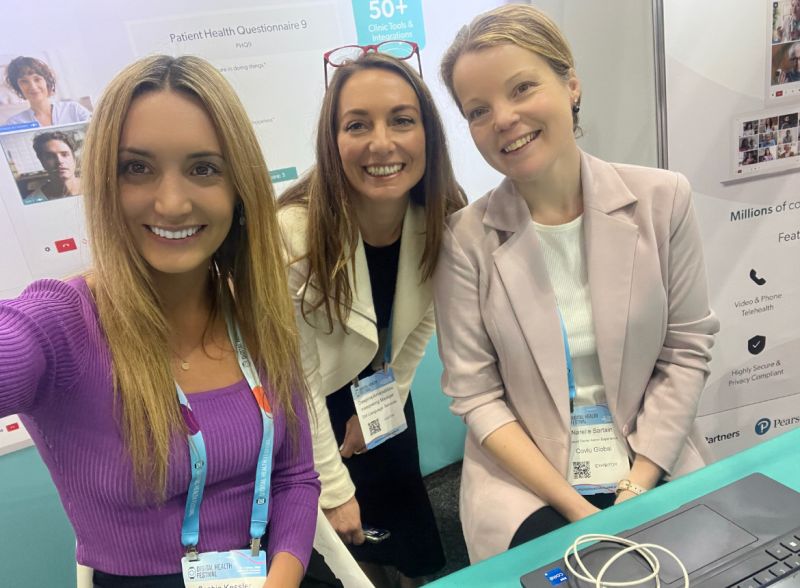 In addition to showcasing Coviu's innovative solutions at its booth, Co-Founder and CEO, Dr Silvia Pfeiffer, delivered a compelling presentation titled 'US v AUS: Securing the Future of Virtual Health.' The focus of her talk was to shed light on how insights gained from the United States can contribute to the sustainable growth of the Australian virtual care landscape, aligning with the quintuple aim of healthcare. Silvia's emphasised the importance of implementing appropriate frameworks, incentives, and drivers to shape the future of virtual care, as well as highlighted the difference between the Australian and American responses to telehealth during the pandemic (see below).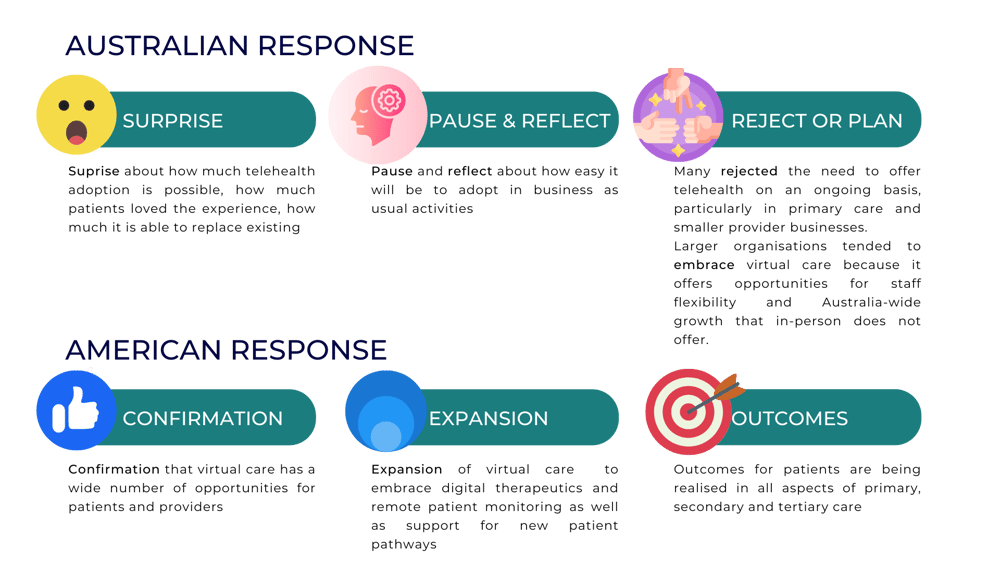 Coviu in the US, a glance into the future of virtual care
Following Coviu's successful launch in the United States over a year ago, Silvia was able to provide valuable insights into the future of Australian virtual care, based on her US observations. Through her experiences, delegates uncovered several key learnings, including:
1. Reimbursements play a crucial role in ensuring the sustainability of virtual care
The provision of incentives to practitioners for administering remote patient monitoring is essential to drive widespread adoption of virtual care technology. Without proper incentives, the uptake of remote patient monitoring remains limited, despite its potential to significantly contribute to the management of chronic illnesses, which are currently at an all-time high in Australia.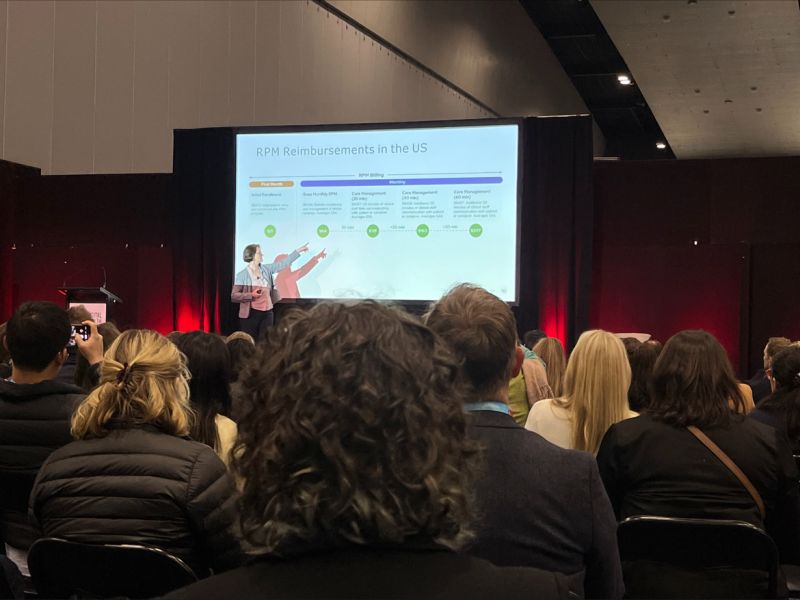 For instance, in the United States, remote patient monitoring (RPM) and remote therapeutic monitoring (RTM) receive extensive coverage, enabling healthcare providers to offer these services to a wide range of patients. In contrast, Australia's coverage is primarily focused on specific cardio-related monitoring, leaving other areas with limited reimbursement support. This discrepancy highlights the need for Australia to expand its coverage and align with the comprehensive approach taken by the US to sustain the future growth of virtual care.
Furthermore, while the US continues to expand its reimbursements to support the advancement of virtual care, Australia has taken steps backward by reducing the coverage of certain items that were introduced during the pandemic and proven to be highly beneficial. This includes patient-end support services and other critical components. This reduction in coverage hampers the progress of virtual care in Australia and underscores the importance of maintaining and expanding reimbursements to ensure its sustainability and growth.
2. Measurement-based care will be a fundamental driver for virtual care
Australians will discover more benefits of virtual care by embracing additional measurement-based tools and features such as teleassessments, to achieve greater objectivity, personalised treatments, early intervention, outcome monitoring, and patient engagement. By incorporating systematic measurements and assessments into virtual care practices, healthcare providers can optimise patient outcomes, ensure quality care, and drive continuous improvement in the virtual care landscape.
Silvia noted that whilst Australia has given some thought to measurement-based care, more can be done to promote it, using the United States as an exemplar.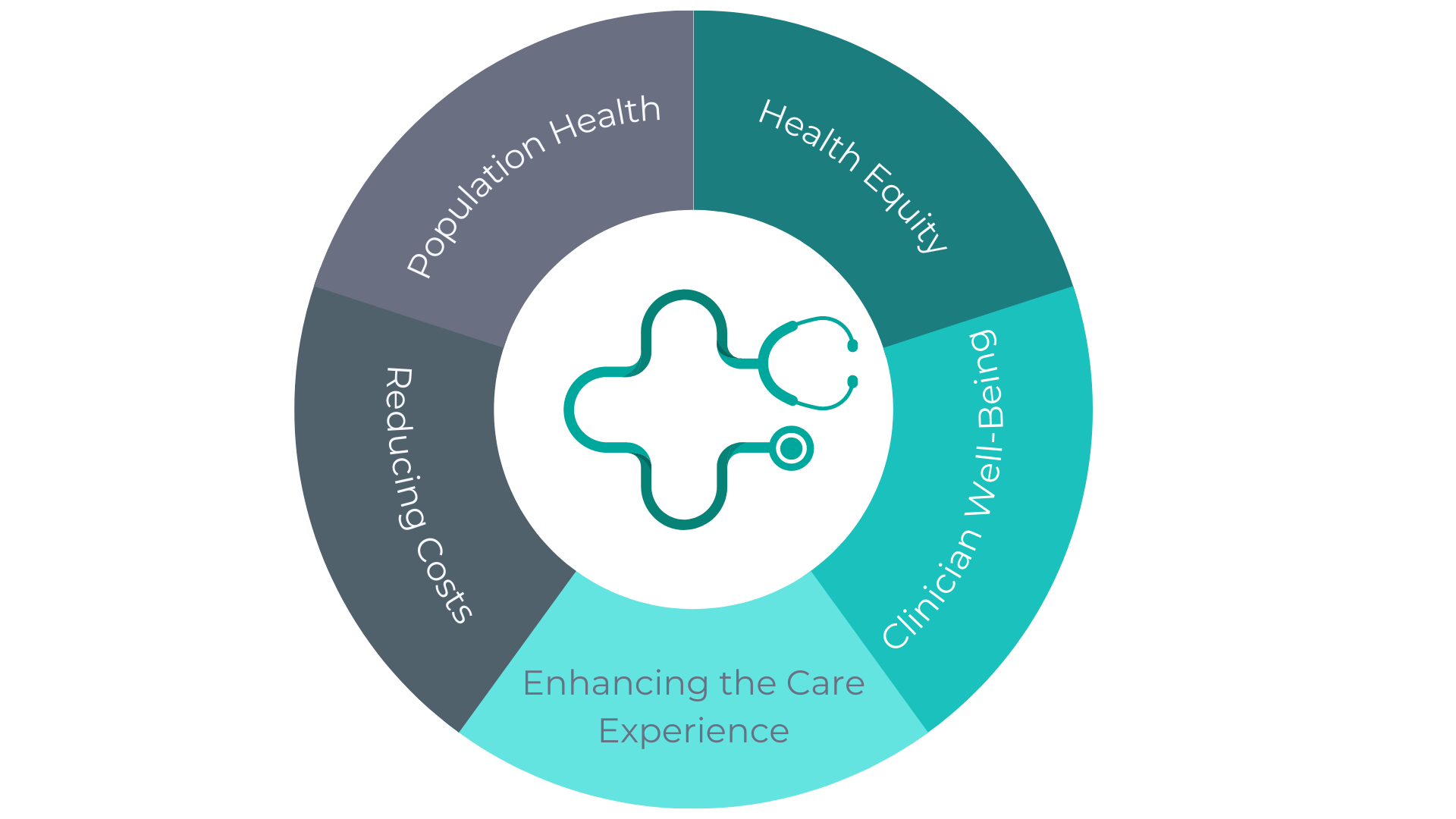 3. Interoperability is key to better healthcare outcomes
Virtual care provides the opportunity for better healthcare outcomes through an emphasis on seamless integrations between software, platforms and systems. Key to this is the synthesis between systems of record (EMR/PMS) and systems of action, such as Coviu's virtual care. Interoperability in virtual care fosters frictionless data exchange, comprehensive patient records, efficient workflows, patient engagement, and research opportunities. By breaking down information silos and enabling meaningful data sharing, interoperability enhances care coordination, supports informed decision-making, and ultimately improves patient outcomes in the virtual care landscape. Both the United States and Australia should endeavour to take a visionary approach to virtual care that incorporates this long-term goal.
Exhibiting with Coviu's long-term partner 2M Language Services
The inclusion of the 2M lingo™ application in Coviu's video consultations proved to be a remarkable highlight, leaving visitors in awe. This innovative feature offers efficient access to remote language interpretation services, adding an extra dimension of convenience and accessibility to Coviu's platform.
The 2M lingo™ app integrates seamlessly with Coviu, enabling real-time interpretation services during virtual calls. Through Coviu's live booth demonstrations, it was apparent to all that 2M Language Services plays a vital role in facilitating language access and helping practitioners overcome communication barriers in multicultural and multilingual healthcare settings through their comprehensive language services.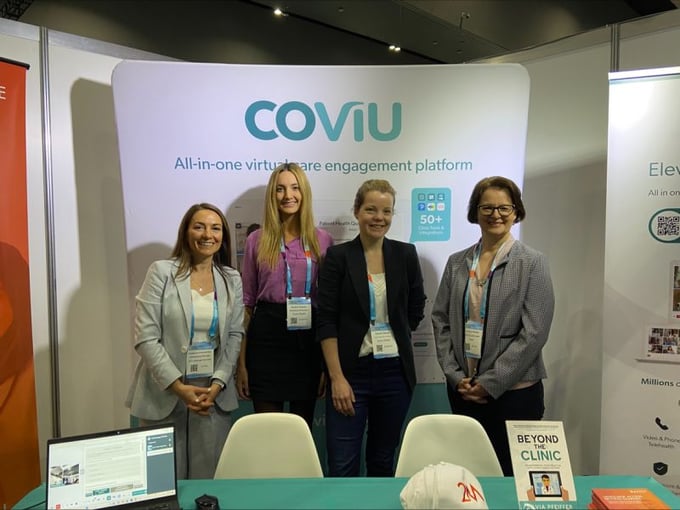 Thank you DHF23!
Events like the Digital Health Festival offer a distinctive platform for the industry to forge integration partnerships and discover innovative approaches to streamline clinical workflows with healthtech. Coviu's representatives relished the opportunity to reconnect with esteemed partners such as Health Direct, the Clinician, iHealth, and St George Oncology Associates, strengthening collaborative ties. By working together, the future looks bright for virtual care.
Coviu expresses sincere gratitude to our valued partners, 2M Language Services, our other industry colleagues, and the organisers of this remarkable event for delivering two unforgettable days of knowledge exchange and networking. We eagerly anticipate attending again next year, and the opportunity to further advance the frontiers of virtual care.
---
To learn more about Coviu, connect with one of our friendly customer success team members here.