Investing in Australia's Future. PsychWeek 2022.
The Australian Psychological Society (APS) are hosting Psychology Week 2022 between 27 November to 3 December to raise mental health awareness.
---
This year the focus is on the mental health and well-being of children and adolescents in Australia, including the major social, psychological and developmental challenges and issues they face, with the catchphrase: "Investing in Australia's future."
Childhood and adolescent years are rife with physical, emotional and social changes which can lead to mental health vulnerability. Worldwide, one in seven 10-19 year olds experience a mental disorder, but many of those remain untreated.
Across the world, mental and behavioural conditions continue to soar, with suicide the leading cause of death among 15 to 29 year olds and depression one of the leading causes of disability. Yet, there is still a universal gap between children needing care and those with access to it.
Common mental health disorders in youth include anxiety disorders and depression, attention deficit hyperactivity disorder (ADHD), eating disorders, psychosis, suicide and self-harm and risk-taking behaviours.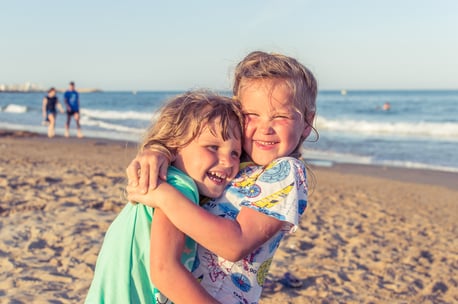 Hybrid Virtual Care for Youth Mental Health
Coviu's ongoing partnership with the APS is critical to combat this issue, with a large number of allied health professionals using Coviu's virtual care platform to engage with Australians suffering from poor mental health. In fact, Coviu's own studies show, 62% of Australians aged 18 to 34 stated that they would be more likely to seek mental healthcare if telehealth was available, and 60% said they would switch mental health providers to one that offered telehealth.
Coviu seeks to provide access to patients that can't always access mental health practitioners and services in person, through an all-in-one virtual care telehealth engagement platform. With a toolbox of mental health features from assessments to digitalised 'brick and mortar' functions such as integrated billing and waiting rooms, Coviu enables psychologists to treat patients more effectively from the comfort of their own homes.
Coviu has a number of features specifically for child and adolescent mental health which include Pearson Clinical Assessments and Mental Health Assessments discussed in further detail below.
---------------------
Pearson Clinical Assessments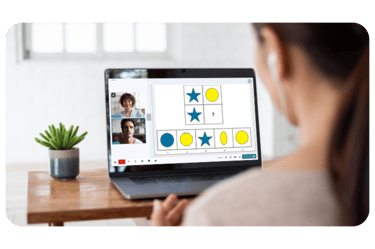 Coviu has partnered with Pearson Clinical to integrate the digital stimulus books of commonly used assessments into Coviu's telehealth platform, so you can have access to the latest clinical tools all in one place.

Available on Coviu, are the following Pearson Mental Health assessments:
The digital stimulus books are embedded within the Coviu call, allowing you to display the stimuli without leaving your window. You and your client can see each other's cursor movements over the stimulus book, enabling you to direct the client's attention. When the client selects a response, an annotation with numbers indicates the order of responses.
Assessments conducted through Coviu ensure a standardised environment that modifies the client's interface and reduces the risk of distraction. A growing number of studies support the claim that Pearson assessments delivered over a virtual care model are comparable to in-person assessments.
Our recent case study highlights how practitioners treating young people have successfully assessed their patients with Pearson.
Mental Health Assessments
Coviu has integrated a number of commonly used Mental Health Assessments enabling you to administer them directly within your Coviu call.


The assessments currently available include:
Each of these tools is $2.50 per month, per account for unlimited usage on Coviu with the exception of the DASS-21 which is free for unlimited usage.


Sneak Peak of the Mental Health Assessments in Coviu.
---
A Final Word on Promotion and Early Prevention
Coviu advocates for the use of digital health care to promote mental health and ensure early prevention. Through virtual care, psychologists can reach more patients, with higher engagement rates, and even use data to personalise preventative interventions.
However, early intervention also requires the human touch and an understanding of what to do if you suspect a young person you know is struggling mentally. Here are some preliminary steps to ensuring a child receives the help they require:
1. Create a safe, relaxing environment.
2. Listen to and acknowledge how your child or teenager is feeling.
3. Show them where to find help. The APS has a great program called PsychEngage, which enables patients to connect with a psychologist faster than ever before and includes an option for telehealth.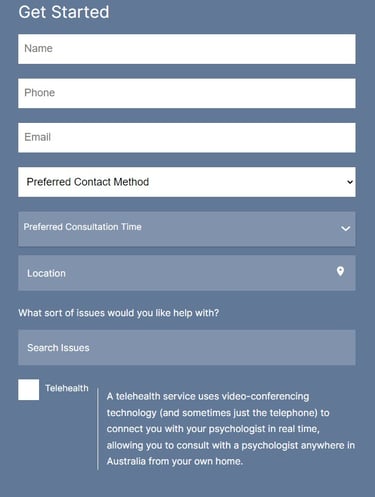 Check out more mental health resources at the Australian Psychological Society, Australia's leading body of psychologists and up-to-date information on psychology.
#psychweek2022