Transforming Access to Plant Medicine Through Telehealth
Imogen Phillips
Head of Client Care & Clinical Training, Alternaleaf
---

Alternaleaf's Imogen Phillips discusses its telehealth client management platform that supports its mission to improve patients' access to medical cannabis. The clinic recognised that many clients faced barriers when discussing plant medicine openly with their doctors due to factors such as lack of education or societal stigma. Therefore, the goal was to create a streamlined process for patients to access medical cannabis and receive appropriate medications.


---
About Alternaleaf
Alternaleaf, Australia's leading plant medicine clinic, is dedicated to improving the health of Australians through their journey to wellness. By leveraging the telehealth revolution, Alternaleaf has made plant medicine alternatives accessible to tens of thousands of Australians. From seamless bookings to consultations and medicine delivery, Alternaleaf ensures that clients receive timely and appropriate treatment. With the support of an exceptional Patient Care Team and a large network of qualified doctors, Alternaleaf is committed to providing simplicity, expertise, and an unparalleled client experience at every step.


Transitioning to Coviu
In May 2021, Alternaleaf launched its telehealth option using a different video platform. However, this initial platform presented challenges, including a clunky interface and backend issues that hindered patient access to video calls, especially for those who were less tech-savvy. Seeking a client-focused and customisable solution, Alternaleaf explored Coviu and has now been utilising it for over eight months.
The Advantages of Virtual Care
Coviu has significantly improved the Alternaleaf patient experience by providing a stable, purpose-built platform designed to ensure seamless interactions. With Australian support and a focus on client care, Coviu has facilitated better utilisation rates, reduced the need for phone consultations, and streamlined the overall client experience for Alternaleaf. Its integration with existing systems and constant tech developments have been positively received, allowing for enhanced quality, reliability and fast support. Feedback from Alternaleaf's staff shows an improvement in:
Trust and rapport with an easy-to-use platform

Higher engagement rates with video calls

A more stable video experience you can rely on

Seamless interactions with a platform purpose-built to enhance the client experience

Learn more about Imogen Phillips and Alternaleaf's business here.
---
Take your practice to the next level like Alternaleaf has, with Coviu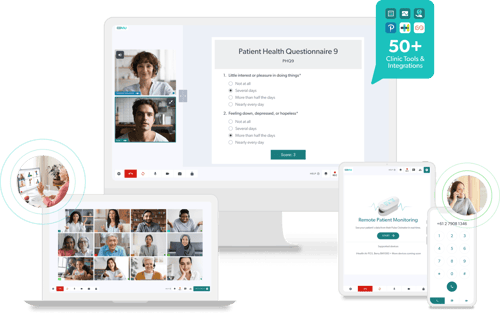 Book a Demo
Why not get started with a free demo and let the team show you 1-1 how Coviu can work for you here.


Get Started with a Free Trial
To learn more about Coviu and how to implement telehealth into your practice start a free trial here.
---
Already Using Coviu?


Marketing Your Virtual Care Practice
You are up and running telehealth consultations, but how do you attract clients to your new service?
Marketing your practice can be challenging so we have put together the ins and outs in an easy-to-implement document found here.


Share Your Success Story
If you would like your telehealth story to be featured, click here.


---