Your Guide To Australian Telehealth Statistics
Patients are in the midst of a telehealth love affair, which offers many growth opportunities for doctors in private practice.
Now, it's time to drill down into telehealth usage statistics to help us understand telehealth adoption rates and satisfaction levels to create a clear picture of how telemedicine is changing Australian healthcare.
---

Telehealth Overview 2020 - 2021


Practitioners and Telehealth
In what many describe as a forced adoption, healthcare professionals began using telehealth, often for the first time, to maintain access to healthcare during the COVID-19 lockdown.
It was a paradigm shift for many, carried out during a time of intense pressure.
How many practitioners will keep using telehealth? That's hard to say but ongoing telehealth is being strongly encouraged by professional groups like the AMA and the RACGP. Telehealth is here to stay.




Patient Satisfaction Levels With Telehealth
Patient demand will fuel ongoing telehealth provision. Patients certainly want to continue telehealth consultations. They love it.



Funding For Telehealth
Telehealth funding was temporarily extended when the COVID-19 pandemic hit in March 2020. As the pandemic continued, funding was introduced, then extended in March. The May 2021 budget announced Medicare-funded telehealth until the end of the year, but patients and professionals would welcome greater certainty.



Future Plans
What of telehealth's future?
Many of its drivers will remain with us. For the next little while, Australians may still experience sudden lockdowns, necessitating telehealth provision.
Rates of chronic disease continue to rise, meaning some patients need regular medical appointments – made much simpler to access through telehealth.
And there's been an exodus from the major cities due to COVID-19, meaning more Australians are choosing a country lifestyle that will, at some point, make telehealth access to city specialists very appealing.


49% of Australians are likely to use telehealth in the future.

44% of Aussies would switch GPs to one that offers video telehealth (does your practice?).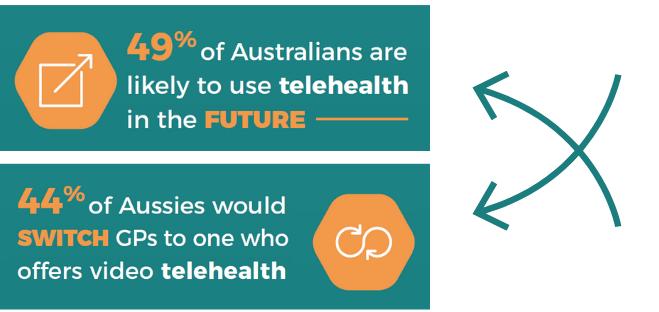 How Can Coviu Help?
Telehealth platforms are not all the same. Coviu is the Australian government's telehealth platform of choice. Over 3.8 million telehealth consultations have now been performed in Australia using Coviu. It's a simple yet robust platform that appeals to both patients and clinicians with many powerful add-ons that enable you to tailor it to your particular professional niche. Get started today with a two-week free trial!