Healthcare From Your Couch - Coviu's Telehealth Directory
You stare at your watch as the precious minutes tick by, looking away only briefly to check that your children haven't touched the communal magazines. Everyone around you is coughing and sputtering. You reach into your bag to grab the hand sanitizer, which you quickly distribute to your boys. 'Don't touch anything! I don't want you both getting sick!' you instruct.
Your GP is running late. Again. And you have now wasted 40 minutes of your day sitting in this germ-infested waiting room, exposing yourself and your children to more illnesses. Not to mention the hour spent in peak-hour traffic on the way there.
Finally, you are called into Dr Hastings office, where your digital file is retrieved. Within 2 minutes of sitting down, you are read your blood test results from last week's tests.
"Your Iron is a little low, so try taking supplements for a few weeks and see how you go. Otherwise, everything looks fine."
Dr Hastings writes down the brand of Iron he recommends.
And that's it. You are ushered out of the room and begin the journey home with a million things on your mind and your hungry kids pestering you about dinner. The dinner you would have otherwise been preparing if you hadn't wasted the afternoon at the doctors.
We have all experienced this nightmare at some point. But what if there was an easier way to balance great healthcare with a busy, unpredictable life?
Online Doctors Directory Australia is a new telehealth directory service that is launching to patients November 1st. Healthcare providers across a range of specialities including general practice, psychology, physiotherapy and cardiology, will be listed on the site. Each provider offers video consultations and/or text-only sessions to patients, for enhanced convenience and discretion.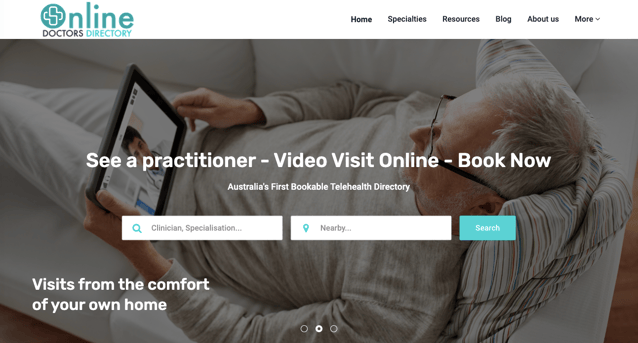 The majority of traditional GP or post-op visits can easily be replaced with video consultations, for example, receiving pathology results, referrals, script renewals or even a simple check-up. In addition, telehealth for mental health is particularly effective as the existence of a screen or 'barrier' between both parties can actually encourage the patient to be more honest and forthcoming about issues or concerns they may have. This, in turn, improves patients' health outcomes.
The best part about telehealth? Travel time and associated costs are essentially eliminated, and patients can see their practitioners from the comfort of their own homes, whilst travelling or during their lunch breaks. The convenience and comfort is unparalleled.
Booking appointments with ODDA is easy. Simply click this link to enter the website and search for your ideal practitioner based on a range of selection criteria. Click on the practitioner's booking button to make an appointment, or email/phone the clinic directly and ask for a telehealth appointment if they do not have a booking button. When it is time to see your practitioner, you will be emailed a URL to simply click on in order to join your call. This process works from any device, given you have a microphone, camera and speaker (generally inbuilt on your device).
We understand the shift towards video visits can be scary, but we encourage you to give it a try as almost all first-time telehealth patients become repeat users.
Whilst ODDA is a new service, Coviu, the backbone of ODDA, has been around for a while. Coviu is a telehealth service provider that spun out of the CSIRO's Data 61 in 2015. To date, we have hosted over 80 000 video consultations and have users from practices and hospitals all over the world. Notably, we've recently partnered with Healthdirect, a government-funded health information organisation, to power their video call service.
Coviu software was built by health professionals, specifically for health professionals, meaning it is equipped with all the necessary clinical tools such as referral and script-writing abilities, customisable clinical forms, image sharing and screen sharing.
Coviu has also won multiple awards for our artificial intelligence algorithm, PhysioROM, which remotely measures a patients range of motion via video. PhysioROM will be a vital component of telerehabilitation and remote monitoring of patients following injury or surgery. It is currently undergoing clinical trials.
To search for a telehealth provider on the new directory service, click here. To keep up to date with Coviu and the PhysioROM clinical trials, follow the company blog here.