GP Focussed Psychological Strategies for rural patients
It is estimated that around 3.2 million Australians, will be affected by mental health difficulties during any 12-month period. For many, the first place they go to for help is their GP.
This is particularly pressing in rural and remote settings where patients have very limited access to mental health services. So much so, there are now new MBS Items for GPs and Medical Practitioners Delivering Focussed Psychological Strategies by Telehealth.
From 1 November 2018, appropriately trained general practitioners and non-specialist medical practitioners will be able to provide Focussed Psychological Strategies (FPS) via telehealth under Medicare in rural and remote areas (Modified Monash areas 4 to 7).
Focussed Psychological Strategies allow GPs to further develop their skills in Mental Health and become accredited to provide psychological interventions to those experiencing difficulty. Including the well being and resilience of people in farming communities.
Focussed Psychological Strategies in general practice facilitates early intervention for emerging symptoms, immediate assessment of suicide risk and effective monitoring of chronic mental illness. This advanced training equips GPs to deliver an "in-house" mental health service and 'whole-person healthcare' to all patients.
How does Better Access work?
The Better Access Initiative entitles people with an assessed mental illness to access rebated allied mental health services. For each eligible person, this includes up to 10 individual consultations and up to 10 group services per calendar year.
Patients can receive more than 10 individual services and/or more than 10 group services, but only the first 10 individual services and only the first 10 group services within a calendar year are eligible for rebates.

What are Focussed Psychological Strategies?
Focussed psychological strategies are specific mental health care management strategies, derived from evidence-based psychological therapies.
Focussed psychological strategies have been shown to be effective in treating people with anxiety and depression in acute medical situations. It is derived from evidence-based psychological therapy, and a range of acceptable strategies has been approved for use by medical practitioners in this context. These are:
Psycho-education; Including motivational interviewing
Cognitive interventions; Including Cognitive therapy
Cognitive-behavioural therapy including Behavioural interventions;
Including; Behaviour modification, Exposure techniques, Activity scheduling
Relaxation strategies;
Including; Progressive muscle relaxation and Controlled breathing
Interpersonal therapy
Skills training
Including; Problem-solving skills and training, Anger management, Social skills training, Communication training, Stress management, Parent management training
"The high prevalence and burden of disease associated with mental illness means that GPs need to be able to detect and treat mental illness, and must play a central role in providing evidence-based, patient-centred care to people living with a mental illness." - Associate Professor Morton Rawlin Chairperson, GPMHSC
How do I register as a Focussed Psychological Strategies Provider?
GPs who wish to register as a Focussed Psychological Strategy provider must already have taken level 1 Mental Health Skills Training, then complete the FPS skills training with an approved training provider.
For more information on FPS skills training check the guide from the RACGP here - Introduction to this guide and overview of GP mental health training framework.
Once you have completed your Focussed Psychological Strategy Skills Training, you can then apply for Focussed Psychological Strategy provider status through GPMHSC (General Practice Mental Health Standards Collaboration). And obtain CPD points.
Once approved as a Focussed Psychological Strategy provider you'll be able to access MBS item numbers: GP focussed psychological strategies services (items 2721 to 2727); and/or psychological therapy services (items 80000 to 80015); and/or focussed psychological strategies – allied mental health services (items 80100 to 80115; 80125 to 80140; 80150 to 80165).
How can I deliver Focussed Psychological Strategy via Telehealth?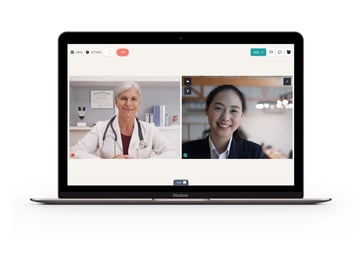 Coviu is a healthcare video conferencing platform and spin-out of the CSIRO. We're proud to be built in Australia and designed specifically for Healthcare professionals to deliver interactive Telehealth services.
Our software has been specially adapted to support low bandwidth areas and rural locations.
Video consultations with Coviu are secure, easily-accessible on all devices, high-quality and reliable. Our software is pro-integration - meaning it will slot into your current practice workflow and systems to eliminate any unnecessary friction.
Coviu is free for your patients, there are no downloads or things to install - they simply access your consultation room at the click of a link. It couldn't be easier.
Our mission is to make telehealth "business as usual" for patients and providers through an effortless software experience, through best-in-class support, and through validated clinical tools.
Our vision is to ensure every patient has access to the best minds and tools in healthcare regardless of location.