#10: Coviu introduces in-call payments
As Coviu's core goal is to enable the delivery of human services over a distance, our users have quite naturally asked for ways of charging their customers.
We wanted to make this work in a flexible manner, allowing all sorts of payment options that our customers may already have signed up. So, payments had to become add-on functionality to calls that users can dynamically turn on and off.
We decided to start with one payment option: Pin Payments. Pin are an Australian credit card payment service for businesses with a quick deposit right into your bank account. We used them for their simple process and simple API and made friends with them post implementation!
It's only one of many add-ons that we've developed — others were for custom contracts and use cases. Our add-on approach is enabling us to have a standard user interface that we can easily adjust for custom use cases without having to deploy a completely new environment. It's a very powerful concept and we're planning to eventually open it up to other developers. For now, though, ask us directly if you have any custom needs.
Now to our announcement email.
Subject: "Coviu introduces in-call payments".
Date sent: 13th December 2016.

Hi user,
Today we announce new ways in which Coviu works smarter for you and your business.
In-Call Payments
You can now request a credit card payment from your customer from right within a Coviu call. The money will go straight into your Pin Payments business account.
We're only opening this up to a small beta group of 20 Team Accounts right now.
Be the first to access this new functionality and help us build a better experience.
Here is a sneak peek of Pin Payments in Coviu: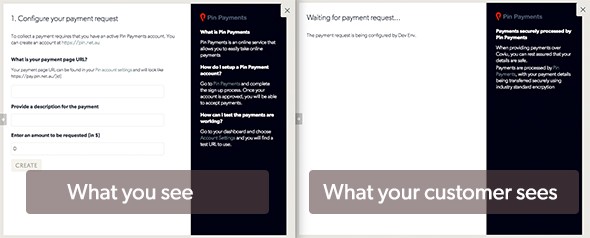 Need Custom Functionality?
Add-Ons allow you to adapt the Coviu video calling interface to your requirements — Coviu can be customised to provide the exact functionality that your business requires. Pin Payments is just one example of an Add-On.
Add-ons are custom developed by us and are very powerful — whether you need rendering of a different file type, a different user interface layout, or changes to the annotation toolbar — Coviu can readily accommodate your needs.
Coviu Add-Ons add to the power of Team Accounts
Coviu Team Accounts are getting more powerful all the time. Here are some ways we're enhacing your Coviu experience, available exclusively on Team Accounts:
Access to a range of Add-Ons (with more to come)
Improved connectivity through corporate firewalls
Sharing of document cameras
Saving of annotated documents
Need to upgrade from an Individual Account?
Start your free trial for a Team Account today.
— -
We'd love to get your feedback — you can simply email support or me at silvia@coviu.com. We're also happy to join you in a Coviu call to walk you through the Coviu features.

See you on Coviu!