Evaluating Virtual Care in Australia | SFT - 22
Coviu was honoured to mingle with telehealth royalty at the 22nd Successes and Failures of Telehealth Conference (SFT-22) at the Brisbane Convention and Exhibition Centre. 🤖🎤


---
Over three days, Coviu representatives attended workshops, plenary sessions, exhibitions and networking activities as silver sponsors, to discuss the growth of telehealth post pandemic, and what the future holds for virtual care. The event on behalf of the University of Queensland's Centre for Online Health and the Australian Telehealth Society brought together over 180 attendees from Health Executives to Academics to share their studies and technology enabling greater healthcare access for Australians.
"The SFT conference is an interactive experience that promotes engagement, innovation, critical debate, and future planning of telehealth and digital health care services. The SFT conferences have been running since 2001 and remain one of the largest academic and industry supported telehealth conferences in the southern hemisphere. With all of the attention and increased uptake of telehealth we have seen throughout Australia and around the world, SFT-22 will be a time to connect and share experience – and navigate requirements for sustaining telehealth as a business-as-usual feature of our health system."
Coviu attended in force with Marketing Executive, Sophie Kessler presenting at the event's opening Industry Engagement Session on Coviu's evolution into a virtual care engagement platform. She was joined by our experts, Keiran and Kaamraan who showcased our platform in action including demonstrating our Bluetooth enabled Pulse Oximeter Remote Monitoring App, the 2M lingo™ App functionality, and our extensive App Marketplace. The team exhibited our latest features such as phone and group call capabilities and how they can work together to provide complete care.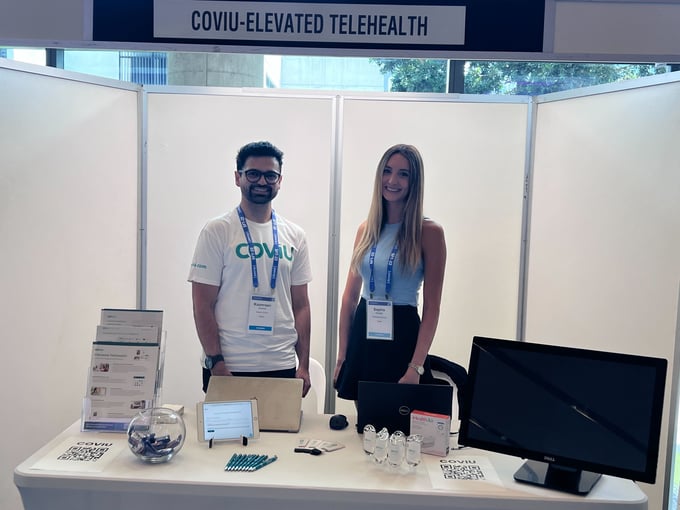 Sophie Kessler presented on behalf of CEO, Dr Silvia Pfeiffer at a plenary session on Day 1 on 'Remote Patient Monitoring Opportunities for Primary Care.' The presentation highlighted the opportunity arising for remote patient monitoring (RPM) to address chronic illness at the primary care level, as well as Coviu's integration with RPM applications. Sophie also highlighted that for GPs to be able to continuously monitor chronically ill patients in the community and stop their health from degrading before the illness becomes debilitating, digital therapeutics reimbursements are needed. By comparing overseas reimbursement models in this space, Sophie showed that the medical industry needs to lobby for reimbursements domestically that would make RPM in primary care viable, creating the legal environment for practitioners to adopt it as a solution.
SFT-22 provides a unique opportunity for industry researchers and professionals to share knowledge on virtual care opportunities. Our five key takeaways from the day were:



1. Training, training, training

There is an ongoing need for staff training to support and sustain telehealth use beyond COVID-19. Dr Annie Banbury's presentation on telehealth training for residential aged care workers highlighted how staff training was critical to increase telehealth adoption. The importance of training for outpatient services in rural aboriginal patients was also explored in Nandhini Natarajan's speech, and the need for rural-based volunteers to support consumers to develop digital skills to participate in telehealth was discussed in Jane Kealey's speech.



2. We can't ignore what we've learned

A number of presentations touched on the incredible success and learnings that came out of the growth of telehealth during the COVID-19 pandemic. As Christine McInally underlined, telehealth strategies for providers should be developed by taking a look 'back to the future'. This means acknowledging the benefit of 'how to' information for consumers and the importance of comprehensive, organised resources to support telehealth users. McInally says this includes treating telehealth as as important as in-person consultations. In addition, Javad Pool provided interesting insights into public opinion on telehealth during COVID-19. Studies showed there were negative emotions attached to telehealth during the pandemic due to a dominant pattern of fear emotions that fluctuated during that time. This shows how important it is to continue spreading the news about the undeniable benefits of telehealth to the public to increase positive perceptions.



3. Telehealth a solution for chronic illness

As Coviu's

Sophie Kessler

pointed out, chronic illness is back in the spotlight as the leading cause of death in Australia and with 1 in 2 Australians experiencing a chronic illness. This aligned with discussions on the importance of treating illness earlier and more effectively at the primary care level through virtual care mechanisms.

Jennifer Chipps

showed us how a user centered mHealth initiative helped in diabetes self-management prevention, we saw the success of virtual emergency services through the Northern Hospital pilot in HealthDirect's presentation, and the case for virtual rural generalist services, virtual pharmacist services and triaging practices through telehealth were shown. In addition, the use of RPM in primary care was shown in numerous presentations as successful in treating illness and keeping Australians out of hospital.


4. Health Equity is still a key driver of telehealth

Over the conference, Coviu observed high interest in our translation app 2M lingo™ with attendees surprised how easy it is to use the application through an embedded in-call button, providing near-live access to interpreters for over 250+ languages. This reflected a driver echoed by many of the healthcare and healthtech providers at SFT-22; to increase health equity and access to healthcare. Multiple speakers offered their solutions on how to increase healthcare access, particularly for rural and remote patients, as well as minority groups such as Indigenous communities. In

Sally Cashman's

speech, she discussed tested solutions to overcome barriers to virtual care for regional and rural patients. This included QR codes to virtual waiting rooms, tablets transported to patient homes by healthcare staff and the use of physical stations for patients provided by a healthcare facility to provide technology access. These discussions provided an interesting forum for delegates to revise their approach to better healthcare access.



5. Telephone and Video work in harmony for better clinical outcomes

With Coviu recently adding phone telehealth in addition to its suite of virtual care features, it was interesting to compare the successes of both telephone and video consultations in treating a range of health issues. From cancer care success to the use of phone consultations in Ghana to treat diabetes, to telenursing for lung cancer, the evidence appeared to unanimously point to the fact that both video and phone consultations can be used together to meet a variety of needs. As Dr Annie Banbury's presentation on 'Telephone versus Video in Cancer Care' showed, phone telehealth was more suitable where short transactional interactions were required, however video consultations were perceived as more superior and effective due to complimenting imagery. Overall, a number of speakers showed how phone and video were most effective when used together.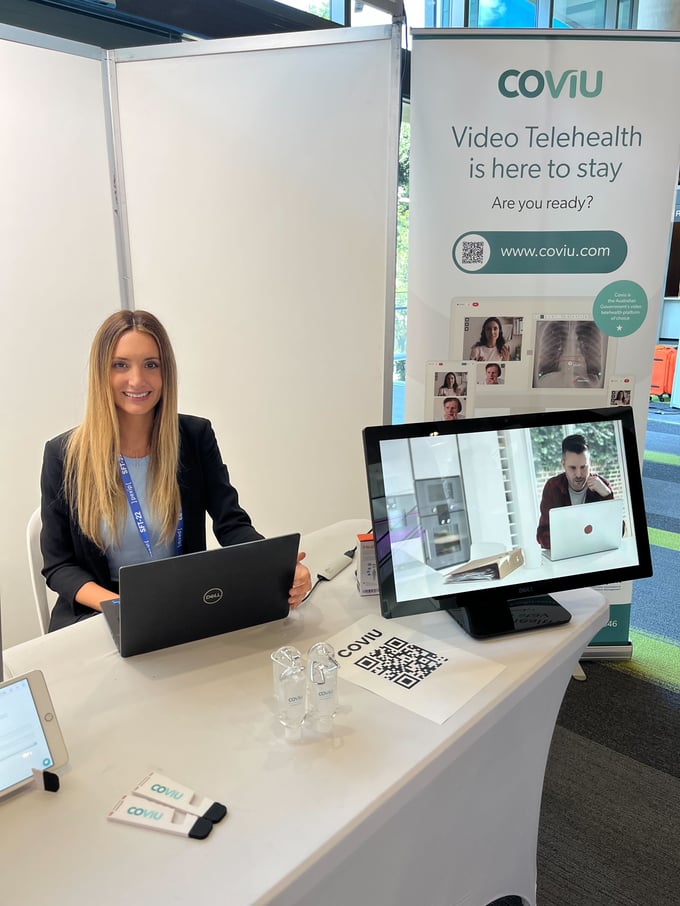 Coviu would like to thank the University of Queensland's Centre for Online Health and the Australian Telehealth Society and the fabulous Iceberg Events for hosting a gold-standard event and we look forward to next year!


----------------------


Looking to take your practice online?
If you have any questions or suggestions for additional features you'd like to see, please don't hesitate to reach out
If you haven't yet tried Coviu, you can get started today with a 2-week free trial - no credit card required!