Coviu Achieves ISO 27001 Certification
Coviu
May 2, 2023 1:45:26 PM
Your trust is our priority. We're excited to announce Coviu's recent achievement of ISO 27001 certification to ensure the highest level of security and privacy for our customers.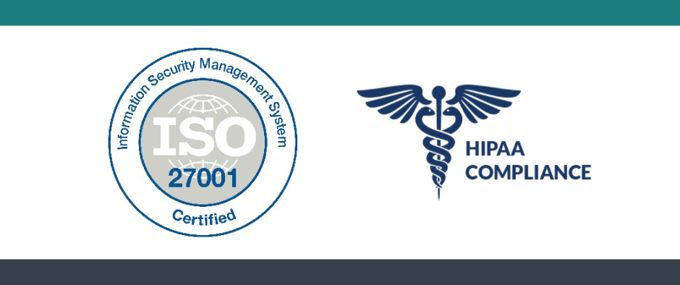 At Coviu, we understand the importance of trust and security in the digital healthcare space. That's why we're thrilled to announce our recent achievement of ISO 27001 certification. ISO 27001 is externally audited by Global Compliance Certification (GCC).
By adhering to these stringent standards, we reaffirm our commitment to protecting customer information and maintaining the confidentiality, integrity, availability, and privacy of customer data and supporting services.

What is ISO 27001 and why is it important?

ISO 27001 is an internationally recognised standard for information security management systems (ISMS). This certification demonstrates that we've implemented a comprehensive and robust framework for managing and protecting our customers' sensitive data. The ISO 27001 Information Security framework helps us identify and maintain assets, technologies, and processes that ensure the highest level of security for our healthcare practitioners and patients.

How does Coviu align with ISO 27001 and HIPAA?

Our alignment with ISO 27001 and HIPAA isn't just a one-time achievement; it's an ongoing process that involves continuous improvement and monitoring. By incorporating these standards into our InfoSec policies and procedures, we:
Regularly assess and identify risks associated with information security.

Develop and implement security controls to mitigate identified risks.

Maintain an ongoing risk management process to ensure that our security measures remain effective and up to date.

Train our employees and ensure they understand the importance of information security and privacy.
Trust, Security and Coviu

At Coviu, we take pride in delivering secure, reliable, and easy-to-use software products for healthcare professionals and patients. Our recent achievement of ISO 27001 certification and HIPAA compliance is a testament to our dedication to maintaining the highest levels of security and privacy.

We're committed to continuously improving our InfoSec framework and keeping your data safe. If you have any questions or concerns about our security measures, please don't hesitate to contact us. We're here to help and support you every step of the way.