Medipass Claims and Payments
Medipass Claims and Payments

The Medipass App allows healthcare providers to easily determine patient eligibility, raise insurance claims and process patient card payments entirely online from via Coviu. This includes the ability to:


Check Medicare, DVA and icare account details and eligibility

Lodge Medicare bulk bill and patient claims at point-of-service delivery

Claim DVA, icare and other supported insurer benefits at point-of-service delivery

Process patient payment cards instantly by online card entry or SMS request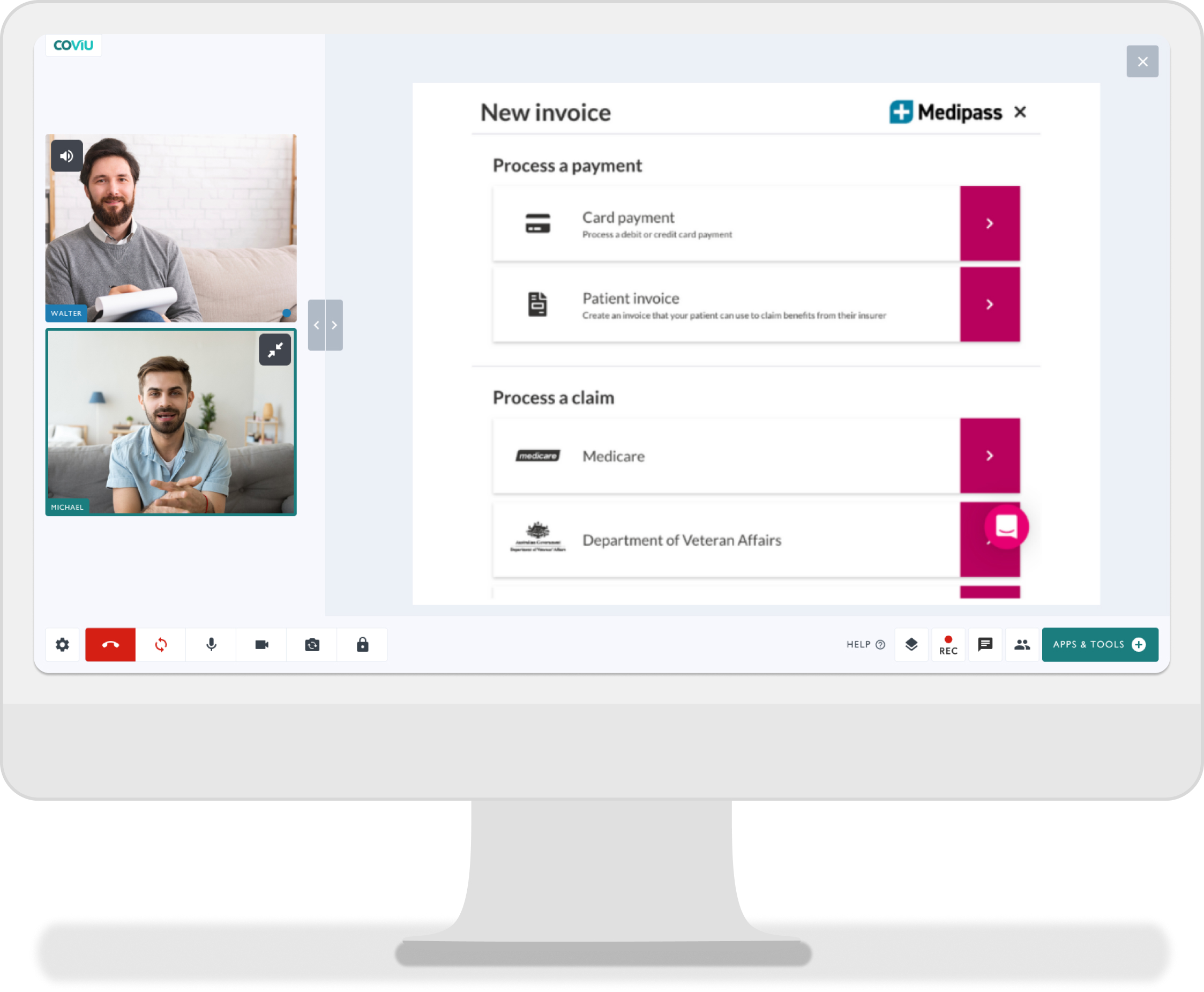 How It Works
1) Sign up to Medipass and enable funding options applicable to your business.

2) Connect your Medipass account to Coviu by installing the Medipass App, then enter your Medipass API Key on the configuration page. For details, see Enabling Medipass on Coviu.

3) From Coviu, when in a client session, click on the Medipass logo above the video windows. You will see the option to create an invoice for your client.

4) To check patient eligibility for an insurer, click 'Create an Invoice' for the applicable insurer, proceed to complete the applicable provider and patient account details, and then click verify details.

5) Click 'Invoice' to create a new invoice, pre-populated with client details from the Coviu session. For card payments, enter debit/credit card details in the manual entry screen or request a payment remotely by SMS request. For insurance claims and eligibility checks, click on the applicable funder and enter account and service details as appropriate.

6) Completed and outstanding payments/insurance claims can be tracked via the Medipass portal. This includes remittance reports to reconcile payments to your nominated bank account. Approved invoices are generally paid the next business day.


Are you a provider or a patient?
As a patient, you do not need to sign up to a Coviu account. Your healthcare provider will use their account and send you a link to join at the time of your consultation.