Australian Healthcare Week 2023
Coviu attended Australia's largest healthcare event, the 12th Annual Australian Healthcare Week at the International Conference Centre in Sydney. Led by our Global Sales Director and comprising a team from Australia and the US, the blockbuster event was a terrific opportunity to share knowledge and better understand the goals and pain points for a wide range of partners and future customers.


---
Over 15 to 16 March 2023, a team of five Coviu representatives attended Australia's premiere healthcare event, Australian Healthcare Week (AHW 2023). With over 6000 attendees from across all corners of healthcare, AHW 2023 lived up to its world-class reputation as a 'must attend' industry event. From hospitals, to allied health professionals, to healthtech startups, the team discussed a number of topics with a wide range of experts, with a number of key themes emerging. Many of the conversations on the day were about the future of Australian healthcare, and it was exciting to witness emerging trends.
Top 3 Key Takeaways

1. The aged care sector is navigating a period of intensified digital transformation

Many of our conversations touched on the difficulties faced by the aged care sector in navigating a new phase of hybrid care. Since the 2021 Royal Commission into Aged Care Quality and Safety, the sector has been incentivised to increase the uptake of telehealth in combination with in-person services. What this looks like and how this can be most effectively adopted were two prevalent conversation topics for home care providers for aged care and residential aged care facilities (RACFs).
In particular, RACFs can access funding until a June 30 cut-off date this year, to assist them in setting up an effective virtual care environment. This requires an understanding of what is required to set up virtual care in RACFs in a way that does not waste federal funding. Both home care providers and RACFs require support and training to implement a suitable physical environment and best practices in virtual care. They are also challenged with determining how best to train staff in telehealth and are tasked with defining new responsibilities within their organisations to successfully facilitate the use of virtual care.
In addition to this, the aged care sector is still learning how to screen the clinical appropriateness of video and phone consultations for individual cases. As more research on the effectiveness of virtual care for aged care emerges, the industry is beginning to gain a more comprehensive understanding of the in-person versus online mix of use cases applicable to elderly patients.
Coviu is pleased to offer a comprehensive software and training solution for the sector with an all-in-one virtual care platform that gives both RACFs and aged care providers the flexibility to build the optimal hybrid care model for elderly patients.
You can find out more about Coviu's solution for aged care here.

2. Interoperability is a key focus for healthcare providers
From medical record integration to billing, interoperability continues to be a regular conversation point for healthcare providers. Questions Coviu often hears include 'How does your software integrate healthcare records with other providers?', and 'Is Coviu compatible with our existing practice software?'.
Coviu's developers are highly aware that the future of digital healthcare is one which accounts for a single unified network for all healthcare information. Which is why, Coviu's software already integrates with most existing industry software from Medirecords to Billing with Medicare.
Coviu's enterprise customers also enjoy the benefits of bespoke services to ensure they are seamlessly set up to integrate with existing software. Our top-tier service includes a telehealth implementation specialist to help larger organisations and their staff navigate the software quickly, replicating their processes online.

3. Practitioners are interested in measurement-based outcomes

As CEO of NovoPsych & Clinical Psychologist Ben Buchanan recently underlined, "Measurement based care (MBC) is defined as the practice of informing clinical care with client data collected throughout treatment. MBC includes two processes: routine assessments during the course of treatment, such as measuring the severity of symptoms with rating scales, and the use of assessments in decision-making."

Many of Coviu's customers and partners highlighted their interest in centralised data capture within the platform for the long-term measurement of patients' healthcare outcomes. Coviu is known for its large library of clinical features, which include gold-standard assessments that integrate into video calls and remote patient monitoring to capture patients' symptoms over time.
As Coviu grows into a fully comprehensive all-in-one virtual care engagement platform, patients can be more effectively treated for a range of health factors in the one place and data will ultimately be captured longitudinally. This is already possible through our partnership with The Clinician, where dashboards interpreting patient-reported outcomes during video consultations can be integrated with Coviu's software.
Coviu's roadmap seeks to develop an even more comprehensive system of centrally capturing data.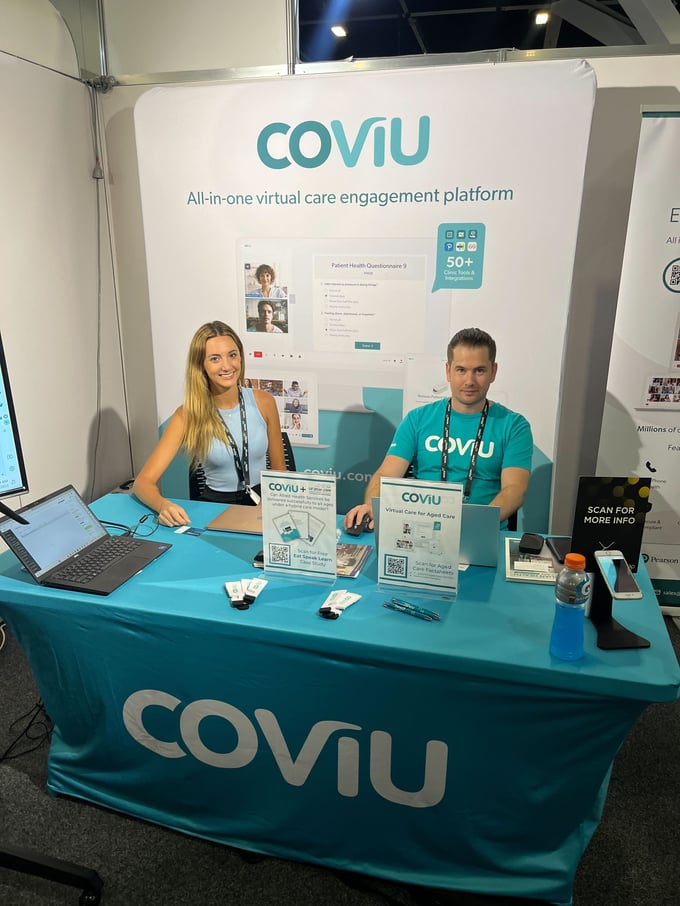 A Big Thank You, Partners and Providers!

Coviu wishes to thank the organisers of the 12th Annual Australian Healthcare Week for a wonderful event. We had an exceptional time connecting with some of the biggest names in the Southern Hemisphere in healthcare, thanks for connecting and sharing with us!

----------------------



Looking to take your practice online?

Start a 2-week free trial and start running consultations within just minutes! To learn more about Coviu book a call with one of our friendly team members here.

----------------------

Find out more about our upcoming events...

Come and join us again in the future! For more event information click here.