Aged Care Sector Resisting Telehealth Uptake
Telehealth was largely embraced as a vital alternative to in-person medical consultations during the COVID lockdowns, but what is its role now that systems are transitioning to a COVID-normal phase?
---
Dr Silvia Pfeiffer, CEO and founder of Coviu, speaks to Aged Care News about the fact that there is still a convincing use case for the technology, but that the aged care sector has thus far been resistant to change.


"I'm actually quite disappointed about the aged care sector this far in the uptake with telehealth", Dr Pfeiffer tells Aged Care News.
"During the pandemic, there were lots of opportunities to bring in telehealth, to bring the doctors into the aged care centres via technology, and yet, it was very difficult to do that in aged care."
"I think it's got to do with the setup of the residential aged care providers."
Ensuring aged care facilities have high speed, wireless internet connections that are freely accessible to residents and their families is one of the fundamental building blocks that is often lacking, Dr Pfeiffer says.
Dr Silvia Pfeiffer - CEO and Co-Founder, Coviu
---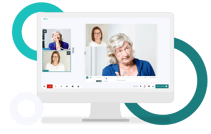 Start a 2-week free trial and start running consultations within just minutes! To learn more about Coviu book a call with one of our friendly team members here.