Spotlight on New Features! 🌟
We have some exciting updates now available on Coviu! Plus, we dive into what's coming soon!
---
New Video Layouts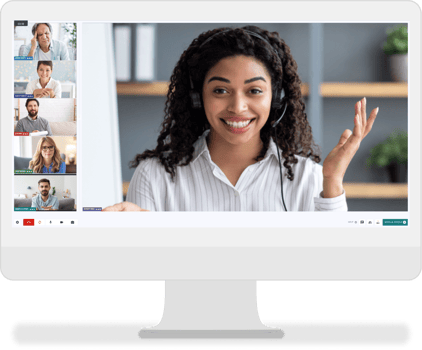 Updates have been made to the in-call video layout! Creating a more intuitive call experience, the key changes include:
A grid layout is now the default layout.

Video feeds now dynamically scale between 16:9 and 4:3 to maximise the space usage in the call.

Ability to pin a participant to your screen by mousing over their feed and clicking the pin icon. Pinning a participant will split the call into two separate grid layouts with the pinned participant in the second grid. The line that divides the grid is click-and-draggable to adjust the size distribution between the two grids.
---------------------
Reporting Access on Standard Plans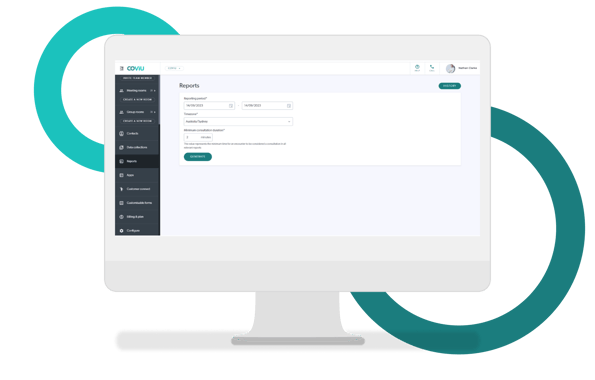 Reports are now available on Coviu's Standard Plan!

Coviu account owners and administrators can now access different types of clinic reporting! This feature can be used to collate evidence around roles and activities for audits and reviews and even be utilised for phone call reporting for the Waiting Area where Phone Telehealth is enabled!
---------------------
Clinic Clerk Role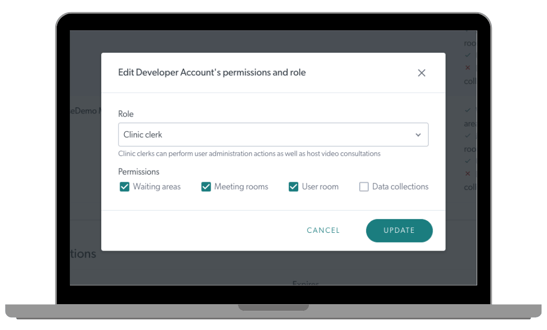 A new User Role has been added called 'Clinic Clerk'. This role can be assigned to a user within any clinic and will have the level of access that a Team Member has, with the additional ability to manage Team Members. This may assist in bettering the responsibility of Team Member management, as users can be granted access to do this without the risks of having access to other Configuration and Account areas.
---------------------
Coming Soon

Call Manager Updates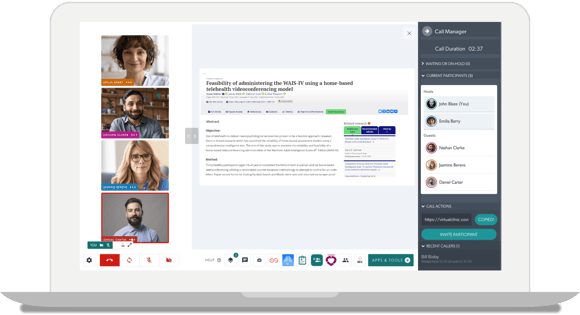 Exciting improvements are coming soon to Coviu's in-call experience!

Soon, Call Hosts will see an updated Call Manager menu during a call. The Call Manager refers to the right-hand menu that allows the Host to admit Guests into the call and perform a number of other activities.
The new Call Manager will be more compact, allowing you to manage each Guest's actions right from their participant box. This includes the ability to place a Guest on hold, transfer or disconnect them, control individual guest permissions and more!
--------------------
Custom Virtual Backgrounds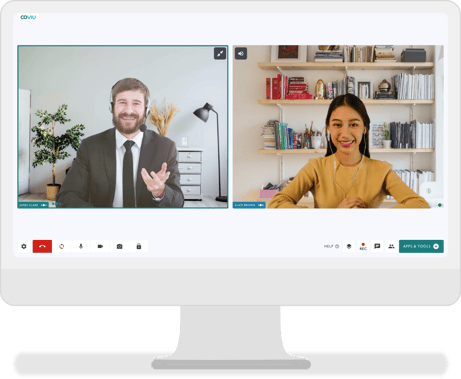 One of our most requested features is not too far away! Soon, the ability to upload custom virtual backgrounds to your in-call video feed will be possible! View our current available virtual background feature below.
--------------------
Multi-Factor Authentication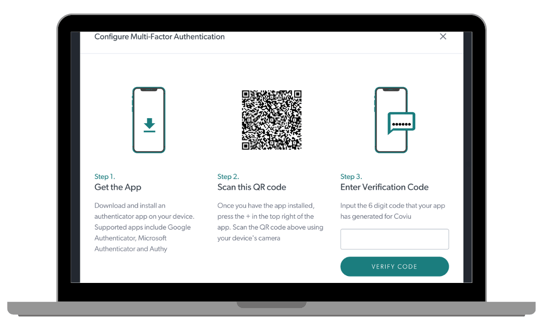 Multi-factor authentication (MFA) will soon be available on Coviu! MFA will increase your platform security immensely by allowing your users to turn on a secondary authentication method in addition to their password, through an authenticator app on their phone.

MFA will only be configured at the user-level, meaning that if a user chooses to turn it on, they can. However, Coviu Support can deactivate MFA for a specific user should something go wrong.


---
Experience Coviu with a 2-week free trial and start running consultations within just minutes! To learn more, book a call with one of our friendly team members here.