Coviu at the National Telehealth Summit
The National Telehealth Summit took place as a face-to-face event on the 4th-5th May, 2022 at the Swissôtel Sydney. Gathering a range of speakers from all around Australia to discuss their experiences with telehealth and the opportunities of embracing telehealth in the future.


---
Last week, the National Telehealth Summit attracted 100+ delegates and over 30 speakers. The presentations covered many aspects of telehealth, from learnings about virtual care during COVID-19 and the evaluation of safety and quality to the opportunities of telehealth in supporting remote and rural communities, aboriginal services and aged care. Remote patient monitoring (RPM) was a big topic of interest for many, with presentations discussing the role of RPM in supporting chronic disease management and the development of virtual hospitals. Coviu's CEO and co-founder, Dr. Silvia Pfeiffer, presented on 'Interoperability - How do we integrate video telehealth with remote monitoring effectively?' which attracted a lot of interest and engagement from the audience.
We loved meeting so many new faces at our booth. Conference delegates loved seeing live demos of Coviu and proudly displayed their new "Coviu swag". It was fantastic to see so much interest in our platform and specifically the Apps Marketplace, which features over 50 apps tailored to different specialties, helping healthcare providers enhance their telehealth consultations.
Many of our partners were also exhibiting and sponsoring the event, including Medipass, Propell Health and Visionflex.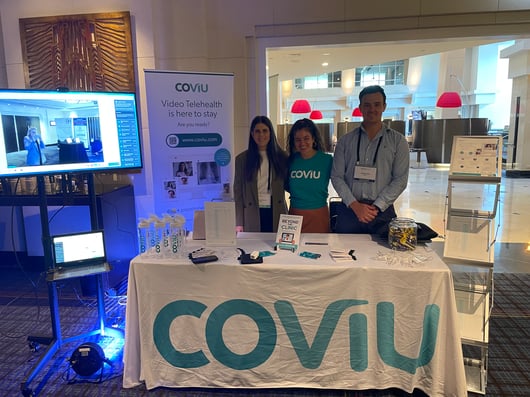 Overall, it was a fantastic event. We had so many wonderful conversations with industry leaders, policy makers and healthcare providers. Telehealth is definitely at the forefront of people's minds and it is fantastic to see that the adoption of telehealth is accelerating, making care more convenient and accessible for all Australians.
We cannot wait to be involved in the National Telehealth Summit next year and see how telehealth continues to transform the national healthcare system.
---

Yet to try Coviu? Start a Coviu 2-week free trial and start running consultations within just minutes! To learn more about Coviu, book a call with one of our friendly team members here.