Coviu to Provide Telehealth to the Australian Defence Force
Coviu
May 10, 2022 10:00:00 AM
We are excited to announce that Leidos Australia has been awarded a contract by the Australian Department of Defence to deliver a health knowledge management system to support healthcare services across the Australian Defence Force (ADF).
---

Together, Leidos has partnered with Coviu, MediRecords and a number of Australian companies, for the system, officially known as the Health Knowledge Management (HKM) solution.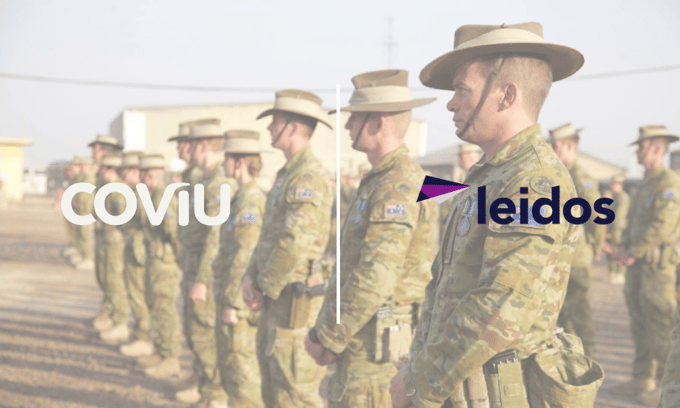 Work has already commenced on the Joint Project 2060 Phase 4, with initial operating capability planned for November 2023 and final operating capability in 2025. The contract value is $299 million (ex GST), with JP2060 Phase 4 expected to create approximately 187 full-time-equivalent jobs, predominantly in Canberra, Brisbane, Melbourne and Sydney.
The health knowledge management system will replace the ADF's legacy electronic health record product with a modern, patient-centric health solution. The new system will record, store, aggregate and analyse health data and information for the ADF population, unifying multidisciplinary primary and occupational care with emergency and hospital care to enable better clinical decision-making.

For the first time, an electronic health solution will be delivered into the deployed environment to record the delivery of healthcare by ADF clinicians from point of injury throughout the evacuation chain into rehabilitation and recovery. This will ensure all relevant clinical information can be recorded and included in a member's health record to facilitate appropriate, on-going care.

As Prime Systems Integrator, Leidos Australia will lead a multi-disciplinary team of primarily Australian companies experienced in health knowledge management systems and clinical management software. More than 95% of the work will be delivered by Australian industry.


In addition to Coviu who will power the telehealth technology, the core team includes:
Alcidion Group, an Australian provider of intelligent informatics software for high-performance healthcare;

Ascention, an Australian provider of solutions for data, analytics and tactical planning;

Fred IT Group, Australia's largest dedicated IT solution provider to the pharmacy industry;

MediRecords, an Australian provider of intuitive, easy to use clinical practice management software;

Nous Group, an Australian specialist in leading and delivering transformational change;

Philips Electronics Australia, an Australian health technology company and provider of radiology solutions

Precision Medical, an Australian provider of software that monitors, traces and reports on medical assets; and

Titanium Solutions Australia, a New Zealand provider of oral health management software.
In addition, Leidos Australia will be engaging:
Cerner, an American supplier of health information technology services, devices and hardware;

OutSystems, a low code solution platform providing case management and a compensation portal; and

QlikTech Australia, an Australian supplier of business intelligence solutions.


"At Coviu, we're excited to deploy our technology for use by our defence forces and to be working with some of the best digital health technology companies in Australia to build the healthcare management system for this service."
- Coviu CEO and Co-Founder, Dr Silvia Pfeiffer
"Leidos Australia looks forward to working with Defence and our team of exceptional health sector partners to deliver this critical capability to the ADF. Our team's health expertise, as well as Leidos' vast Defence experience, will deliver a modern, sovereign solution that will meet the evolving healthcare needs of the ADF."
- Leidos Australia Chief Executive, Paul Chase


---
About Coviu
Coviu is Australia's most trusted video telehealth solution, powering secure and feature-rich video consultations. In 2020, 60,000+ Coviu users offered over 3 million healthcare video consultations across the country. To date, Coviu has delivered over 6.5 million healthcare video consultations to 90,000+ users, partly via the Healthdirect video call platform which is a Coviu customer.
Coviu aims to improve healthcare accessibility for all, and allow both patients and providers to discover the benefits of video consultations such as cost and time savings, reduced no-shows, improved patient satisfaction and greater flexibility.
Coviu is a spin-out company of CSIRO.


About Leidos

Leidos is a Fortune 500® technology, engineering, and science solutions and services leader working to solve the world's toughest challenges in the defense, intelligence, civil and health markets. Leidos' 43,000 employees support vital missions for government and commercial customers. Headquartered in Reston, Va., Leidos reported annual revenues of approximately $13.7 billion for the fiscal year ended December 31, 2021. For more information, visit www.Leidos.com.

Statements in this announcement, other than historical data and information, constitute forward-looking statements that involve risks and uncertainties. A number of factors could cause our actual results, performance, achievements, or industry results to be very different from the results, performance, or achievements expressed or implied by such forward-looking statements. Some of these factors include, but are not limited to, the risk factors set forth in the company's Annual Report on Form 10-K for the period ended January 1, 2021, and other such filings that Leidos makes with the SEC from time to time. Due to such uncertainties and risks, readers are cautioned not to place undue reliance on such forward-looking statements, which speak only as of the date hereof.
---
Press