What hardware is needed for a Coviu call?
Coviu prides itself on its ease of use, whereby its software works on even the most basic inbuilt webcams, speakers and microphones. Coviu is browser-based and therefore works on the majority of commonly owned devices such as laptops, desktops, iPhones or tablets. However, to improve the audiovisual quality of your calls, or if your device does not come with a camera, speaker, or microphone, or if you'd like to add a document or medical camera, additional hardware may be of use to you.
This article will focus on additional hardware for desktop or laptop use, recommending a range of options to help you decide what is right for you and your practice. It is worth noting that USB connected devices tend to work more immediately as there is no need for a pairing process, however Bluetooth devices are also supported.
Basic hardware setup for a video consultation:
As mentioned above, a webcam, speaker and microphone are the basic hardware requirements of a Coviu call, and most modern laptops are equipped with these inbuilt features.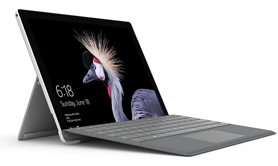 Microsoft surface pro (5th Gen) An example of a modern laptop, ready for a Coviu call.
Webcam options:
Some desktops may need additions such as a webcam. We recommend affordable, high definition cameras such as the Logitech C615 Portable HD Webcam (AUD $99.95).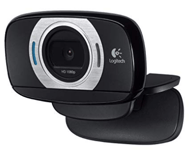 Features include:
1080p video quality
Fast autofocus
Portability
HD light correction
Built-in noise reducing microphone
360-degree swivel (useful for calls involving multiple people)
USB connection
Another option, albeit higher priced, is the Logitech Brio webcam (AUD $299.95), made specifically for video conferencing.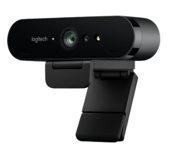 Features include:
4K video quality
USB connection
90-degree field of view
5 X digital zoom
Autofocus
Built-in noise cancelling microphone
HD light correction
Built-in speakers on desktop machines usually have a metallic sound and a limited dynamic range. Any external speakers, even rather inexpensive ones, are a better choice.
Headphones and headsets are also great options to avoid distracting colleagues and to block out a noisy environment. When using these devices, it is important to set your microphone input to the headset, too, as sound captured closer to your mouth will provide better audio quality. A good headset model is the Jabra EVOLVE 40 UC Stereo Headset (AUD $129.90 ).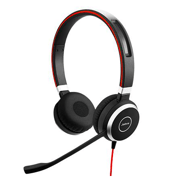 Features include:
USB connection or 3.5 mm jack adaptor
Cushioned ear pads
Noise cancellation
HiFi sound
To improve audio input and output in meeting room settings, the Jabra Speak 510 (AUD $159.99) works through Bluetooth, meaning unsightly cables can be avoided.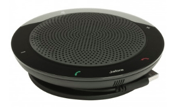 Features include:
15-hour rechargeable battery
360-degree microphone
Bluetooth or USB connection
Portable
For larger room settings, or to adopt an all-in-one approach, there are great options available. Logitech ConferenceCam Connect (AUD $699.95) is one of the most affordable models.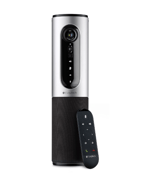 Features include:
1080p video
90-degree field of view with autofocus
4 X digital zoom
Light correction
Digital pan, tilt and zoom from a remote control
Integrated speakerphone with echo and noise cancellation
USB connectivity
The Meeting Owl by Own Labs (USD $799 ) is also an effective all-in-one option that is particularly effective for teams or group therapy with people sitting around a table.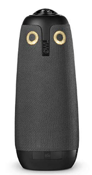 Features include:
360-degree lens
Visual Autofocus on speaker
8 Omnidirectional microphones that locate the speaker and stream clear audio
USB connectivity
720p video
Combined microphone, speaker and camera.
Want to go the extra mile?
To take advantage of Coviu's functionality, you may consider using other hardware that could be beneficial during a call.
Second Screen
Adding a second screen allows you to take private notes whilst on a Coviu call. This is beneficial for healthcare professionals that do intense cooperative remote work and lots of video calls.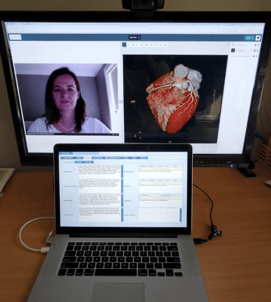 2. Multiple Cameras
Sharing paper documents such as brainstorming notes and signing or filling in forms, is easy with the use of a document Camera, which can be added to the call via the 'Add' button under the 'Share camera' feature. The Epson DC-07 Portable Document Camera (USD $179.10) is a great option as it is easy to travel with, has 1080p output resolution, has 8 X digital zoom and 90-degree rotation.
[gallery ids="585,584" type="rectangular"]
Some medical devices are actually just USB video cameras, and can, therefore, be easily added to the Coviu call via the action explained above. If you have a specific one you'd like to try, don't hesitate to contact us to discuss your needs.
Summary:
All in all, using Coviu's software is easy, as long as you have a microphone, speakers and a camera either inbuilt or external to your device.
In addition, there are many hardware options available to users that can improve the quality of their calls and complement Coviu's features. Don't be afraid to experiment with various devices, and if you find something that works well, leave us a comment down below!
If your device is not working in Coviu, contact us for further assistance.