Discover Coviu Audio-Only Telehealth
Coviu is the leading telehealth solution, providing scalable, secure and feature-rich video and voice consultations for healthcare businesses.


Coviu Audio-Only Telehealth 📞📱
Make and receive phone calls with Coviu Phone.


Did you know you can use Coviu as a single platform for both video and voice consultations making clinic management easier for your practice?


Reap the benefits including:
Same account for both video and audio. Use your Coviu account to call clients on their phone when they can't do video.

Expand your boundaries. Use Coviu's virtual waiting area to respond to phone inquiries and leave phone calls for other users to answer.

Privacy and Security. No need to share personal mobile numbers! Use your dedicated Coviu phone number to call clients on their phone.

Maintain a health hotline/health call center where staff can respond to multiple incoming calls using the same line.

Create 24/7 accessibility with Voicemail functionality. Clients can leave voicemail messages when a call is unable to be taken. There are various options to configure your set-up to suit your practice workflow including the ability to send incoming calls to voicemail immediately, after a delay, or when your clinic Waiting Area is out of hours.
To enable Coviu Phone and to learn more about our pricing options, see below or contact us.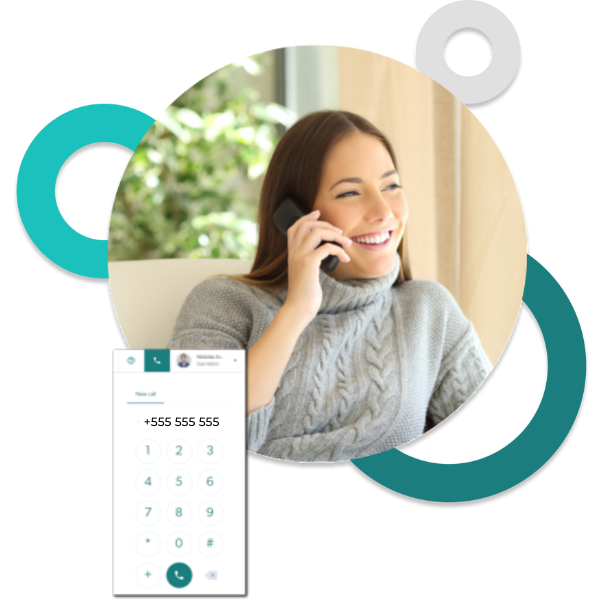 "Being able to make phone calls out of Coviu provides me with the convenience and flexibility my practice needs. It also provides me with a much more stable connection when working from home which lies in a mobile black spot. Increasing flexibility of telephone connection with clients and other professionals is very important to me for consistency of service."
- C.J.G. Psychologist
Requirements
In order to enable Coviu Audio-Only telehealth you must have an active Standard or Premium plan. Enterprise customers are also able to enable it by contacting their account manager.
To receive your very own Coviu phone number, identification verification, and specific documentation is required for approval - just like getting a phone number from a Mobile Service Provider or Internet Service Provider. Learn more here.
Cost
| | | | |
| --- | --- | --- | --- |
| Essentials Plan | Standard Plan | Premium Plan | Enterprise |
| Not available. Upgrade to a Standard or Premium Plan. Learn how to upgrade your plan here. | $15/month/account or $150/year/account to enable phone calls and receive a dedicated number. Price is subject to change. | $15/month/account or $150/year/account to enable phone calls and receive a dedicated number. Price is subject to change. | App costs may differ. Please contact your Coviu account manager for assistance with a quote and activation of the App. |
A Spotlight on Coviu Phone
Coviu, A Virtual Care Engagement Platform
Watch Coviu's CEO and Co-Founder Dr Silvia Pfeiffer discuss how Phone Consultations improve clinical outcomes, capacity, and workflow efficiencies via Coviu's virtual care engagement platform.
Coviu Customer Biosymm on Audio-Only Consultations
Hear from Zoe Penders, AHPRA Registered Physiotherapist at Biosymm. Zoe speaks on how Coviu's Audio-Only consultations work for Biosymm and the benefits they have received.
"I use Coviu for my video consultations and find it useful in my clinic management. The added feature allowing phone consultations and access to a dedicated clinic phone number makes it much easier."
- Victor Ojo, Geriatric Psychiatrist
Frequently Asked Questions
What is Coviu Phone?
Coviu Phone is Coviu's audio-only telehealth feature; it operates in the same way as if you are calling your clients using your organization's landline or mobile phone. The difference is now you will be doing it virtually within your Coviu account.
What Coviu plans have this feature available?
This feature is available on the following plans:
Standard
Premium
Enterprise
It is
not available
if you are trialling Coviu through our
2-week free trial
plan.
How much does it cost?
On the Standard or Premium plan, a Coviu Phone number costs $15 USD/month or $150 USD/year.
If you are on a custom Enterprise plan, the pricing is customized to your needs. Please speak to your organization's Telehealth Coordinator or your Coviu account representative about having this feature set up.