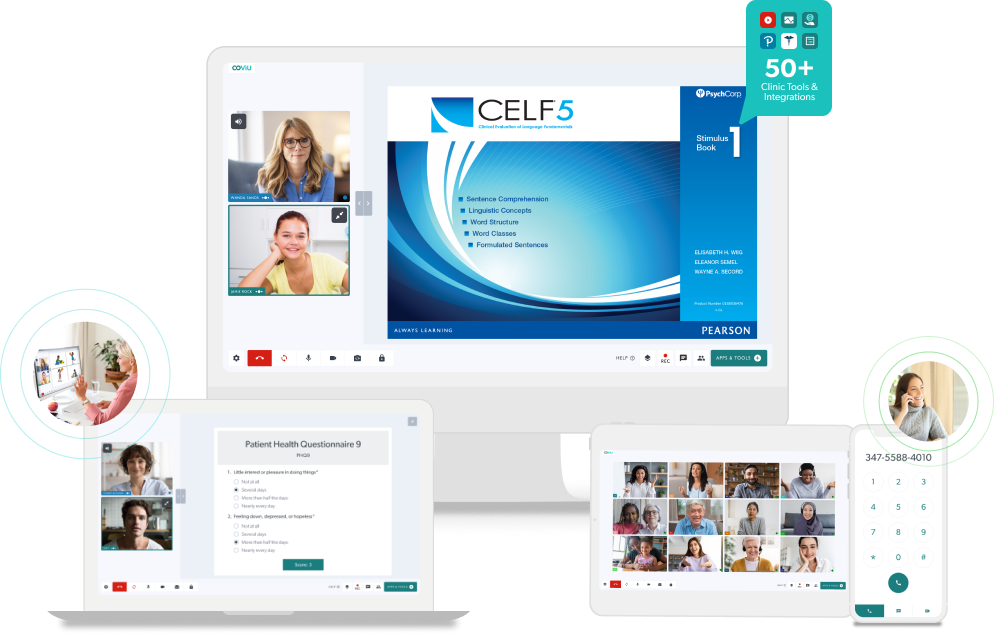 Measurement-Based Virtual Care for School Districts
Coviu's telehealth platform brings purpose-built teleassessments and teletherapy across speech-language pathology and behavioral health to schools.
By choosing Coviu as their telehealth provider, school districts, staffing agencies, and telehealth providers, have the flexibility and tools to deliver better healthcare outcomes for students, as well as improved work balance for therapists.
Explore Coviu for School Districts and embark on a journey toward enhanced student care, a solution to staff shortages and unmanageable caseloads, and a more resilient and thriving educational ecosystem.
9 million consultations and counting...
Coviu is Made for Therapists
Coviu is an expertly crafted virtual care platform optimized for teletherapy sessions and equipped with dynamic assessments and therapy resources sourced from leading providers Pearson Clinical and Boom.
Clinically Validated Teleassessments
Coviu proudly joins forces with Pearson Clinical to bring you the most widely used standardized speech and language assessments, expertly adapted for telepractice and validated for clinical accuracy. With Coviu's intuitive and distraction-minimized interface, assessment delivery becomes streamlined and efficient.
Seamlessly administer a comprehensive array of Pearson's renowned assessments, including CELF-5, EVT-3 (A,B), GFTA-3, PPVT-5 (A,B), and CELF Preschool-3, complete with digital administration prompts (scoring implementation in progress).
Elevate your telepractice experience further with Coviu's customizable forms feature, a suite of supplementary assessments, and access additional language resources through further partnerships and esteemed content providers.
Tools for Teletherapy
Coviu supports the delivery of speech therapy sessions through rich interactive tools, including the ability to:
Build custom forms and share them in calls for students to fill in
Easily share and annotate images or pdf files with bespoke whiteboard tools
Share and switch easily between queued stimulus materials within a session
Play videos within the session with our inbuilt player
Give remote control to a student on a shared screen
Manage busy caseloads and multiple students with powerful scheduling tools and waiting rooms
Bring in support members and parents with group rooms
Private and Secure
HIPAA compliant, FERPA compliant, ISO 27001 certified, and end-to-end encryption (E2EE) ensures your data is always safe and secure. Provide students with peace of mind their information is secure while ensuring compliance.
Fits with Your Processes
Replicate your organization's physical structure in an online environment and digitize your practice in one day.
Seamless Across All Devices
Coviu works on any device (computer, tablet, or phone) on all major browsers (Chrome, Safari, Firefox, and Microsoft Edge). A versatile telehealth software works where and when you need it the most. The same is true for your patients.


Clinical Tools
Achieve more with your calls using powerful apps designed for Speech-Language Therapy that easily integrate with Coviu.
Amazing Support
We are here to support you every step of the way through our live chat.
Easy for Students
No downloads, installations, or account creation is required. Students just click a link and connect! Make your health services more accessible.
School Districts
Clinical Evidence supports the benefits of virtual care in school-based speech language pathology. Make the switch to experience:
Flexibility and Efficiency: Telehealth revolutionizes work hours, streamlining caseload management, eliminating commutes, and alleviating time-related stress. A 2021 Survey highlighted a 55% boost in job satisfaction due to telehealth adoption.

Enhanced Scheduling: Telehealth resolves scheduling complexities by enabling flexible appointment times, facilitating convenient slots for both students and practitioners.

Increased Parent Involvement: Telehealth engages parents in treatment programs and offers insights into a child's home environment. Studies reveal higher engagement rates for parents in telehealth-based autism programs compared to face-to-face groups.

More Comprehensive Assessment Methods: Coviu's measurement-driven virtual care platform incorporates standardized and custom teleassessments, bolstering diagnostics and advancing assessment capabilities.

Technology-Driven Collaboration: Telehealth empowers information sharing, real-time progress updates, and integrated support for students with communication disorders, fostering holistic care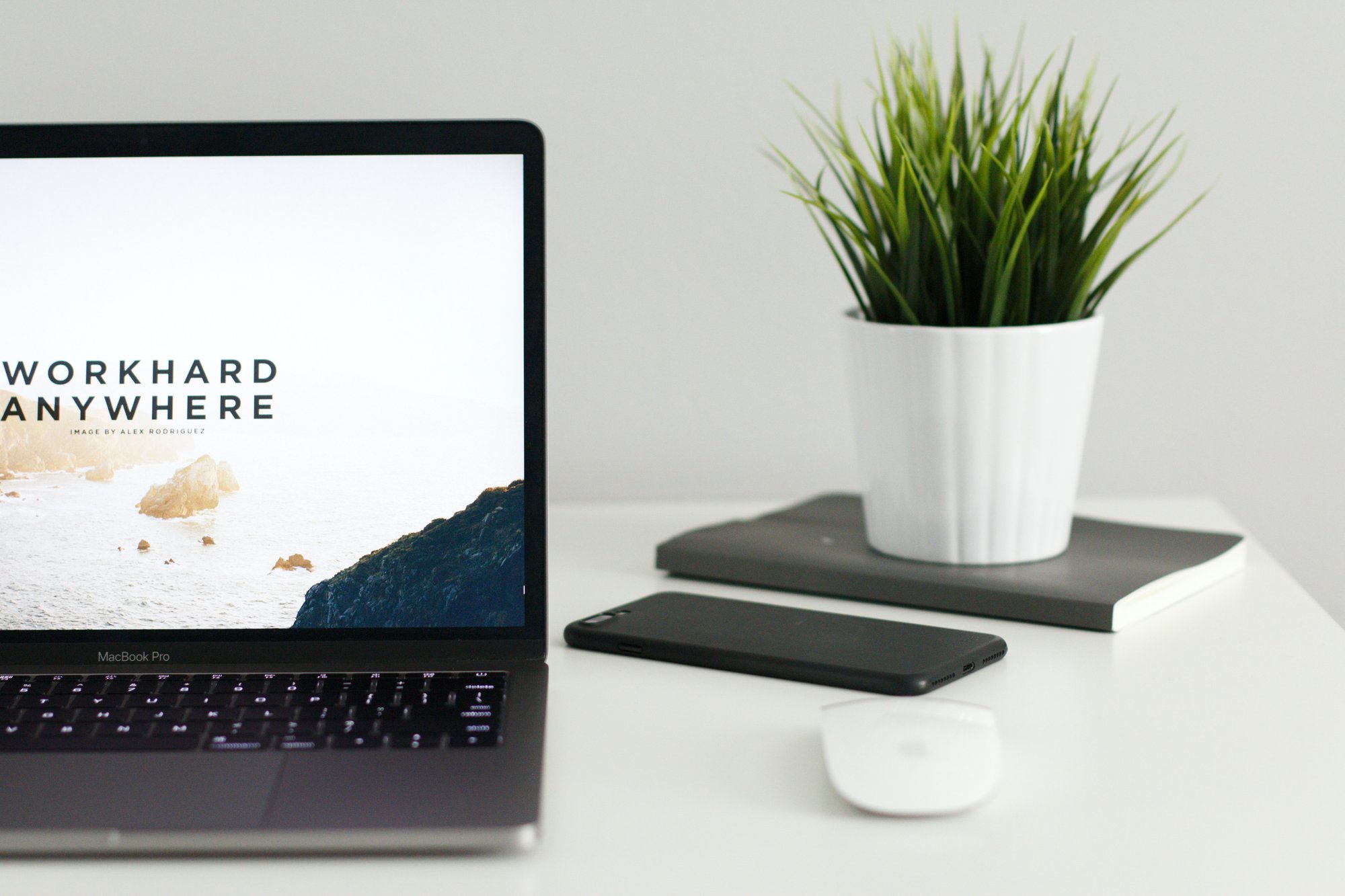 Staffing Agencies
Unveil the potential of Coviu, a custom virtual care solution tailored exclusively for Speech-Language Pathologists (SLPs). Harness its capabilities to address critical needs:
Bridge Staff Shortages with hybrid care. Hybrid care transforms healthcare accessibility, furnishing round-the-clock telehealth services that enhance operations and elevate clinical outcomes, effectively mitigating staffing gaps.
Boost Cost Efficiency. Unlock maximum cost efficiency by saving substantial time and expenses associated with travel, as telehealth eliminates the requirement for commuting.
Empower SLPs with Exceptional Flexibility. Telehealth empowers SLPs with unmatched flexibility, granting remote and hybrid work options that cater to diverse needs. Seize the potential of Coviu and revolutionize SLP practices.
Looking to embrace hybrid delivery? More for staffing agencies below.
Telehealth Providers
Coviu is the leading virtual care platform, purpose-built for SLPs and Behavioral Health professionals with a scientific approach to enabling teleassessments and delivering teletherapy. Coviu's easy-to-use platform requiring no downloads stands apart from its competitors with:
Integrated standardized assessments including Pearson Batteries for SLPs and Behavioral Health Professionals with Digital Administration

Supplementary assessments and extra language resources in video calls

Customizable forms administered pre and during calls

A suite of over 50 tools and features for your specialty

An interface designed to minimize distractions

HIPAA, FERPA and ISO 27001 compliance

Features to streamline workflows including a virtual waiting room and scheduling



And more standout features our competitors don't have here

.



Looking to switch to a superior platform? More for telehealth providers below.
"Continued upgrade of apps. Lovely screen appearance. Great tools. Excellent customer support."
Sharon Vaughan, Speech-Language Pathologist
Apps Tailored To Your Practice
SLPs achieve more with their calls using powerful clinical apps to suit their specialty. SLPs tailor their speech telehealth platform with a variety of apps to enhance everything from assessments to interactions with students.
Assess your students professionally with Pearson Clinical standardized assessments. Coviu has integrated the digital stimulus books of commonly used assessments into our telehealth platform, so you can have access to the latest clinical tools all in one place.
Interactive activities for teletherapy sessions designed by speech-language pathologists. eLr provides more than 15,000 interactive activities covering more than 1,000 separate speech, language, and literacy targets.
Interactive Screenshare & Whiteboard, Games & Annotations
Enhance your video consultations, by sharing results, interactive assessment forms, educational videos, and other resources from within a Coviu call. Make your therapy services more engaging and productive.
Coviu's Customizable Forms App enables clinicians to create of any custom form, for students to complete either in-call or pre-call.
Translating and Interpreting
The 2M lingo™ App by 2M Language Services is an embedded application that provides seamless, in-app language interpretation for Coviu video calls with a click of a button. Access 250+ languages!
Booking and Scheduling Apps
Take appointment bookings, call scheduling and management capabilities, text-only sessions, and more.
Ready to change your staffing agency for the better with the telehealth speech therapy platform that can do it all? Request a free consultation today to learn more about how Coviu can benefit your clinic.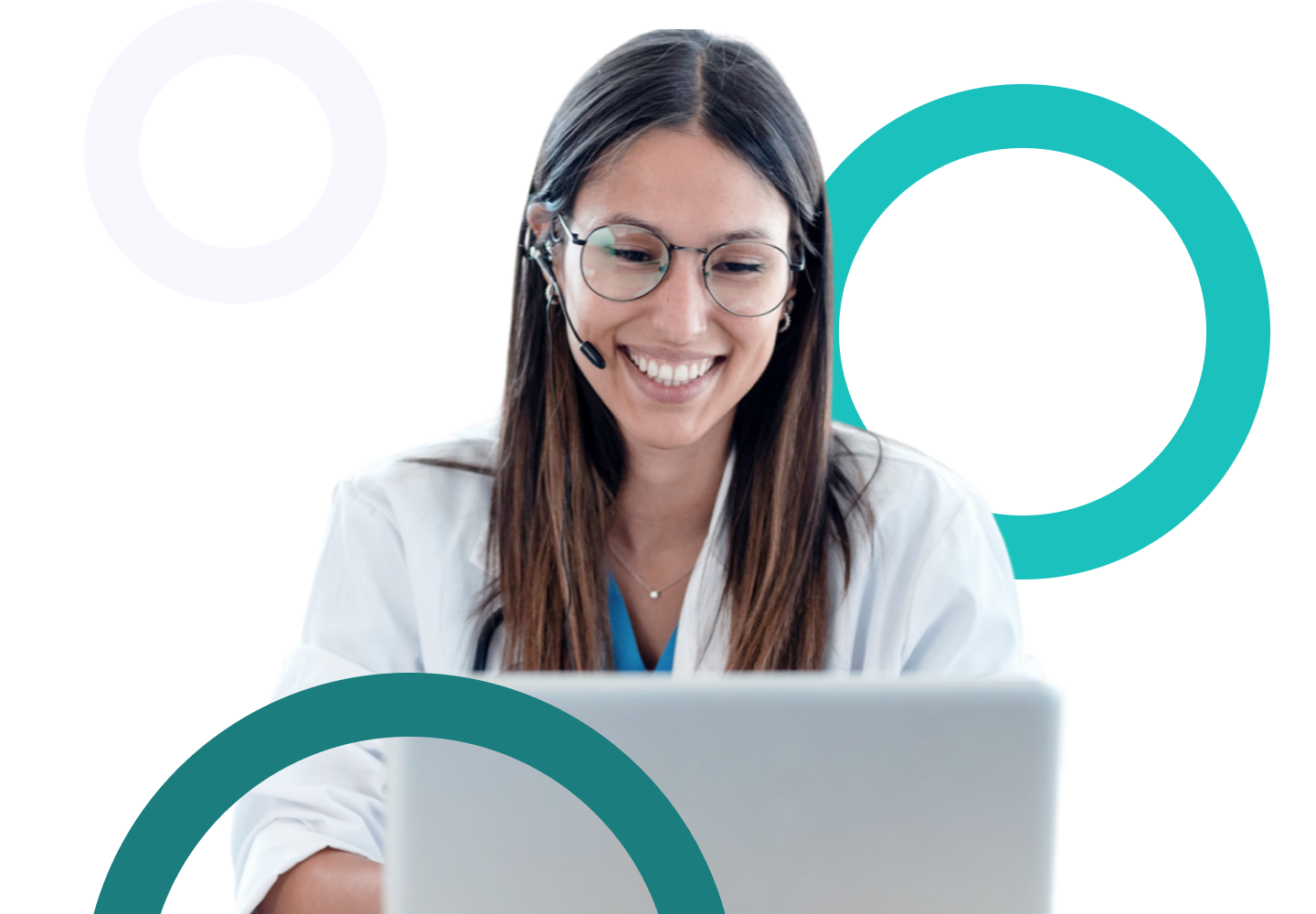 "I like that my patients don't have to download software. Coviu has met my needs very well - I feel I provide a much more professional telehealth service and love being able to draw on my slides!"
Myriam Westcott, Audiologist