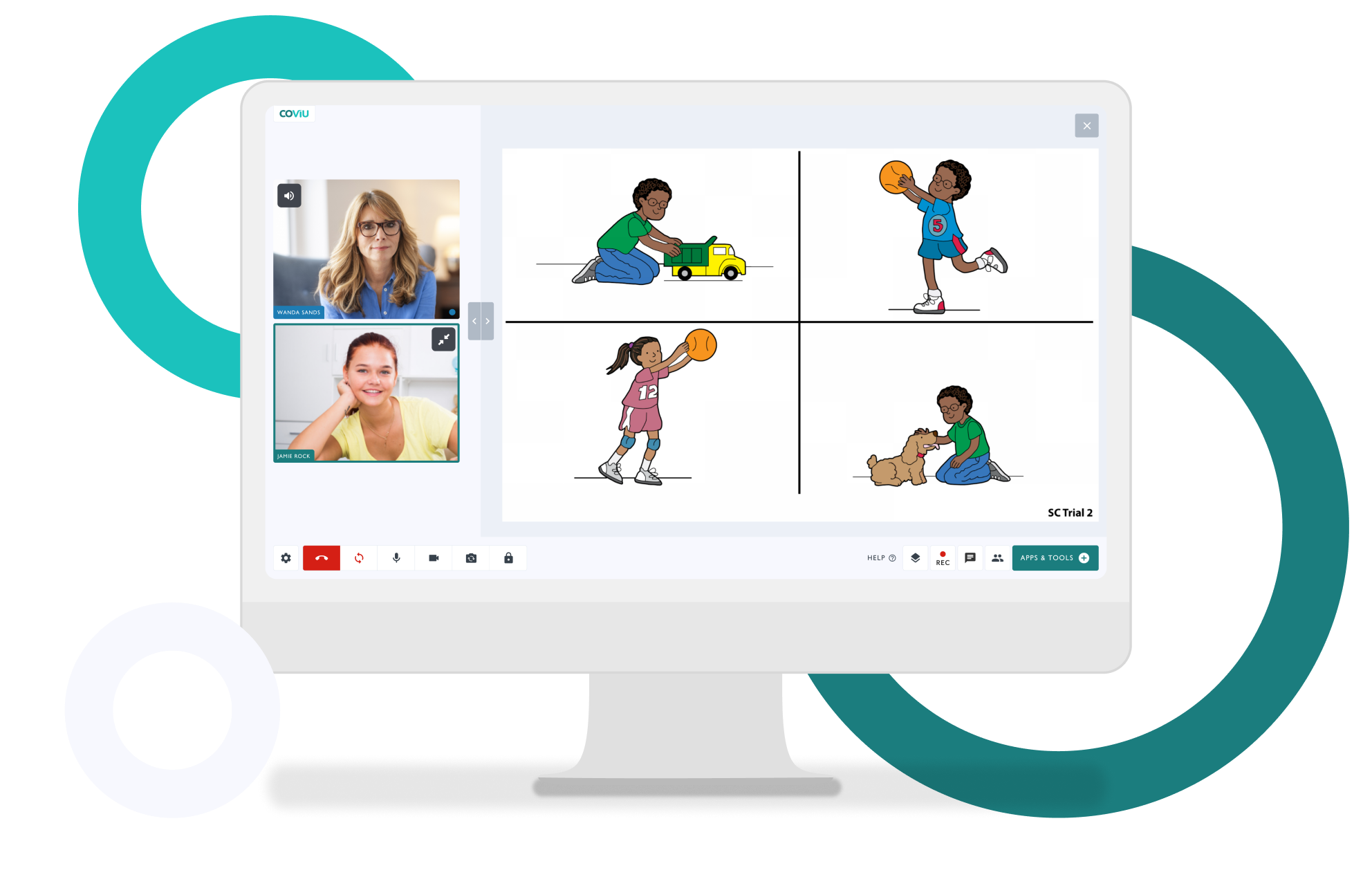 Elevated Telehealth for Online Speech Therapy Services & Audiology
Coviu is the leading speech telehealth platform for speech-language pathologists and audiologists. With various studies showcasing the ability for speech-language assessments via Coviu's speech therapy telehealth platform to achieve equal outcomes as in-person consultations, it's no surprise that speech-language pathologists trust our telehealth solution.
Coviu's suite of integrated tools for speech-language pathologists means that you can deliver more engaging therapy to your clients no matter where they are. Coviu customers are able to administer the Pearson speech-language assessments directly from within a call.
The best teletherapy platform for speech therapy includes features such as:
| | |
| --- | --- |
| | Live waiting area and payment functionality replicating in-person processes |
| | |
| --- | --- |
| | In-built clinical tools including clinical assessments and sharing of resources to enhance your online speech therapy sessions |
| | |
| --- | --- |
| | Easy to use: simply send a link to your client and wait for them in your private, virtual room |

Enhance your speech-language therapy services with a video conferencing platform designed for speech language pathology and audiology healthcare professionals.
"Continued upgrade of apps. Lovely screen appearance. Great tools. Excellent customer support."
Sharon Vaughan, Speech-Language Pathologist
Elevated telehealth for speech pathology and audiologists
Coviu is custom built so speech-language pathologists and audiologists like you can embrace all the flexibility and benefits of telehealth without skipping a beat in your daily practice. The Coviu speech therapy teletherapy platform is designed to make connecting with patients and delivering assessments easy through high-quality video calls, screen sharing, and more.

Simply sign up for Coviu's speech telehealth therapy platform, add any other colleagues to your account, and be up and running with systems that mirror how you currently run your practice – all within minutes. That means no wasted time and no disruption to your routine.
Coviu's speech pathology platform offers a suite of features that enhance the way you connect with patients:
Conduct secure Video and Phone consultations

Schedule appointments

Simultaneously watch videos, play interactive games, and share resources with patients

Collaborate on a shared whiteboard

Discover our Apps Marketplace of over 50 Apps including Pearson assessments

Securely collect payment and streamline practice management

Coordinate multiple support people with group calls
Best of all, your patients don't need to download, sign up, or log in. They just click a link and join their telehealth speech therapy consultation or session!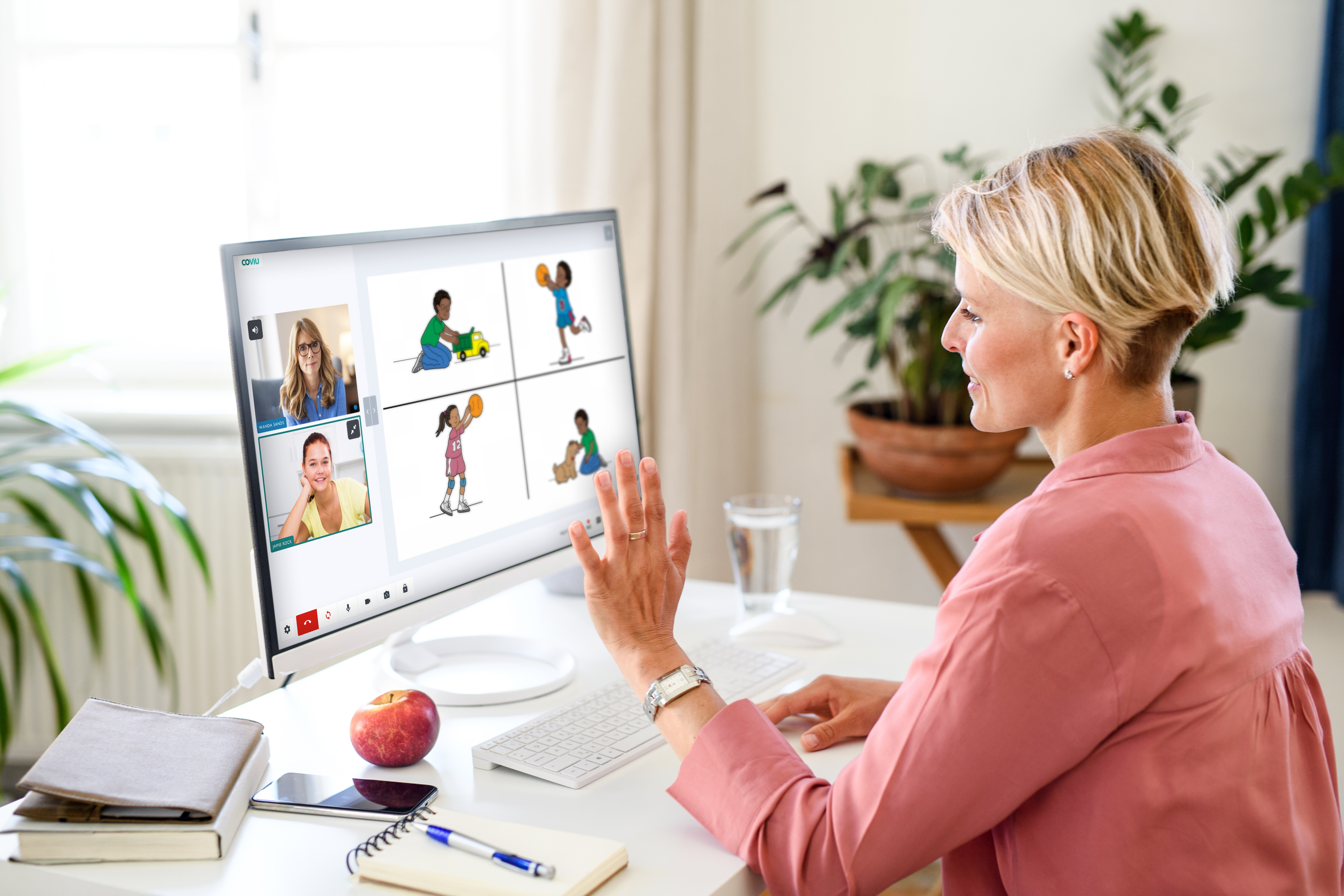 Apps Tailored To Your Practice
Achieve more with your calls using powerful clinical apps to suit your specialty. Tailor your speech telehealth platform with a variety of apps to enhance everything from assessments to client interactions.
Assess your clients professionally no matter where they are with leading clinical assessments including the CELF-5, PPVT-5 and many more.
Interactive Whiteboard,
Games & Annotations
Customize your client's experience and improve engagement through our range of in-call features.
Share Images, Documents, Videos & Screens
Enhance your video consultations, by sharing results, interactive assessment forms, educational videos, and other resources from within a Coviu call. Make your therapy services more engaging and productive.
Benefits of telehealth with Coviu
Use Coviu's speech pathology telehealth platform with confidence knowing patient privacy is fully protected. Coviu offers a HIPAA compliant and end-to-end encrypted speech therapy teletherapy platform.
For your patients
Coviu's telehealth speech therapy platform helps you reach patients wherever they live, making care more convenient for patients with caring or professional responsibilities. Plus, your patients will love the ease and simplicity of using Coviu for online speech therapy. Remove common barriers to serve more patients with ease.
For your clinic
Grow your business by making it as easy as possible for your patients to show up, and keep showing up! Minimize no-shows and those desperate calls from your patients saying they're stuck in traffic. Patients can join their speech therapy telehealth session with the click of a button and your clinic improves its operating efficiency.
For you
Coviu comes with a plethora of apps you can add to our speech therapy telehealth software, specifically designed to help you work smarter, not harder. Getting rid of the constraints of standard office hours and fixed office locations means less time working and more time to spend on all the other important things in life.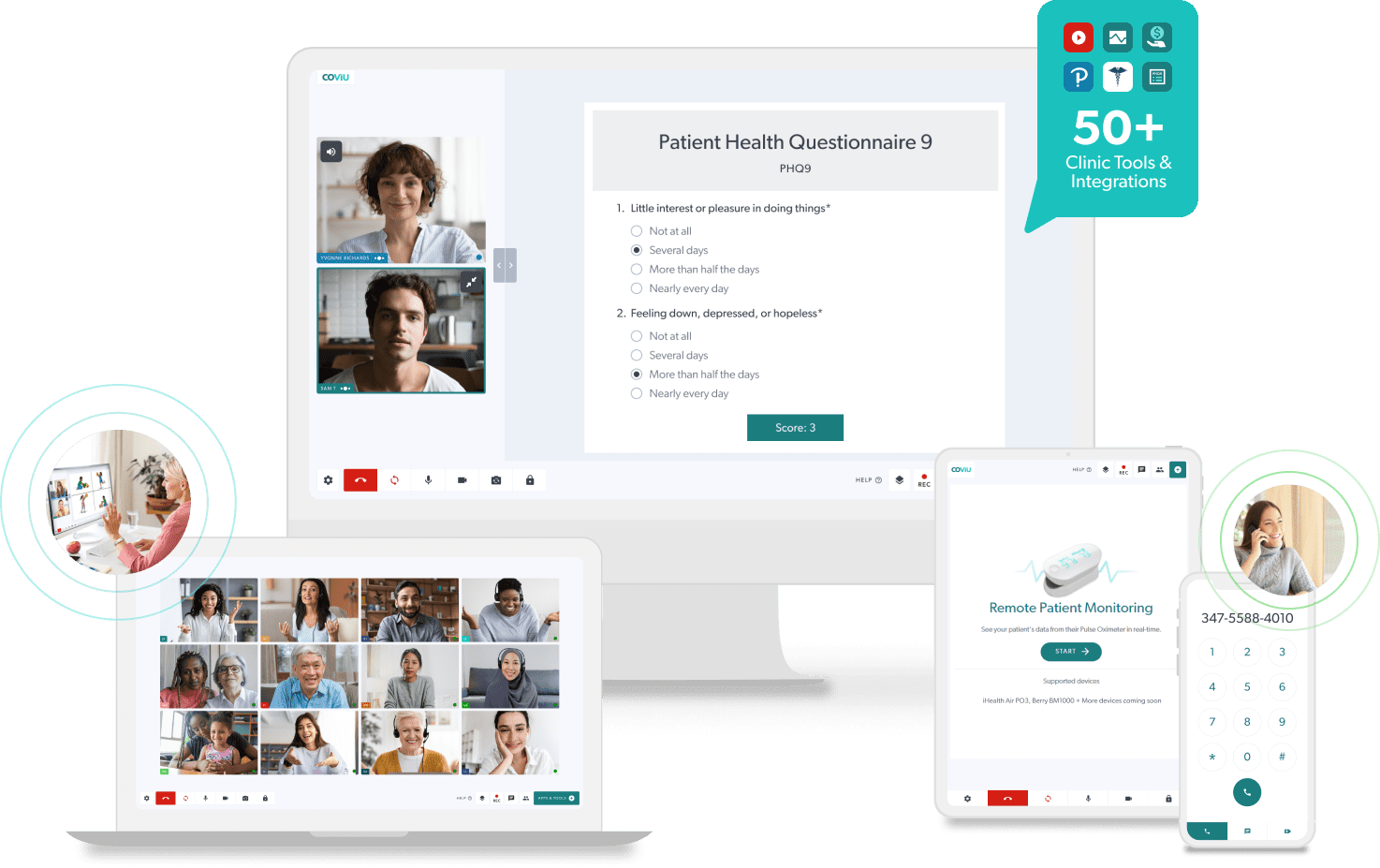 "I like that my patients don't have to download software.

Coviu has met my needs very well - I feel I provide a much more professional telehealth service and love being able to draw on my slides!"
Myriam Westcott, Audiologist
The Coviu Difference
Why choose Coviu? Our telehealth for speech therapy platform is secure and, above all, easy for patients to use. Transform the way you treat patients for the better with the best teletherapy platform for speech therapy.
Privacy + Security (HIPAA compliant)
HIPAA Compliant, and end-to-end encryption (E2EE) ensures your data is always safe and secure.
Fits with Your Processes
Replicate your organization's physical structure in an online environment and digitize your practice in one day.
Seamless Across All Devices
Coviu has clinicians and patients covered with accessing their telehealth speech therapy consultation from mobile phones to desktops including IOS, Android, Mac, Linx or PC devices.
Clinical Tools
Achieve more with your calls using powerful apps designed for Speech-Language Therapy that easily integrate with your speech pathology telehealth platform.
Reliability
Hosting 10K+ consultations per day. Trusted by 90K+ clinicians | 9M+ consultations to date
Easy for Patients
No downloads, installations or account creation required. Patients just click a link and connect to their speech telehealth consultation!
Ready to change your practice for the better with the telehealth speech therapy platform that can do it all? Request a free consultation today to learn more about how Coviu can benefit your clinic.
Studies
Sutherland, R., Hodge, A., Chan, E., Silove, N. (2021). Clinician experiences using standardised language assessments via telehealth. International Journal of Speech- Language Pathology, May 2021.
Sutherland, R., Trembath, D., Hodge, M., Rose, V., Roberts, J. (2019). Telehealth and autism: Are telehealth language assessments reliable and feasible for children with autism? International Journal of Language & Communication Disorders. Special Issue: The use of technology in speech and language therapy, 2(54). March/April 2019.
Sutherland, R., Trembath, D., Hodge, A., Drevensek, S., Lee, S., Silove, N., & Roberts, J. (2017). Telehealth language assessments using consumer grade equipment in rural and urban settings: Feasible, reliable and well tolerated. Journal of Telemedicine and Telecare. January 2017.
Sutherland, R., Hodge, A., Trembath, D., Drevensek, S., & Roberts, J. (2016). Overcoming barriers to using telehealth for standardized language assessments. Perspectives of the ASHA Special Interest Groups. September 2016.
Hodge, M., Sutherland, R., Jeng, K., Bale, G., Batta, P., Cambridge A., Detheridge, J., Drevensek, S., Edwards, L., Everett, M., Ganesalingam, C., Geier, P., Kass, C., Mathieson, S., McCabe, M., Micallef, K., Molomby, K., Pfeiffer, S., Pope, S., Tait, F., Williamsz, M., Young-Dwarte, L., Silove, N. (2018). Literacy Assessment Via Telepractice Is Comparable to Face-to-Face Assessment in Children with Reading Difficulties Living in Rural Australia. Telemedicine and e-Health, April 2019.
Hodge, M., Sutherland, R., Jeng, K., Bale, G., Batta, P., Cambridge, A., Detheridge, J., Drevensek, S., Edwards, L., Everett M., Ganesalingam, K., Geier, P., Kass, C., Mathieson, S., McCabe, M., Micallef, K., Molomby, K., Ong, N., Pfeiffer, S., Pope, s., Tait, F., Williamsz, M., Young-Dwarte, L., Silove, N. (2018). Agreement between telehealth and face-to-face assessment of intellectual ability in children with specific learning disorder. Journal of telemedicine and telecare. January 2018.