Raise Diabetes Care for People with Intellectual Disability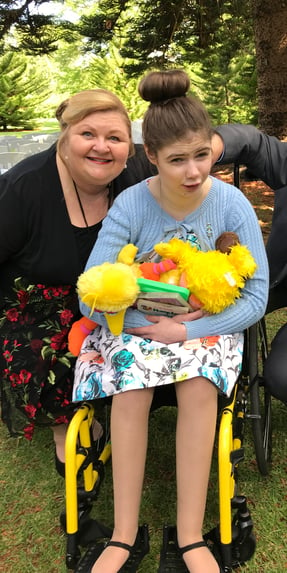 Jayne Lehmann (with daughter, Sarah)
Registered Nurse, Credentialled Diabetes Educator and Director of EdHealth Australia
---
I am a woman with a mission - always! I see opportunities where others see barriers. I find solutions with creativity and innovation to break down barriers to improving the health of people with diabetes and intellectual disabilities.
My story is half personal, half business.
EdHealth Australia was born from necessity. I was finishing maternity leave in 1995, after having my second daughter, when she had a 65-minute seizure and was retrieved to the ICU of the hospital where I was Clinical Nurse Consultant of the Diabetes Education Unit. Sarah survived and my maternity leave was extended by 3 months. A nanny was trained to care for Sarah and 3-year-old Becky at home, including how to administer rectal Valium if Sarah had another long seizure.
Back to work, I went and at the end of the first day, the Nanny resigned. I also resigned a few days later. Sarah was later diagnosed with the genetic condition, Dravet Syndrome. This left her with a 'catastrophic encephalopathy', severe intellectual disability, communication, and behavioral disorders, and a gait problem requiring the use of a wheelchair for when she needed to walk any distance.
Solutions happen when a person commits to finding them...
How to maintain my career with the uncertainty of Sarah's future needs? A business plan led me to start EdHealth Australia in 1995, offering services to improve health through education and innovation. As a multi-skilled Registered Nurse and Credentialled Diabetes Educator (CDE) my work has focussed on diabetes care and education. I created education programs and offered them to diabetes-focused companies to use to promote and support their products in the marketplace. I trialed the programs in South Australia, trained other CDEs, and rolled the programs out across Australia for nurses in general practice and pharmacists and pharmacy assistants.
The last 10 years have seen me combine my diabetes care and education knowledge and skills with those developed from the experiences supporting and advocating for Sarah. I saw people with intellectual disabilities not being able to access information in a format they could understand. Each new contact or experience with Sarah left me thinking about and creating solutions to give Sarah the best from a system ill-equipped to identify, let alone address her health needs. If I could do that for Sarah ... I could do it for people with intellectual disabilities with diabetes as well!
EdHealth Australia challenged the premise it was illegal for disability support workers to administer insulin. I designed and launched an online three-module training program for disability support workers in 2018, based on a course I presented face-to-face in South Australia. The program is customized to the needs of the individual and their diabetes treatment, so participants can do an overview of diabetes care, blood glucose monitoring, or insulin administration and support modules. The sticking point was how to evaluate their blood glucose monitoring and insulin injection skills when I am in South Australia and people are doing the program all over Australia?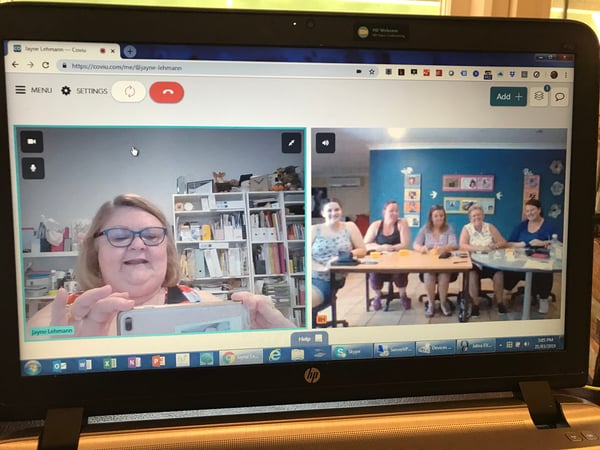 Coviu. I read a review of the platform in a medical mag and as soon as I saw it I knew I had a solution to my dilemma!
I would connect with small groups of participants via the Coviu platform and evaluate their skills online. This platform helped me create the final piece of the online infrastructure puzzle to deliver the program across Australia. I also create person-centered, easy-to-read Diabetes Management Plans that guide the support workers in delivering the practical strategies to address the diabetes care and support needs of their clients.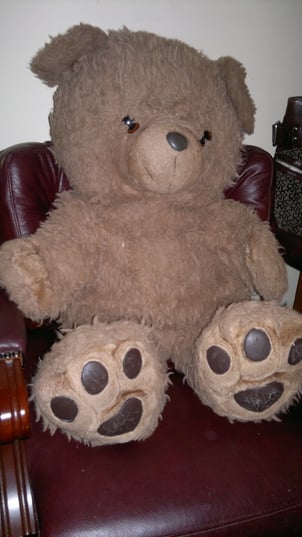 Sarah's big Ted sits in my office, encouraging the client to look at the screen and to smile!
I am busier than ever, especially with the COVID-19 restrictions creating increased demand for online training where social distancing can be maintained. Negotiations are now advancing for organizations to enter a licensing agreement to utilize my model to deliver these services in other states and territories. Replicating models that work will help us to improve the health of people with intellectual disabilities because so few people have the knowledge, skills, and desire to achieve these advances.
Sarah died unexpectedly on the 30th of December 2019, 2 days before her 26th birthday. Her legacy will be the Diabetes Care in the Community Services. They will continue to transform how people with an intellectual disability are supported to care for their diabetes so they have healthier, happier, and longer lives that putting millions of dollars back into the health budget of Australia every year.
Jayne hosts a podcast called P2 Diabetes Chat. She also creates low literacy resources to support people in improving their health outcomes eg. Check, Think and Act!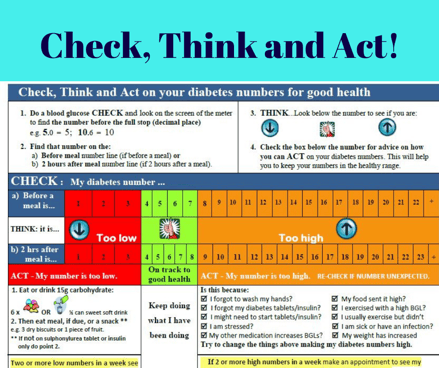 ---
Try us out
Try Coviu for free, with a 2-week trial - no credit card required.
To learn more, book a call with one of our friendly team members here.

__
Already Using Coviu?


Marketing Your Virtual Care Practice
You are up and running telehealth consultations, but how do you attract clients to your new service?
Marketing your practice can be challenging so we have put together the ins and outs in an easy-to-implement document found here.


Share Your Success Story
If you would like your telehealth story to be featured, click here.
---