April Wrap Up - Discover The Latest at Coviu!
Coviu
Apr 27, 2023 8:30:00 AM
Catch up with us this month! Check out what new features we have been working on, register for our free, educational webinar with Practice Perfect, find out which upcoming industry events we will be at, and book a time to meet with us + more!
---
Industry Events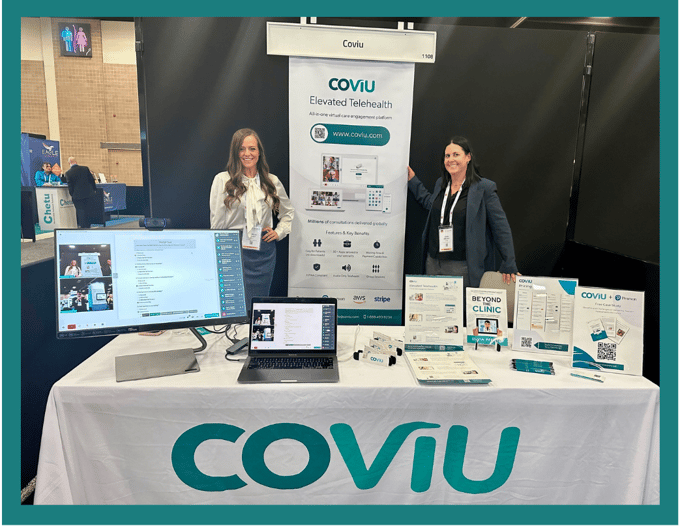 Attending? Come say hi! Book a time to meet our team at our booths.



May Events



Check out all of our upcoming events here!


----------------------
Free Webinar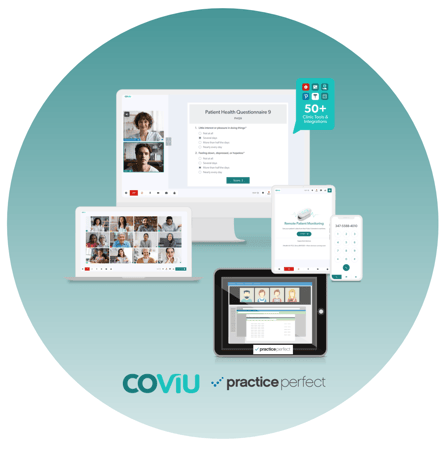 Efficient Telehealth: A Practical Guide
Presented by Coviu & Practice Perfect
Join Us: Wednesday, May 3rd
4pm - 5pm ET
Together, Coviu and Practice Perfect - an all-in-one EMR and practice management system are excited to bring to you a webinar on Efficient Telehealth: A Practical Guide.
Register for free as we dive into:
Best practices and benefits of using telehealth including Coviu's integration with Practice Perfect.

Technical tips and tricks to help set you up for telehealth success and save practices' time.

Privacy and security requirements for practices using telehealth.

How to set up digital workflows that mimic your current practice.

Assessments and clinical tools available through Coviu's telehealth software.

How to get started with Coviu and Practice Perfect.

Q&A!
Can't make it? This event will be recorded and sent out to all registrants, so make sure you still register your interest to receive a copy.
----------------------
Product Updates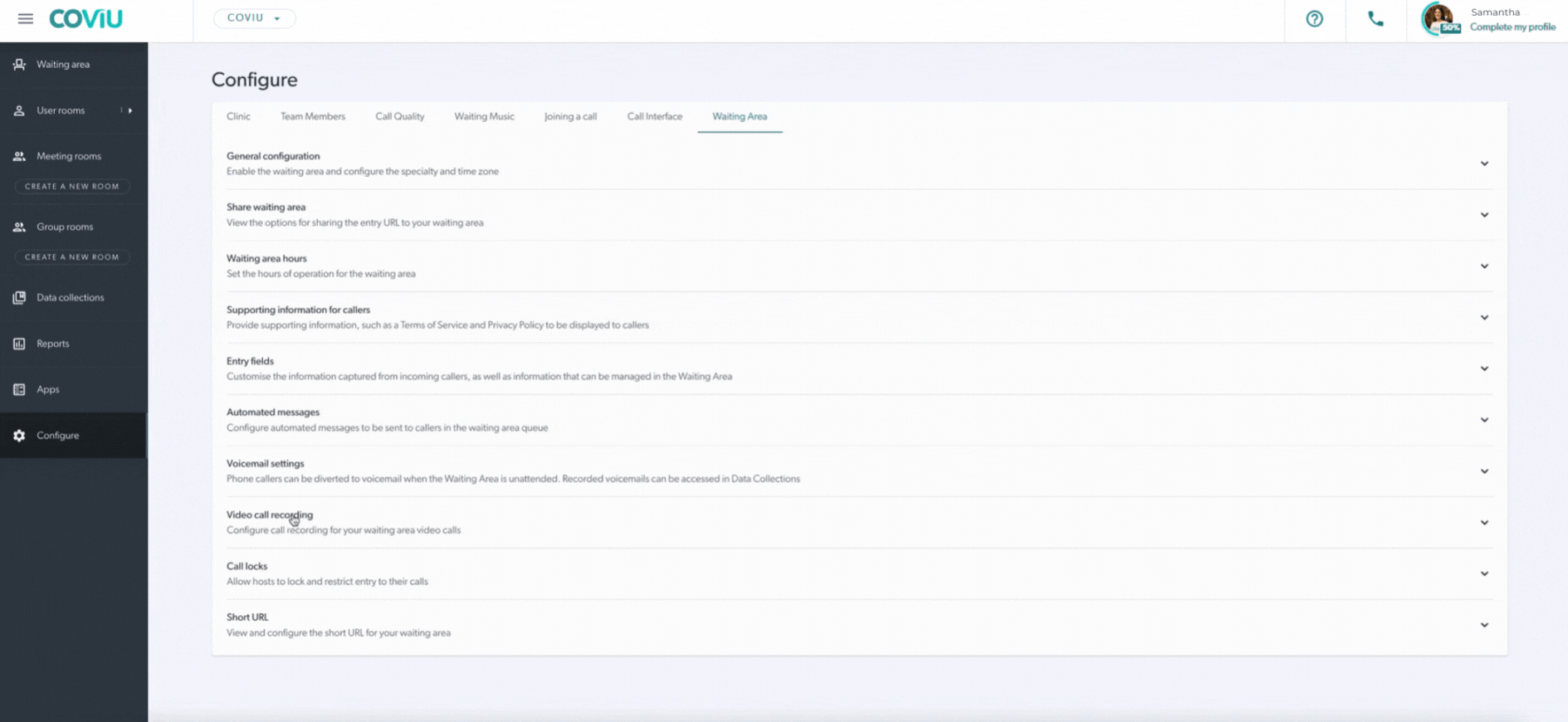 Voicemail Functionality
Voicemail for Coviu Audio-Only telehealth has arrived!
Create 24/7 accessibility with this new, exciting feature allowing:
Your patients/clients to leave voicemail messages when a call is unable to be taken.


Various options to configure your set-up to suit your practice workflow including the ability to send incoming calls to voicemail immediately, after a delay, or when your clinic Waiting Area is out of hours.


Custom messages can be set for your patients/clients to hear before leaving a voicemail.
📞 Enable Audio-Only Telehealth on Standard and Premium plans to access this feature! For Enterprise accounts speak to your Coviu account manager to get this enabled.
-------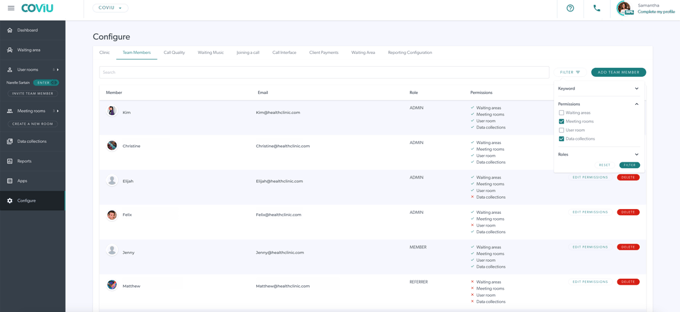 Team Member Configuration - Filtering Available
Now you can filter your Clinic Team Members by their Role and/or Permissions!


Users are able to select the Role/Permission level they are looking for in a specific team member and are also able to search by Keyword. For example, if a user is looking for a team member with admin access, they can simply select the Administrator filter under 'Roles'. The search results will then only display team members with the Administrator role. This feature is particularly useful for clinics with large teams to manage.
When selecting multiple filter options, for example selecting both Administrator and Referrer Roles, this will act as an OR condition, meaning that it will show any user that has either of these Roles. This is the case for the Permissions filter as well. To clear a set filter, select Reset.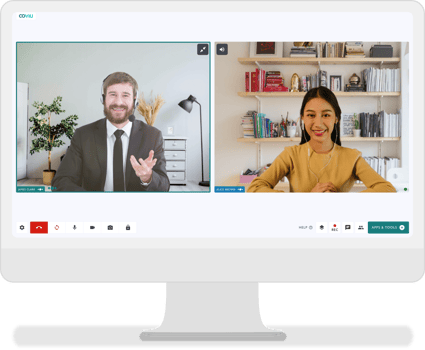 Virtual Backgrounds

You can now choose the look of your virtual clinic with a range of new backgrounds! The Virtual Backgrounds App allows you to select from a number of pre-populated virtual backgrounds for the background of your video feed. Alternatively, you can blur your background. This is useful in obscuring your physical location to provide greater visual privacy while you are on a video call.
Coming Soon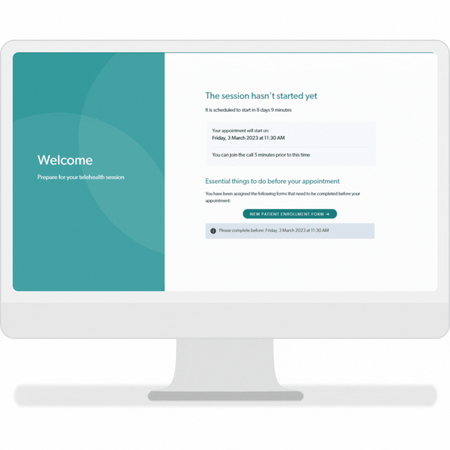 Pre-Session Forms Preview
Not long to go until the Customizable Forms App supports the ability for clinicians to send their clients/patients forms prior to their session. This will allow clients/patients to complete forms days or even weeks before their scheduled consultation!
This feature will only be available if you have both the Scheduled Sessions App and Customizable Forms App installed.
All product updates can also be viewed here.
----------------------
Resources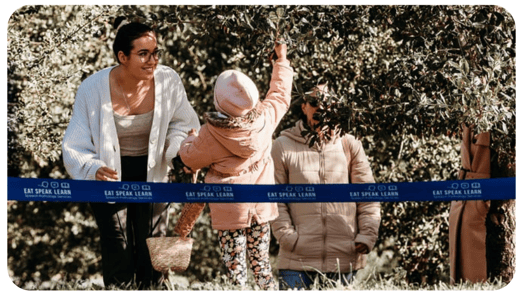 Best Practices In Hybrid Care Webinar & Case Study
Celebrating children's achievements is a core philosophy of Eat Speak Learn, an integrated practice offering a number of behavioral health services with a unique specialty in pediatric feeding disorders. Recently, Coviu partnered with Eat Speak Learn to deliver a LinkedIn Live event on Best Practices in Hybrid Care, as well as an educational case study that dives into best practice recommendations as to how remote assessments can be integrated into your clinical practice and how you can reap the benefits!
-------
Measurement-Based Virtual Care for Addiction Medicine
Coviu's measurement-based virtual care platform complements all stages of the continuum of addiction treatment including in-patient hospitalizations, residential treatment, intensive outpatient treatment, and outpatient treatment.
With a hybrid approach to addiction treatment, clinicians are able to tailor programs to patients' specific needs, addressing the widely varied circumstances and clinical needs of addiction sufferers.
As the only approved provider of the ASAM (American Society of Addiction Medicine) Criteria assessment in video consultations, Coviu is tailored to improving healthcare outcomes for those struggling with substance dependency.