2022, That's A Wrap!
Coviu
Dec 20, 2022 7:30:00 AM
And just like that, 2022 comes to a close! What a wild ride it has been with Coviu propelling into the US to provide an all-in-one Virtual Care Engagement Platform through Video Consultations, a clinical-rich Apps Marketplace, Remote Patient Monitoring capabilities, Audio-Only Telehealth, and Group Consultations to facilitate a frictionless virtual care experience aimed at helping improve clinical outcomes, capacity, and workflow efficiencies.
It really is a testament to how far telehealth and healthcare have come since the pandemic, with March marking 2 years on since Covid-19 changed the world forever. Thanks to you, Coviu has grown 6,250% since the pandemic started, achieving over 10,000 daily calls by over 90,000 clinicians worldwide.
It was also announced that Medicare reimbursements for telehealth services were extended to 2023! The exciting announcement came direct from the Centers for Medicare & Medicaid Services issuing a final ruling that includes updates and policy changes for Medicare payments under the Physician Fee Schedule. This change will be effective on January 1, 2023, signifying a great step forward for the American healthcare system.
Alongside our growth efforts, we were super thankful to have been acknowledged as finalists in various awards as well as placing 51st on The Australian Financial Review's Fast 100 List. Coviu's CEO Dr. Silvia Pfeiffer was also recognized in The Australian Top List of 100 Innovators - an amazing achievement.
We were also excited to partake in a number of events this year, including the HLTH conference in Las Vegas, the ASHA Convention in New Orleans, and NATCON in Washington (to name a few). It was amazing to connect with other like-minded health professionals on a global scale to celebrate the amazing innovation present in the healthcare industry.
To wrap up the year, we are excited to announce that we have delivered over 8.5 million consultations together on our platform! This is an amazing milestone, really showcasing the scale of care being provided virtually. Thank you for being an integral part of Coviu's successes and we can't wait for next year, to share even more exciting things with you! In the meantime, check out some of our latest announcements below.
----------------------
Product Updates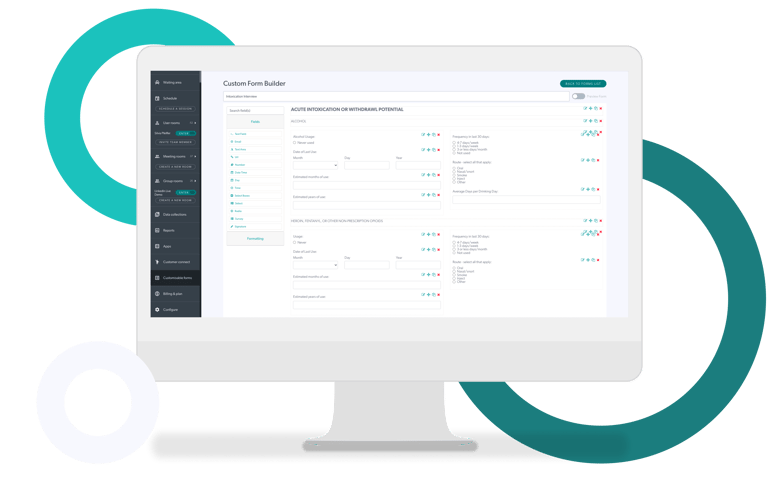 Customizable Form App
The
Customizable Form App
has arrived on Coviu! The App allows you to create and use your own custom forms all from within Coviu, so clinicians can securely gather important patient information.
The App enables forms to be created and published from the Customizable Forms menu to be used and completed in-call by participants. Form fields, content, and layout options are drag-and-drop components that can be easily edited, updated, and moved around the page. Completed forms are then able to be downloaded as a PDF file.
The Customizable Form App is available on Coviu's Essentials, Standard and Premium plans and installed on your account by default.
-------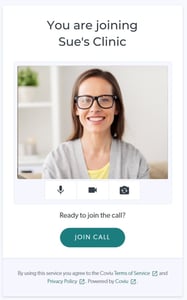 Pre-Call Check For Call Hosts
Now, when a user clicks a button or link to join a guest/patient/client in a call, the user can perform the following before entering the call:
Mute their microphone
Hide their camera
Switch cameras (if they have multiple cameras)
Check their camera positioning
Check their microphone is working


-------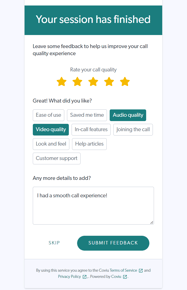 Post-Call Quality Survey
Now when participants end a call, there is an option to give feedback about the in-call experience to help us better understand issues that may arise during a call. This will allow us to address issues faster to optimize your in-call experience.
The information submitted in the post-call quality survey will not be shared and does not necessarily warrant a response from the Coviu team. If you need immediate support, please contact us here.

-------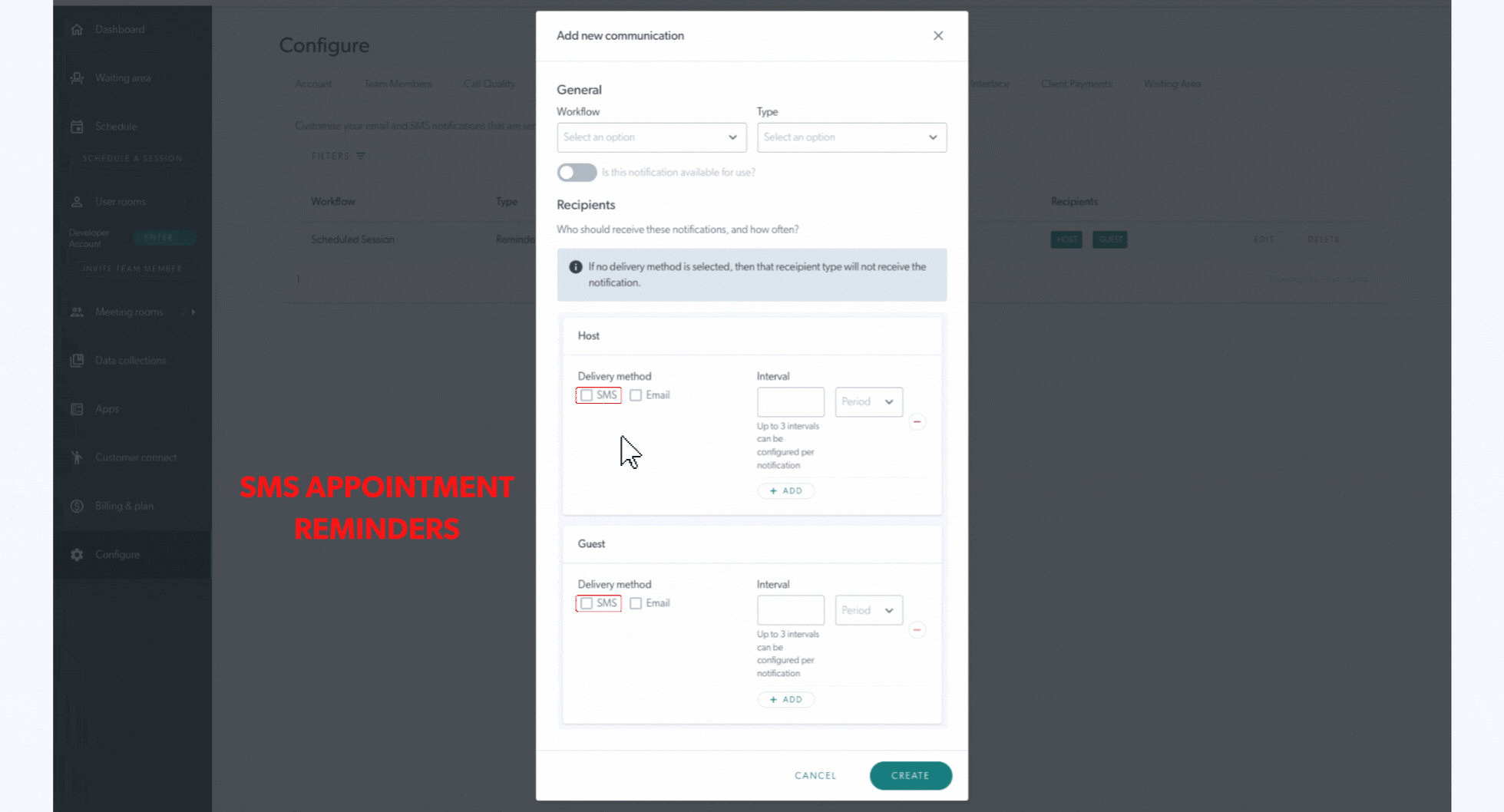 SMS Appointment Reminders, SMS Limits & SMS Usage Tracker
Coviu's new SMS features have arrived! You now have the ability to set configurable SMS Reminders for hosts and guests for Scheduled Sessions and Customer Connect bookings. In the same way that SMS confirmations can be enabled for appointments, admins will be able to send appointment reminders via SMS provided that a mobile number is listed.
This feature has been installed by default and is configurable to customers with Customer Connect and/or Scheduled Sessions on Coviu's Essentials, Standard, and Premium plans. There will be an overall SMS limit per user/per account designed to cover core messaging features including invitations, waiting area alerts, appointment confirmations, and reminders.
As there are SMS usage limits per user/per account with costs incurred for going over your SMS allocation, an In-App SMS Usage Tracker has been enabled so admin users can keep track of their SMS usage. This is visible in the Dashboard as well as the Billing/Payment area.
-------
Coming Soon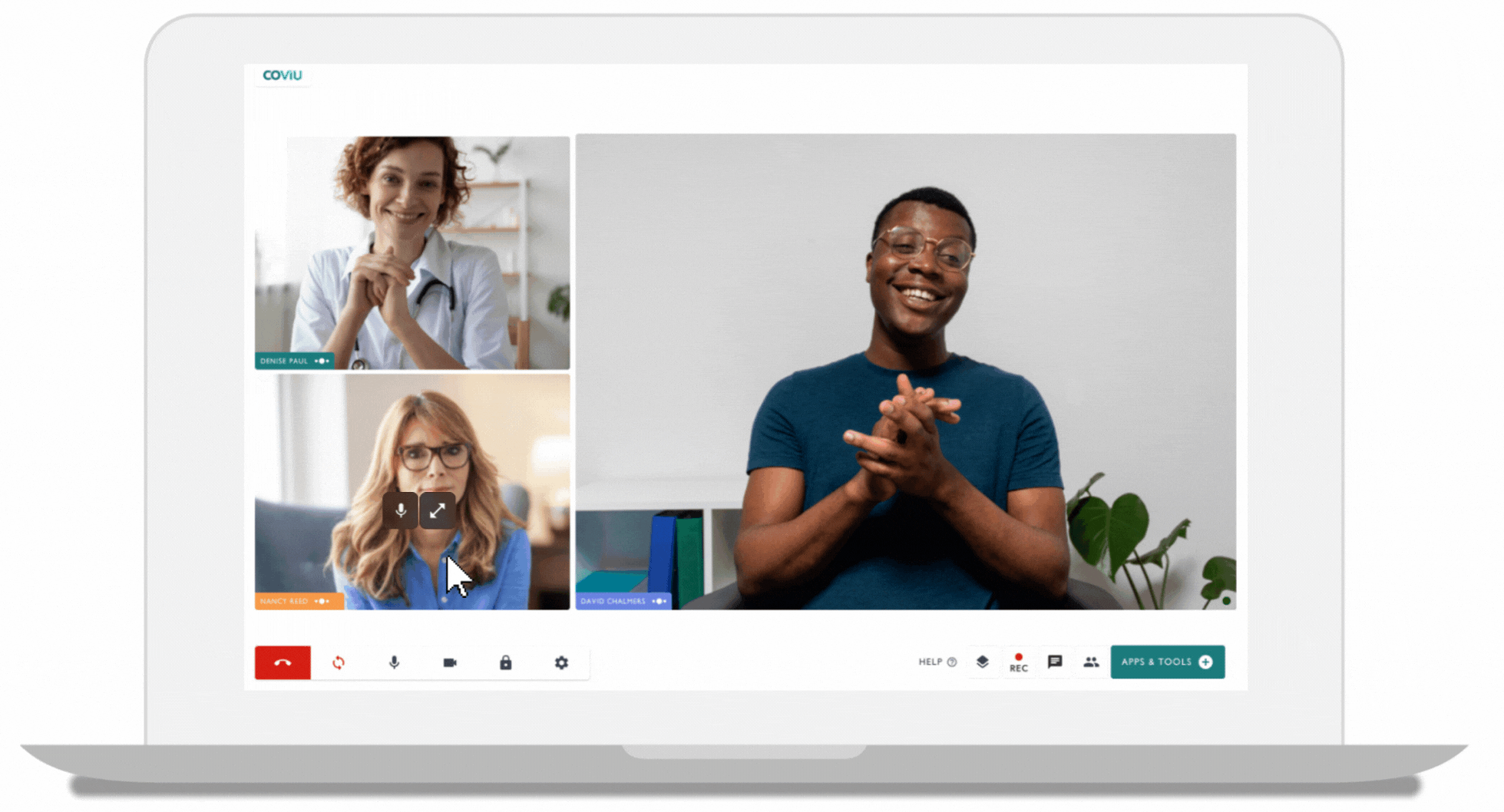 In-Call Mute Function
Coming in January, all hosts will have the ability to mute participants during a call. This will allow hosts to manage speaking contributions in a call, particularly when it comes to group call scenarios. Whilst the call host will be able to mute any participant in a call, only the participants can unmute themselves due to privacy regulations. Keep an eye out for this new feature!
----
All product updates can also be viewed here.


----------------------
Coviu News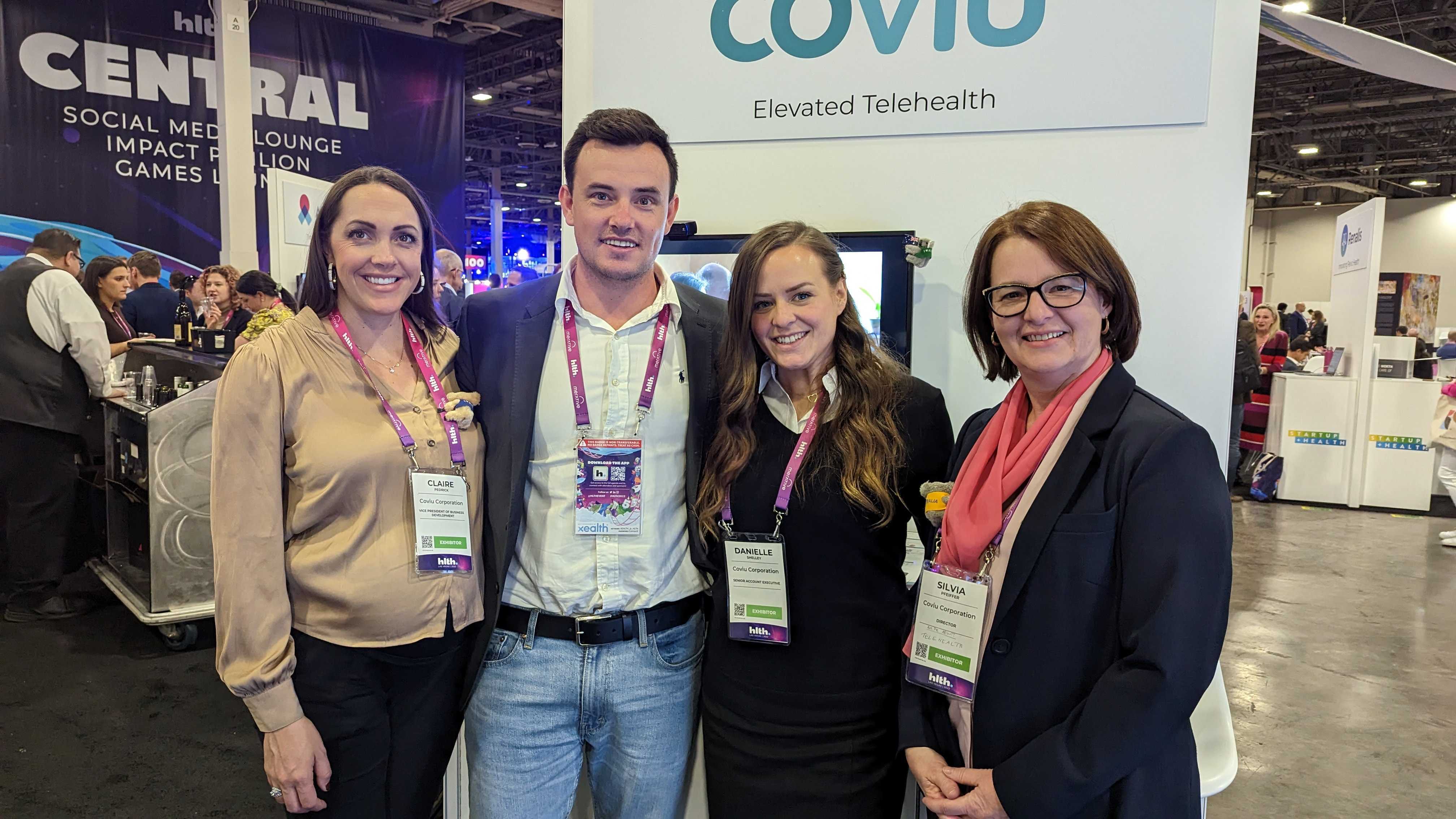 Events


Last month, our local US team spent time networking with our partners at a number of healthcare events. The team were joined by Coviu's CEO Dr. Silvia Pfeiffer and Global Sales Director Andrew Ellis from Australia. Coviu attended a trio of major health conferences including MHCA, ASHA, and HLTH to connect with clients and partners to share insights on the American healthcare landscape.
Learn more about it here
.
-------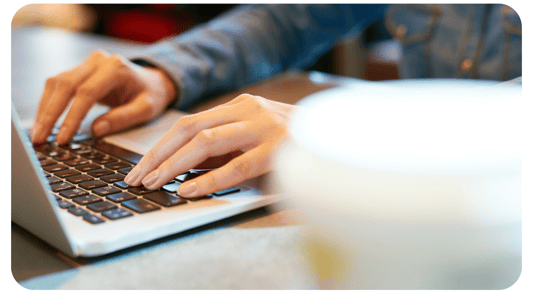 Coviu In The Press


We're proud to have been named on HolonIQ's annual list as one of the 100 most promising Health Tech startups! Thank you HolonIQ!
-------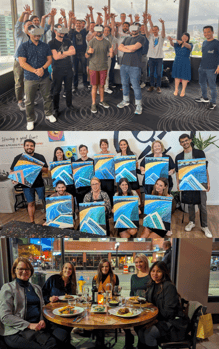 Coviu Team
As a remote-first company, it is always a blast when we get together in person to connect and forward plan. Recently, we held team off-sites in Brisbane and Sydney Australia, and Montana US, to collaborate and celebrate all the hard work achieved thus far with our colleagues from across the globe. It was great to be able to connect and generate ideas toward a more digitally enabled future through Coviu!
----------------------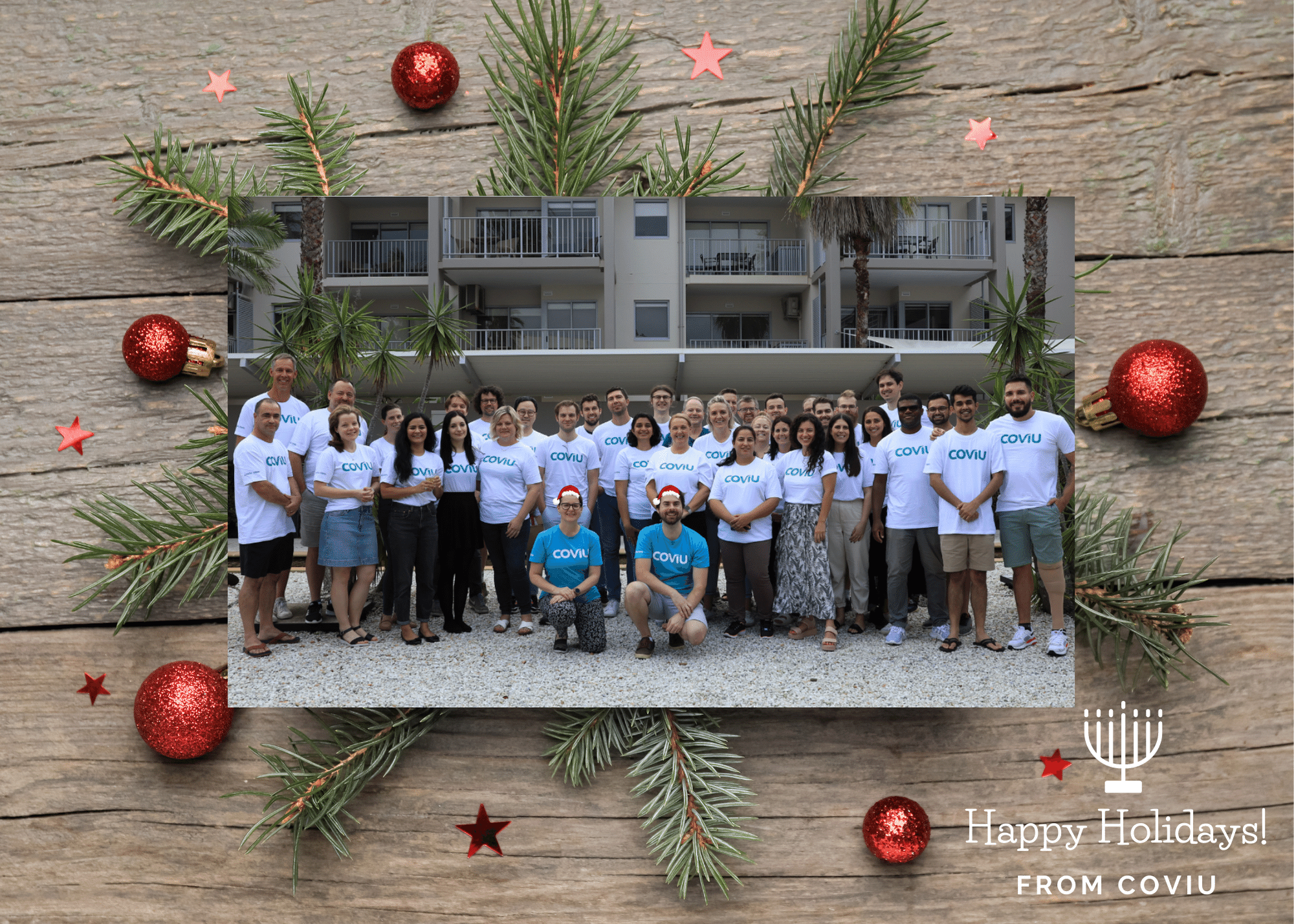 Happy Holidays!
Wishing you and your families a safe and enjoyable break.
See you on Coviu in 2023!