Improving Rural Health Outcomes Through Telehealth
COVID-19 has hit rural communities hard. However, it has also ushered in the era of telemedicine, which has revolutionized rural healthcare.
---
In an article about Telehealth, McKinsey notes,
During the tragedy of the pandemic, telehealth offered a bridge to care, and now offers a chance to reinvent virtual and hybrid virtual/in-person care models, with a goal of improved healthcare access, outcomes, and affordability…
Virtual healthcare models and business models are evolving and proliferating, moving from purely "virtual urgent care" to a range of services enabling longitudinal virtual care, integration of telehealth with other virtual health solutions, and hybrid virtual/in-person care models, with the potential to improve consumer experience/convenience, access, outcomes, and affordability.
---
Health in Rural America
Contrary to stereotypes, rural America has become more racially and ethnically diverse, over the last 10 years, particularly in the south and west.
Rural Americans, who account for nearly 20% of the population, face considerable health inequalities. They tend to be older and sicker than their urban counterparts with higher rates of smoking, obesity, and hypertension.
Higher rates of poverty in rural communities mean lower rates of insurance coverage and compromised access to healthcare.
There are fewer providers available too. Regarding rural access to mental health care, McKinsey reports that:
56% of US counties have no psychiatrist

64% of US counties have a shortage of mental health providers

70% of US counties lack a child psychiatrist.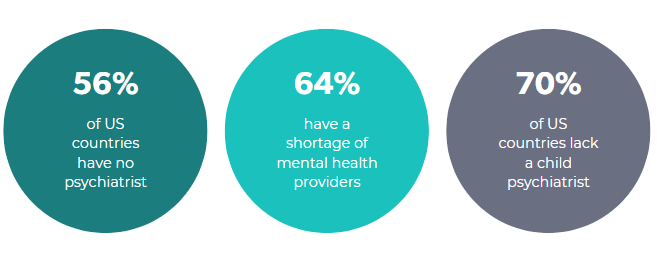 Lack of a local provider means rural patients must either forgo care or travel long distances to see the right specialist (assuming they can afford the time off work, travel costs, and service fees).
Strategies to improve rural health include outreach clinics, community health workers, not-for-profit health centers, financial incentives to tempt healthcare professionals into rural practice, and telehealth.
Telehealth changes the rural healthcare landscape
Before the pandemic, rural patients could not access telehealth from home but were required to travel to an 'originating site' such as a health center in their area.
COVID-19 accelerated the uptake of telehealth across the nation, enabled by increased provider and patient willingness to use virtual care and regulatory changes that supported greater access and reimbursement. One of those changes was to allow patients to access telehealth from home, a key component of improving accessibility according to the AMA.
In March 2022, Congress passed an omnibus bill that extended pandemic provisions relating to telehealth until 5 months after the end of the public health emergency (whenever that may be).
Key provisions include:
Allowing Medicare patients to use telehealth regardless of where they live – telehealth is now available to urban, suburban, and rural patients who wish to use it

Delaying the in-person requirements for mental health care – patients can continue to receive telepsychiatry and telepsychology from home

Allowing for phone calls as well as video calls, recognizing that many patients (particularly in rural areas) lack the necessary technology for video telehealth.
Now, telehealth enables rural patients to:
Overcome geographical barriers to care

See the right professional for their needs rather than being restricted to the nearest one

Experience more convenient care, which is especially beneficial for patients with chronic conditions who may lack the time for regular in-person appointments.
The AMA reports that 85% of doctors are using telehealth and nearly 70% intend to continue its use. Indeed, providers envisage broadening telehealth to address chronic disease management, care coordination, behavioral health, and specialist care. However, physicians perceive technology, digital literacy, and broadband internet access to be the top three patient barriers to using telehealth.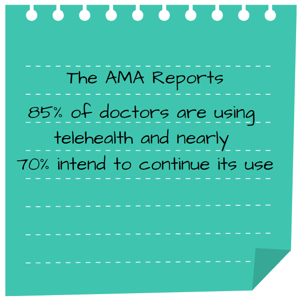 Support rural patients with Coviu
What does all this mean for healthcare providers? It means it's time to grow your practice with Coviu.
Deliberately creating and embedding virtual care means you can:
Extend your patient base into underserved rural areas, not just for acute needs, but for ongoing management of chronic conditions

Reduce health inequalities by contributing to improved health outcomes for rural patients

Generate more revenue for your practice.
Coviu is a leading telehealth platform that makes it easy for you to provide an efficient and profitable telehealth service.
Coviu enables you to:
Provide video telehealth even to patients with low digital literacy – all they need to do is click a link

Integrate your telehealth service with other practice programs

Comply with HIPAA requirements

Access various clinical assessments or tools tailored to your specialty – medical, manual therapy, speech therapy, or behavioral care

Keep sensitive data safe through end-to-end encryption

Take pre-call and in-call payments

Get started quickly and easily.
---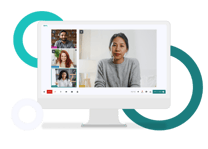 The best way to learn about Coviu is to try it. That's why we offer a free, no-obligation trial for two weeks (we don't even take credit card details).
So, if you'd like to improve healthcare for rural Americans and boost your practice at the same time, start your free trial today.
---
"Coviu provides me with a reliable, effective and secure means of offering therapy in a face-to-face online context. Coviu is simple, flexible and easy to use."
Chris Larkin, Psychologist