From Start-up to Scale-up: Coviu Offsite 2023
Welcome to Coviu's 2023 Offsite wrap-up! Over the second week of May, Coviu's executive team had the privilege of hosting an extraordinary gathering of minds, ideas, and innovation. It was an exhilarating event filled with inspiring keynotes, interactive workshops, and meaningful networking opportunities. Here is a recap of some of the highlights, key takeaways, and memorable moments that made this conference an unforgettable experience. So, let's dive in and relive the excitement of this incredible journey together!
A team that is scaling to match a new phase of virtual care
Over 50 employees from Australia, New Zealand, and the United States attended the 2023 Coviu Company Offsite, held both in-person at the Sunshine Coast, QLD, Australia location and online for remote participants. This year's event showcased Coviu's significant growth in response to the changing demands of the healthtech industry. Recognizing the rapid advancements and transformative potential of technology in healthcare, it was clear that Coviu has strategically recruited top talent with diverse backgrounds across a range of functions. By cultivating this exceptional team, Coviu is well-positioned to lead the shape of the future of healthtech, revolutionizing patient care and driving positive impact on a global scale.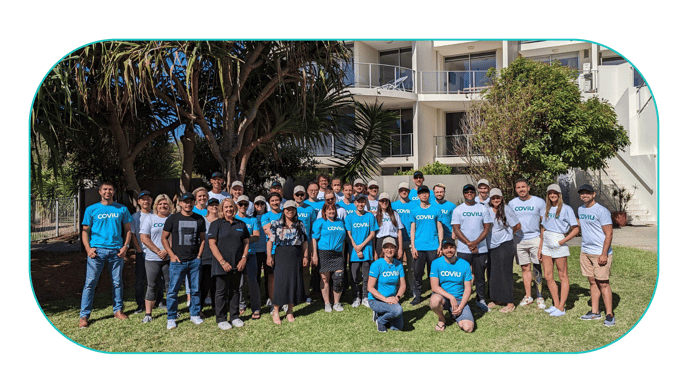 Shared values that empower us across borders
As the team gathered to discuss our core values on Monday, it became evident that our shared beliefs serve as the foundation for our collective success. Through open and honest dialogue, teammates explored the significance of each value and how they align with their personal and professional lives. The discussion not only deepened our understanding of one another but also reinforced the importance of integrity, commitment, authenticity, diversity, and respect in everything Coviu does. By collectively embracing these values, the team was empowered to work harmoniously, navigate challenges with resilience, and uphold their commitment to delivering exceptional results. This team-building discussion fostered a sense of unity and purpose, inspiring Coviu-ers to continue embodying its values individually and define corresponding actions as a cohesive team.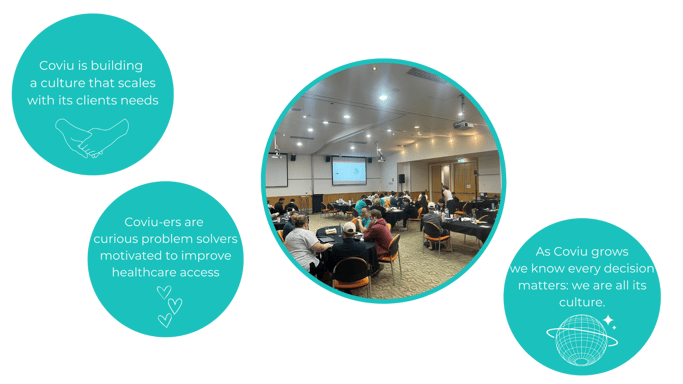 Deeper cross-company knowledge of Coviu's functional departments & product
A large focus for the week was on cross-company learning with interactive panels, department presentations, product knowledge games, and demonstrations. Through dedicated knowledge-sharing sessions, Coviu staff gained invaluable insights into the intricacies and nuances of various departments. This cross-functional exchange not only broadened the team's understanding of how different teams contribute to our overall success of Coviu but has also fostered a spirit of appreciation and empathy for the challenges and achievements of fellow colleagues. By breaking down silos and promoting a culture of learning, Coviu staff discovered innovative solutions, identified new synergies, and nurtured a collective mindset of diversity and collaboration.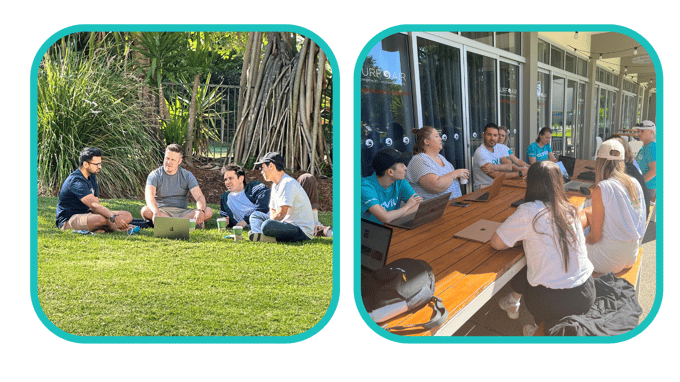 Spotlight on key partnerships and projects
To further build on the team's knowledge of Coviu's recent successes, the spotlight was also shone on a number of key partnerships and projects. In particular, Healthdirect (HD)'s Service Director, Sam Georgy, spoke about the status of Coviu and HD's longstanding relationship, as well as, gave insights into telehealth trends through the lens of HD. With over 4 Million video consults powered by Coviu since the pandemic, HD is an inspiring success story of Coviu employees' hard efforts to meet its customer's needs.
Another exciting discussion was around the progression of the WoundView project led by Coviu's Head of Clinical Research, Dr Annie Banbury, an initiative being developed in conjunction with partners such as the University of Sydney and CSIRO. Annie presented on the mission of WoundView, an AI-driven app for the automated analysis of wound images integrated with the purpose-built platform Coviu. She stepped the team through the development process, as well as updates on the project.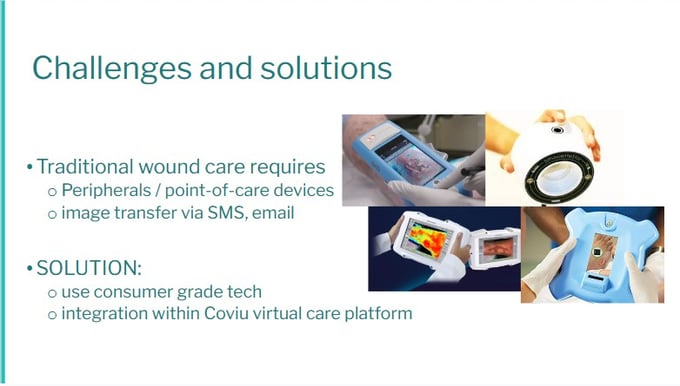 Informal & formal team-building activities
"The only way to do great work is to love what you do. And the only way to love what you do is to create a company culture that nurtures and supports its employees."
When asked about their conference highlight, the majority of the team emphasized the importance of getting to know each other better. This showcases the significance of Coviu's Company Offsites in fostering rapport and enhancing its in-person culture. Our terrific in-house planners including Operations Manager, Liora Steigrad, and Head of People & Culture, Kristy Dalton, did a fantastic job of organizing the right mix of formal and informal team activities to facilitate this. These included:
An optional morning hike up Mt Coolum

A delicious dinner at Florentinas Trattoria

A dazzling and highly comedic Awards Night followed by Karaoke

An amazing race experience hosted by Hidden Door

A number of optional activities from morning walks to bike riding to table tennis tournaments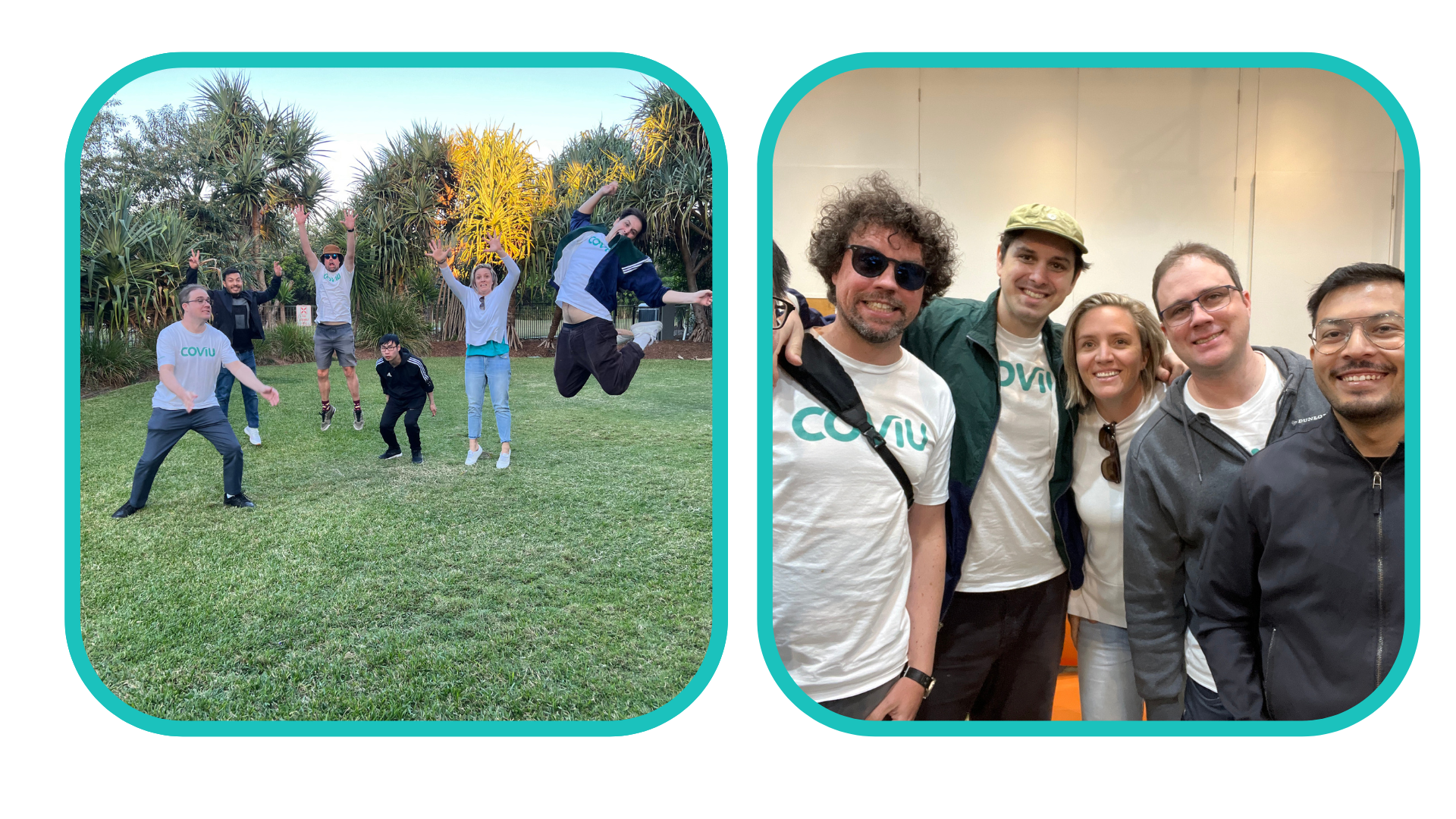 A keynote speaker that summarised the week perfectly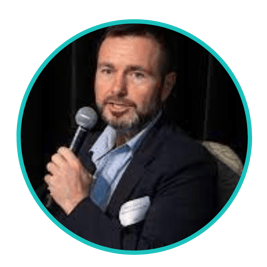 After a fantastic four days a keynote speaker, Wayne Gerard, Co-founder of Red Eye SAAS platform, generously shared his on-the-ground knowledge on culture building from his own business experiences. His discussion perfectly summarised some of the key takeaways over the Offsite period including:


Build a culture that is customer-centric = design and build with not for

Be curious problem solvers = think of all the options first, don't rush to conclusions or make assumptions

Tune into how you should scale your business so your customers don't outscale you

Tap into your superpower and bring it to work knowing you were hired because you were considered the best fit for your job

Ready your business for Series B by thinking about your role in making your investors look good
_____
Goodbye, until our next video call...
Finally, the Coviu team returned to their cities with valuable insights. They understand that incorporating key concepts and values into the company's foundation is crucial for scalability and success. By focusing on a well-defined business model, operational efficiency, a strong workforce, scalable technology, data-driven decision-making, and strategic partnerships, Coviu will grow sustainably and adapt to the business landscape. Embracing these concepts enables companies to seize opportunities, overcome challenges, and become industry leaders. Additionally, the team values their bond and will continue building relationships based on irreplaceable memories.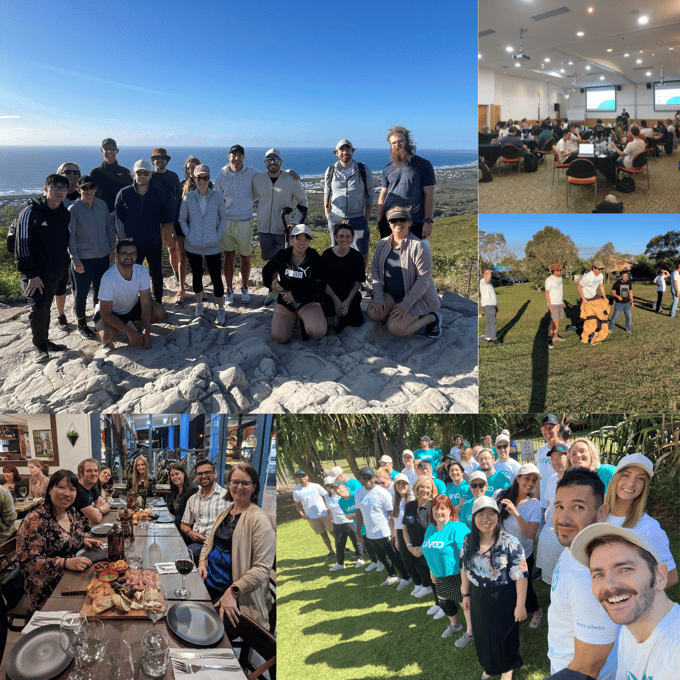 ---
To learn more about Coviu, connect with one of our friendly customer success team members here.