Comparing Video Telehealth Software
Coviu
Jan 19, 2022 12:49:00 PM
Which telehealth software platform is best? Should you use Teams, Zoom, Google Meet or – yes, we're going to say it – Coviu?
---

You'd be surprised how many healthcare professionals decide to go with what's familiar rather than what's best. You've probably used Teams, Zoom or Google Meet in many meetings, webinars or online conferences by now. Extending that use to telehealth seems easy so you make a decision based on avoiding change rather than enhancing capability.
But here's the reason you've used Teams, Zoom and Google Meet in all those online meetings: that's what those programs were designed for. They were not built for telehealth. They've jumped on the telehealth bandwagon with a few bolted-on features, but they're primarily built for professional meetings, not healthcare.
Yes, they provide video. But there's far more involved in providing video telehealth than simply the ability to see your patient on screen. That's really the very least your telehealth software needs to achieve.
Coviu, on the other hand, is a purpose-built video telehealth platform with a long and successful track record.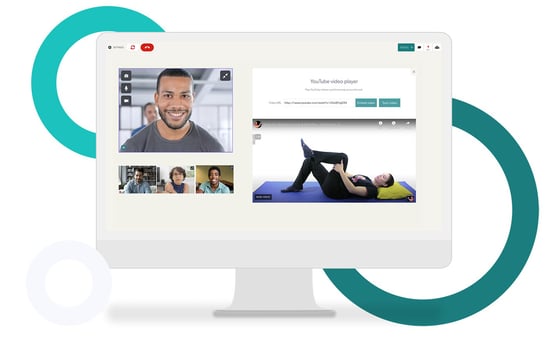 What difference does that make? When you're running a healthcare practice, it makes a great deal of difference. Coviu's telehealth platform simplifies your day-to-day life as a clinician or practice manager by:
Integrating with your practice management system

Enabling you to process Medicare payments and issue online prescriptions

Taking online appointment bookings

Providing a waiting room for patient

Incorporating clinical tools.
It also provides secure end-to-end encryption to meet the stringent privacy requirements for healthcare data. And it's fully white-labeled, meaning you can add your own practice's colors and logo to reinforce your brand with your patients.
Healthcare is a vital service with unique pressures. We get that. We know that when things go wrong, you need immediate support. You get it with Coviu. We provide phone and online support from 9-5 AEST meaning you're never left to work it out alone.
So, how do Teams, Zoom and Google Meets stack up against Coviu? Take a look.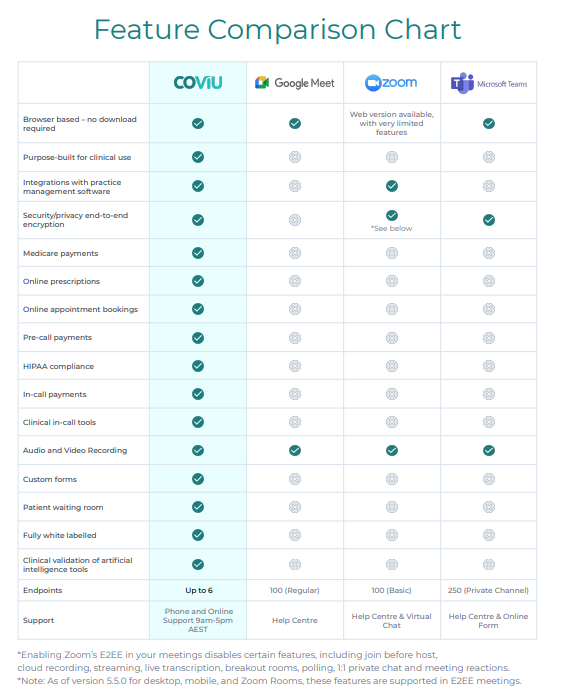 ---
Coviu is the Australian government's telehealth platform of choice and has powered over 6 million telehealth consultations. You're in good hands here.


We know it can be daunting to try something new. But we promise that Coviu is easy to install. You can be up and running in just a few minutes. You can even try before you buy with our free 2-week trial (no credit card required). Start your free trial here.


Disclaimer: All information is general in nature. Patients should consider their own personal circumstances and seek a second opinion.