Coviu's Connected Care System of Action Evolves
Coviu has recently expanded its features, redefining itself as a unified virtual care engagement platform. With new phone and group therapy options, multiple communication channels are revised down to a single connection point.
Pulse+IT acknowledges Coviu's tremendous evolution as Australia's leading telehealth provider into a highly connected 'care-system of action', edging closer towards becoming a one-stop shop for health providers.
---
In the article 'Coviu launches audio capability and MDTs for a phone-based front door', Pulse+IT notes,
Australian telehealth platform Coviu has added integrated phone-based telehealth capabilities to its offering, along with new features for multidisciplinary team meetings and remote patient monitoring integrations.
While web-based video consultations have long been the company's bread and butter, particularly for allied health and specialist clinicians, it still remains the fact that more than 90 per cent of general practice telehealth consults are done over the phone.
---
Responsive to the healthcare industry
The idea of a fully unified virtual care system dates back to Coviu's inception as a purpose-built platform for practitioners. Working closely with clinicians, CEO, Dr Silvia Pfeiffer realised that existing consumer video calling software and corporate video conferencing applications were not appropriate for healthcare services. Not only did they not satisfy the stringent security and privacy requirements of healthcare businesses, but they lacked important business functions such as collecting payments, making appointment bookings, and gathering patient consent.
Coviu was created with the input of clinicians and healthcare businesses and spun the company out of Data61/CSIRO with the support of venture capital investment from Main Sequence Ventures in May 2018. Coviu was designed and built purely for healthcare services and professions with the platform replicating traditional brick-and-mortar clinics.
Coviu has stayed committed to the healthcare industry it was designed for, evolving alongside practitioner and patient needs.
Evolution towards a unified platform
Fast forward to now, Coviu has grown to become an all-in-one virtual care engagement platform enabling providers to deliver a superior, frictionless virtual care experience to improve clinical outcomes, capacity and workflow efficiencies. Coviu arms providers with an unparalleled telehealth solution to deliver rapid patient care impact with in-call payments (including Medicare), patient triaging, online appointment bookings, and more, in addition to video and phone consultations. The platform is now equipped with over 50 Apps, including in-built clinical tools tailored to the various clinical specialties and features group consultations, the ability to share resources, perform clinical assessments, remote patient monitoring capabilities, access on-demand interpreters and more.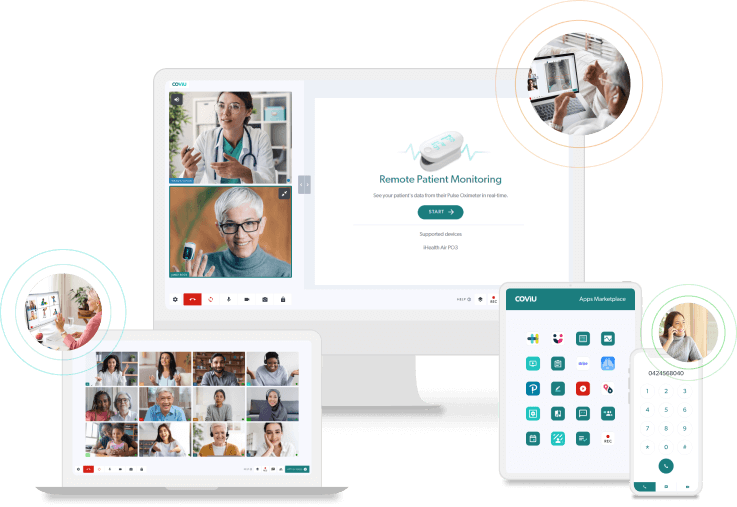 Benefits of new features
Coviu continues to advance its suite of differentiating features, having recently added phone and group consultations to the mix. This gives providers increased ability to create their desired hybrid or fully virtual clinic environment to their specific requirements. This flexibility for providers to create a bespoke online clinical environment is a core factor setting Coviu apart.
As CEO, Dr Silvia Pfeiffer says in Pulse+IT's article,
"[This will be a] system of action to both you and your patients so that you can better and faster activate all of these communication mechanisms," she said. "You don't have to deal with 20 different ways. It can support multiple different models of care, remote first care, stepped care, hybrid care, multidisciplinary care, health hotlines – all sorts of different use cases can be supported and new models of care with a unified approach. That's our big picture view."
Importantly, providers benefit from increased flexibility from the following new functionalities:
Unified phone and video conferencing: Although video telehealth has shown to be more effective in clinical trials, Coviu recognises the need for phone options to ensure healthcare access for all. With a large portion of practitioners still using phone telehealth and some limitations on widespread video accessibility, Coviu's audio functionality provides a support solution that also meets specific industry requirements such as stringent security standards.

Group consultations: By providing individual and group sessions of up to 20 people, with end to end encryption not found with traditional corporate video software, Coviu has opened up even more possibilities for clinicians.

Features that support clinical workflows: Coviu is consistently improving its features to support an ever-increasing range of clinical workflows with PMS integrations and remote patient monitoring applications, such as interoperability with pulse oximeter devices.
Coviu's expanded features give clinicians an increased ability to tailor the platform to their unique clinical uses. By having phone, video and group consultations in the one environment, clinic management is simplified and more effective. Other positives include easier consolidation of reporting for Medicare audits.
To read more about the benefits of Coviu's new features read the full article here.
---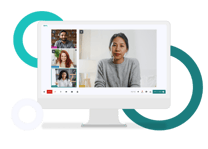 The best way to learn about Coviu is to try it. That's why we offer a free, no-obligation trial for two weeks (we don't even take credit card details).
So, if you'd like to simplify your workflows and boost your practice at the same time, start your free trial today.