Customizable Forms
Coviu's Customizable Forms App enables the creation of any custom form you would like your participants to complete during your telehealth consultation or prior to your telehealth consultation.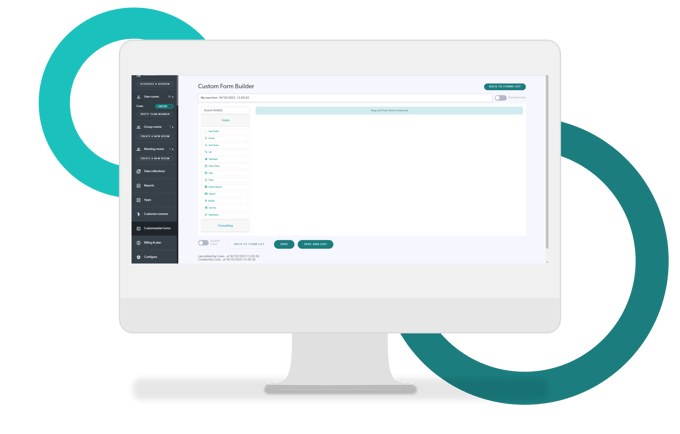 How It Works
Forms can be created from within the Coviu Admin Portal.

Form fields, content, and layout options will all be drag-and-drop components that can easily be edited, updated, and moved around the page by you.

Forms can be used within your consultation and can be downloaded as a PDF file once complete.

Full control will lie with the clinic admin, with the ability to edit or change existing forms as they see fit.

Published forms can be utilized by all clinic team members during their consultations.



Forms can also be used prior to a consultation, allowing clients to complete forms days or even weeks before their scheduled consultation. To use the pre-call customizable form feature, you must have the Scheduled Sessions App installed also.

The pre-call customizable form feature also works in conjunction with Coviu's contacts feature, allowing users to create a Scheduled Session by looking up the contact of a client, making repeat bookings easier. Contacts can be used to create an address book of clients for clinicians to access easily.

W

hen a form is completed before the consultation starts, it is saved against the Contact, creating a patient record. This will allow clinicians to see all the forms that have been completed pre-consultation by the client and can be viewed against the contact record. Client contact details are not stored unless you opt into this feature.



What Can Custom Forms Be Used For?
Gather important patient information by creating patient in-take forms or screening forms
Create a telehealth consent form that participants can sign directly in a call or before a call
Conduct a customized questionnaire, referral form, consultation form
and more…the options are endless!
Cost
The Customisable Form App is available on all Coviu plans and will be installed on your account by default. Customizable Form App inclusions differ across the different Coviu Plans. See the breakdown below:

| | | | |
| --- | --- | --- | --- |
| Essentials Plan | Standard Plan | Premium Plan | Enterprise |
| 1 published form included per clinic. $5 per month, per additional published form. | 5 published forms included per clinic. $5 per month, per additional published form. | 10 published forms included per clinic. $5 per month, per additional published form. | Account dependent. Clinic administrators will need to talk to their account manager to get this feature enabled for their clinics. |
To upgrade your account click here.


Please Note: The number of published forms included on your account pertains to those forms that are in use, meaning you still have the ability to have other unpublished forms that are not in use. You can publish and unpublish forms as you wish if your limit has been reached.


Learn More