Beck Anxiety Inventory (BAI)
Beck Anxiety Inventory (BAI)
This App enables you to administer the Beck Anxiety Inventory. The Beck Anxiety Inventory (BAI) is a brief, self-report assessment for measuring anxiety severity and level.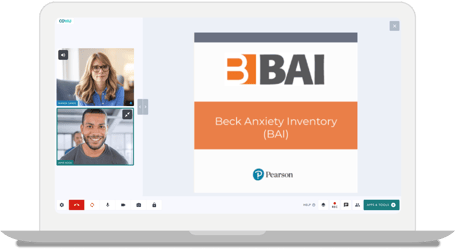 Features
A simple, digital form that makes it quick and easy for clients to self-administer the BAI questionnaire. Responses are automatically scored and interpreted in real-time, so you can see the results. The results are neatly stored in a downloadable PDF format for offline viewing and backed up in Coviu's cloud storage.
Requirements
In order to use the BAI Digital Stimulus Book on Coviu, you must be a registered customer on

Pearson Clinical

with a User Level B - Registered Psychologist.
You must also use an original BAI US Record Form (purchased directly from Pearson) for every assessment and refer to the BAI US Administration and Scoring Manual.
Pearson Clinical adheres to strict ethical guidelines for standardized test and assessment use.

Click here

to view the BAI Telehealth Guidelines.
How to Install
Learn more