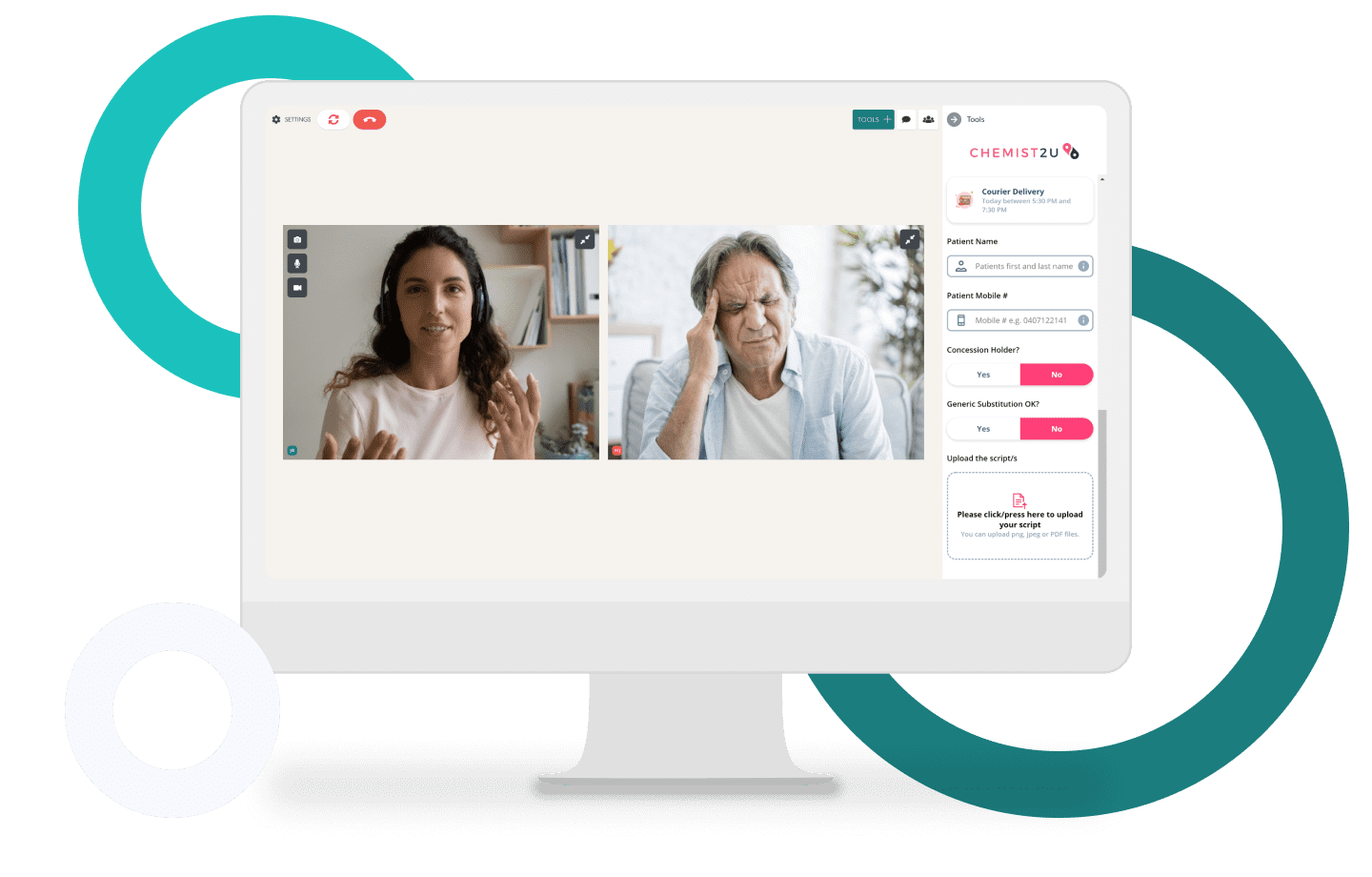 Talk to your Healthcare Provider about using Coviu!
Coviu is the technology that powers secure and private telehealth sessions between you and your healthcare provider. Chat to your healthcare provider today and reap the benefits of Coviu together.
| | |
| --- | --- |
| | Access your healthcare provider with one simple click |
| | |
| --- | --- |
| | Avoid traffic and waiting rooms |
Claim Medicare
reimbursements
Why Choose Coviu?
Are you part of the 70% of Aussies that think all GPs should offer telehealth? As much of the nation faces tougher COVID-19 restrictions, telehealth uptake is once again soaring. Video consultations allow for continuity of care, increasing access, reducing costs and keeping the community safe.
If your healthcare provider isn't providing you with an efficient video telehealth option, let them know that Coviu is here to help them create a flexible healthcare system!


Mutually benefit from:
Claim Medicare reimbursements from telehealth appointments
Remove travel barriers and increase access no matter where either of us are located
Enjoy Coviu's end-to-end encryption, knowing sensitive data is kept safe
Avoid traffic and waiting rooms - convenient consultations
Use interactive clinical tools and workflows that replicate brick-and-mortar clinics
Reduce the risk of infectious disease transmission
Simply email or call your healthcare provider and let them know about the benefits of Coviu.



70% of Aussies believe all GPs should offer video telehealth.
Flexibility and accessibility benefit everyone...

Patients
Having the option of video telehealth makes treatment more accessible for patients who face barriers including family commitments, work schedule, disability and other health conditions, anxiety, and travel barriers. It also saves patients from having to find a new suitable health professional should any of the aforementioned conditions change.

Clinics
Ability to grow practice clinics by making it as easy as possible for patients to show up, and keep showing up! Minimise no-shows and those desperate calls from patients saying they're stuck in traffic and provide great continuity of care.
Providers
Coviu comes with a plethora of apps specifically designed to help providers work smarter, not harder. Getting rid of the constraints of standard office hours and set office locations means less time working, more time to spend on all the other important things in life.


Frequently Asked Questions
As a patient, do I need to sign up to Coviu?
You do not need to sign up to a Coviu account. Your healthcare provider will use their account and send you a link to join at the time of your consultation.
What do I need to make a video call?
A modern device with a camera, microphone and speakers.

A good connection to the internet. Your home Wi-Fi is generally fine or a good 4G connection will also cover you.

A private, well-lit area where you will not be disturbed during the consultation.
Is a video consultation via Coviu secure?
Coviu is end-to-end and peer-to-peer encrypted, meaning sensitive patient data is safe and not accessible by anyone other than the call participants.
You meet your healthcare provider in a private, secure online consultation room, that can only be entered by accepted parties.
Coviu meets all domestic privacy legislation and is HIPAA compliant.
How much does a video call cost?
The video call is free (except for your internet usage). However, the regular costs – if any – of a medical consultation still apply.
There are also Medicare reimbursements available for video consultations, so check with your healthcare provider to see if you are eligible.
How much internet data will I use during my consultation?
A video consultation uses less than half of the data you would use while watching a YouTube video in high definition.
Data use is less on lower-speed internet connections, or if you're using a less powerful computer, tablet, or smartphone. These factors can also reduce the overall quality of the call. Data use increases when there are more than two participants in the call.
A 30 minute call with 2 endpoints will use roughly 450 MB at maximum speed.
If your call gets pushed down to the minimum bandwidth usage it will go down to roughly 158 MB.
How do I use Coviu's extra functionality?
During your session, your practitioner may open various resources in your call, such as images, videos, forms for you to sign or a digital assessment.
You will also be able to access a limited range of these tools as the patient or client. To access them, click the 'Tools+' button on your video window when you are in the call with the practitioner. However, it is recommended to wait for these instructions from your healthcare provider, to avoid interrupting the flow of the consultation.
I have a specific question about my appointment.
Coviu is not your healthcare provider, and we do not know who is conducting your sessions or when they are to be held. We also do not set pricing or availability.
Please contact your healthcare provider directly if you need any information that is not listed on this page.