Changes Are Live!
An Enhanced Coviu Experience
Get excited...an enhanced version of Coviu is here!


Now live on Coviu, you will have access to a new Welcome Dashboard and a revamp of the Call Interface!
The new Welcome Dashboard makes it easier for you to get started, providing you with access to all your most-used tools in one place. In addition, the Call Interface is more streamlined, making it easier to navigate during your consultations.
So, what exactly changed? Let's dig in...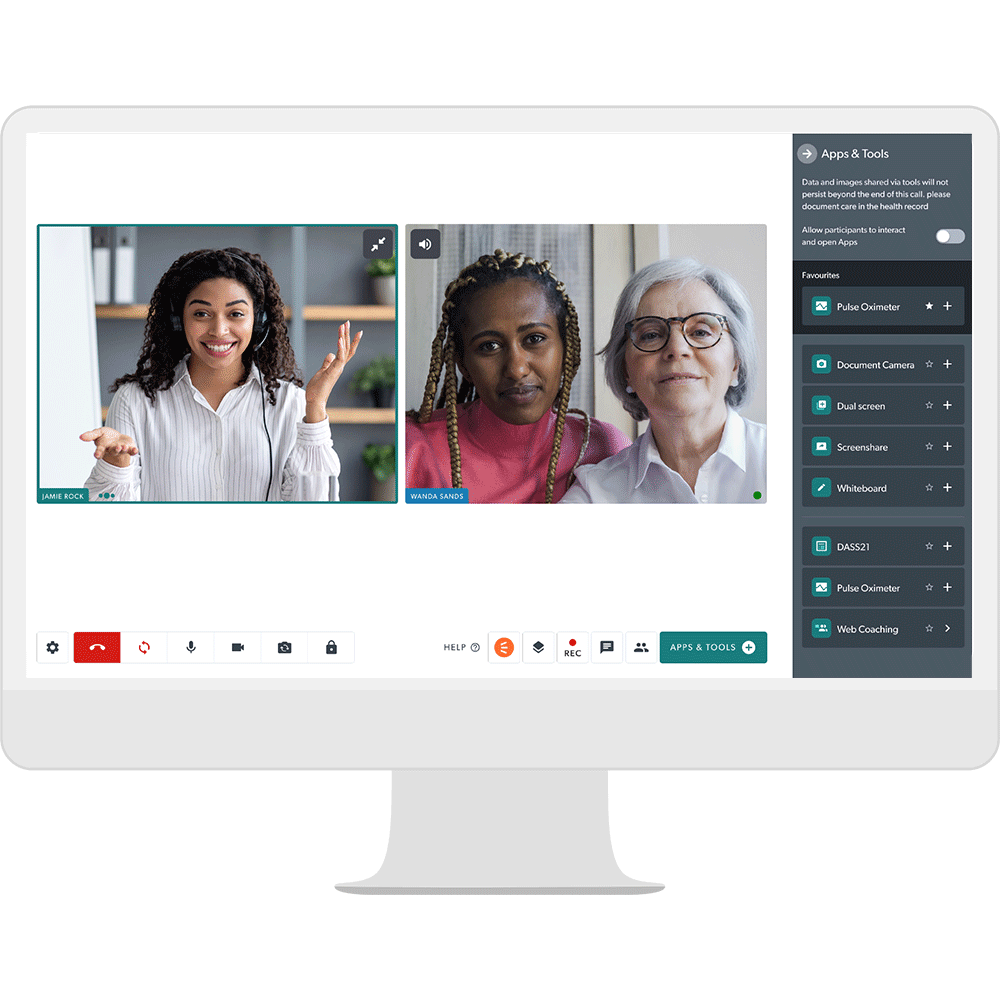 Call Interface
We have streamlined the Coviu call interface, giving it a cleaner look making it easier to navigate between functions.
These changes include: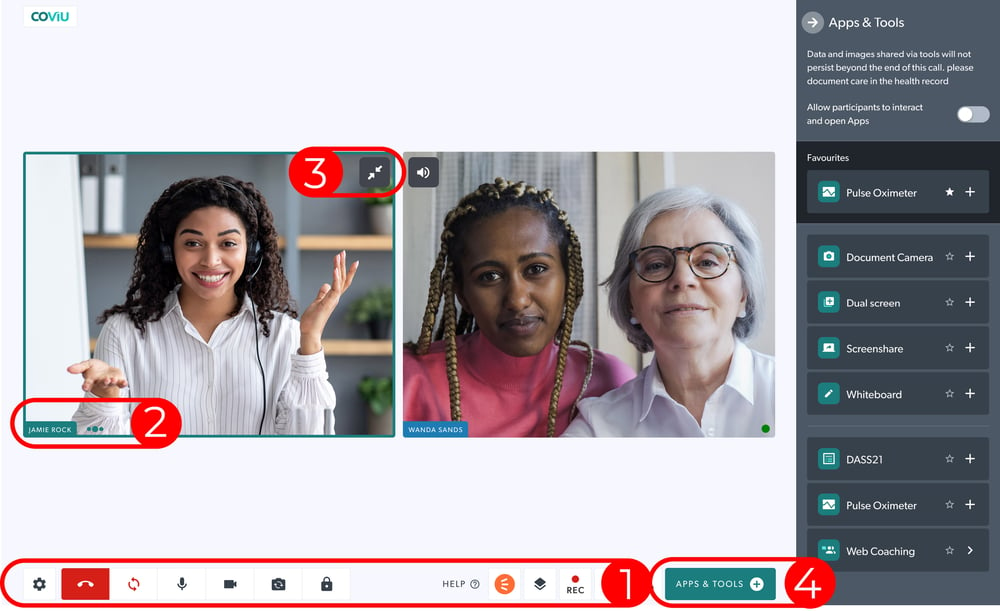 1. Core Controls
All core controls located at the top of your Coviu screen including - ending a call, refreshing the connection, chat functionality and call manager have now been repositioned to the bottom of the call window.


In addition, the 'Mute Microphone' button, 'Call Lock' button (waiting area feature), 'Hide Camera' button and 'Switch Camera' button have moved to the bottom of the screen with the rest of the core controls.


2. Speaker Indicator

A new speaker indicator has also been introduced. When speaking, this indicator will animate three dots in the bottom left of your local video feed. It will also highlight a coloured rim around your local video feed.


This will be a good indication of whether the Coviu application is receiving your microphone input.

For example, if you are not muted and speaking and the speaker indicator is not triggering, this means your microphone input is not registering in the app, alerting you to check your settings.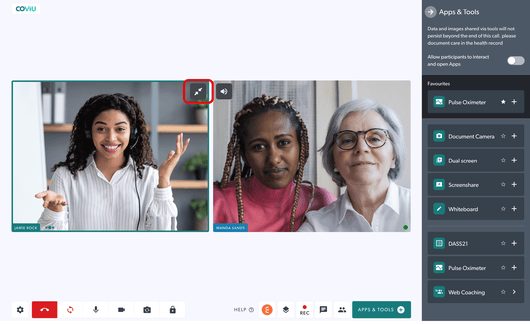 3. Shrink Your Video
The hide local video function has now been renamed to 'Shrink Your Video'. Now when clicking this function, the video will not entirely disappear, instead, it will be shrunk down into the bottom left corner with a visible button to expand it back into the video feed layout at any time.


The speaker indicator will still be applied to the 'Shrink Your Video' function, so you can always see if Coviu is registering your microphone input.
4. New Tools Button
The 'Tools' button has been renamed to 'Apps & Tools'.


You now have the ability to promote your frequently used Apps & Tools to the new 'Favourites' area so they are easy to find. To do so, simply click on the star next to the App.

Welcome Dashboard
Another exciting update is the brand new Welcome Dashboard! Users who log in to their Coviu account will now land on this Welcome Dashboard, making it easier to get started and providing you with access to all your most-used tools in one place. The Welcome Dashboard also has modules that will display depending on what kind of plan you are on.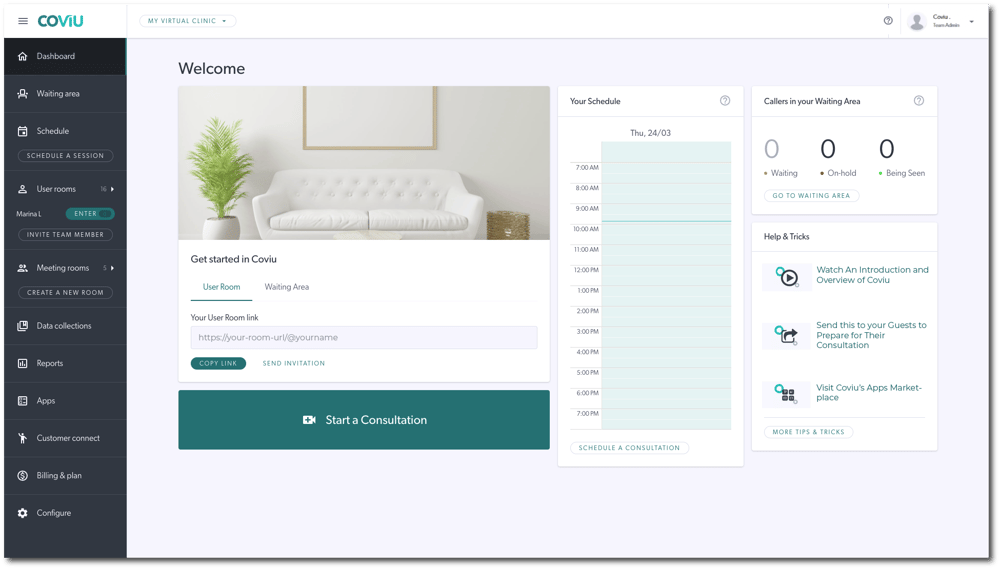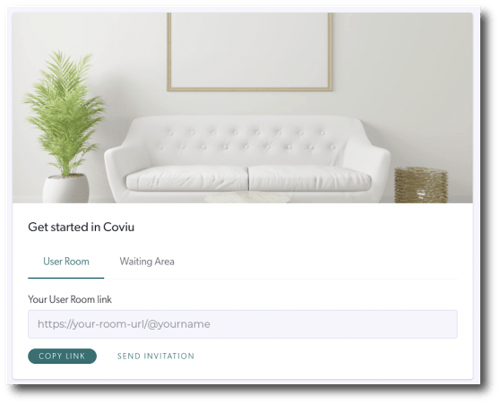 Welcome Links
The welcome module contains a link for your user room as well as an invite button.

If you are on a Coviu plan that has the waiting area enabled (Premium/Trial), then you will find a link to this here also.
Start a Consultation
The 'Start a Consultation' button opens a modal showing available tools including, access to your User Room, Scheduler and access to your Waiting Area (Premium/Trial plans).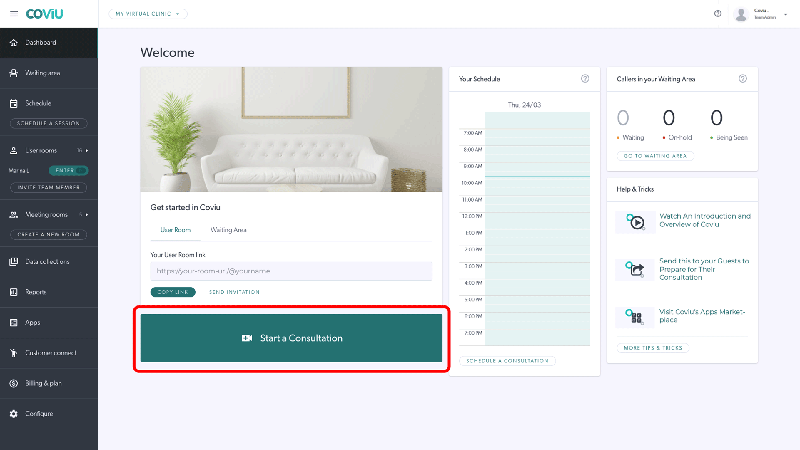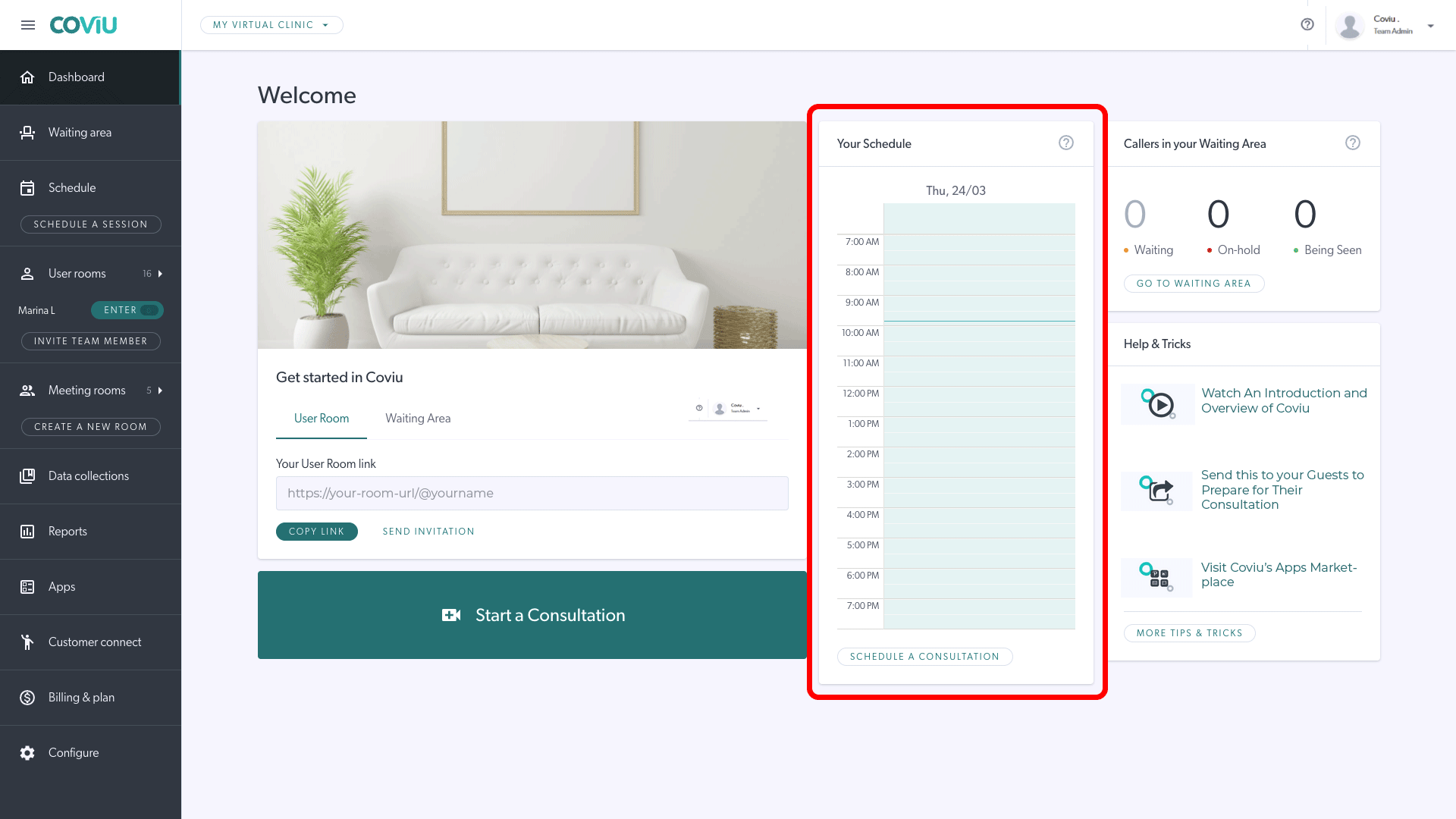 Your Schedule
The 'Your Schedule' module allows you to see your scheduled day ahead. It also creates the ability to schedule a consult through the 'Schedule a Consultation' button which appears at the bottom of the module.
Callers in Your Waiting Area
The 'Callers in Your Waiting Area' module shows how many patients/clients are being seen, how many are currently on hold and how many are waiting. There is also a button that allows you access to enter the waiting area called 'Go to Waiting Area'.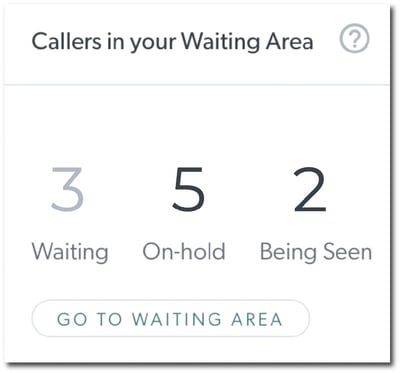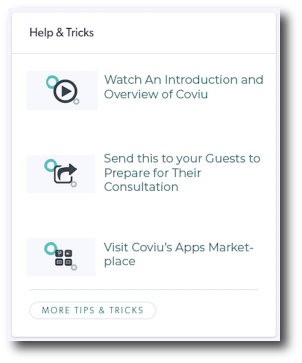 Help & Tricks
The 'Help & Tricks' module shows a selection of helpful and informative videos about the Coviu platform with the ability to click for more resources under 'More Tips & Tricks'.
For any questions, feedback or to book a demo please feel free to reach out to one of our lovely Coviu team members who will be happy to assist!