Coviu Newsletter October 2018
October has seen the Coviu team criss-cross the globe and rural Australia learning, presenting, exhibiting and conducting workshops across the Telehealth space.
We have been to California, Canberra, the Gold Coast, Bourke and Darwin.
We have met with Professors, Psychologists, Physicians, Practice Managers, and many many more at conferences, hospitals, and private practices.
We have spent countless hours engaging with you, running workshops with you and have enjoyed having lunch with you.
We are inspired by your commitment, enthusiasm and innovation in your efforts to provide quality healthcare to your communities.
Thank you so much for sharing and engaging with us all around this wonderful country and world-wide.
Coviu is here to help you embrace digital health and make your processes as seamless as possible.
---
NEW FEATURE: SAFARI IS NOW SUPPORTED
​

​
We're very excited to be able to announce that Coviu now works in Safari, which is the default Web browser on Apple Mac devices.
This means you can now have your clients join Coviu with a simple link on Mac computers, as well as on iPhones and iPads. No more need to install an app.
There are, however, a couple of limitations - specifically, there is no screen sharing and interoperability with Firefox is pretty poor. It's because Apple have finally decided to implement WebRTC (Real-time communications), which is the standard that underlies the Coviu platform on the Web, but they are still catching up. Our CEO Silvia Pfeiffer recently met with the developers at Apple in San Francisco to discuss these limitations and we learnt that both of these problems are being worked on, so will be resolved in the near future.
This is the beginning of a new era where Coviu works on Google Chrome, Firefox, Safari, Android and iOS out of the box. We expect this will simplify your workflows a lot! Enjoy!
​
---
​
NEW RELEASE ANNOUNCEMENT: Coviu 2.0
Our developers have worked very hard to bring you a lot of new features in November. Since we understand that everyone's needs are different, we wanted to find a way to simplify the setup for you.
We've therefore decided to package up our functionality in different tiers, so you can sign up to the tier that you need.
Firstly, there will be tiers for Allied Health, GPs and Medical Specialists. We've created these so we can associate the right practice management software integrations for you and prepare feature packages for your specific profession.
​

​
We're releasing tiered feature packages appropriate to your medical profession
Secondly, there will be three levels with varying complexity of functionality that grow with the size of your telehealth activities and the requirements around video consultations.
​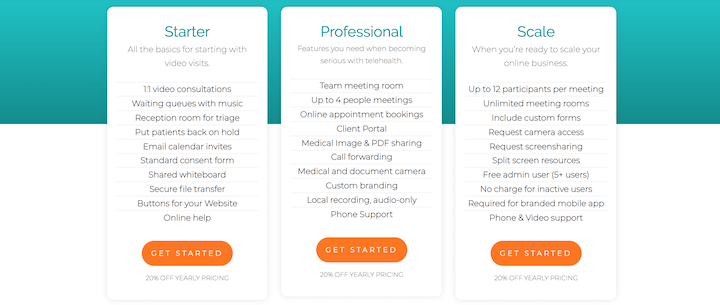 ​
The new three levels that will be released soon
Some of the new features in the higher tiers include:
appointment bookings from within Coviu
Patient payments from within a video call using Stripe
Audio recording of sessions if consent is given by all participants
Free admin users for larger groups
These new pricing tiers will come into effect in the week of 12th November.
We will also release a new Website and new Terms & Conditions of Service.
​
Upcoming pricing changes - impact on existing customers
For those of our users on a current Professional plan, you'll be able to stay on your plan with the features that are currently active in your account. New team members will also enter your current plan.
We've really appreciated you as early users and want to continue to give you the current service at current prices. There's no change for you unless you elect to migrate to one of the new plans.
From mid November, new sign ups will need to choose one of the new product tiers at the new prices.
So, if you sign up in the next week, you have a final chance to get onto the old plans.
​​
---
​
COVIU AT CONFERENCES
AAPM: Australian Association of Practice Management
Linzi and Anton were in Canberra this month learning about the challenges being faced in clinical practice today.
What we found most interesting after meeting and learning from Practice Managers is the need to maintain a healthy work life balance and making digital technology work for the business.
Operating in the Health care sector can be a 24/7 vocation - with many patients looking for instant access - technology allows you to provide this service in a flexible manner while actually making money from phone or video consultations.
You can now give your patients better access to you and make it work for you and your business.
​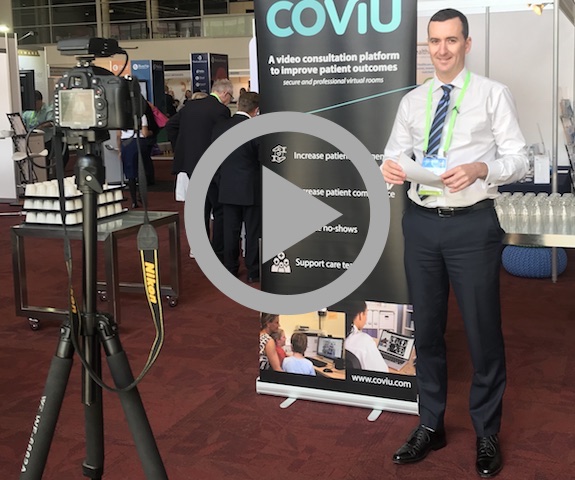 ​
Watch Anton's mini-series of videos recording his take-aways of AAPM-18
SFT-18: Successes and Failures in Telehealth
Silvia and Anton offered a Workshop on Transforming your practice with video consultations at SFT-18, then enjoyed the conference learning much about telehealth research projects, but also about many new projects that have just become normal expected services by patients.
​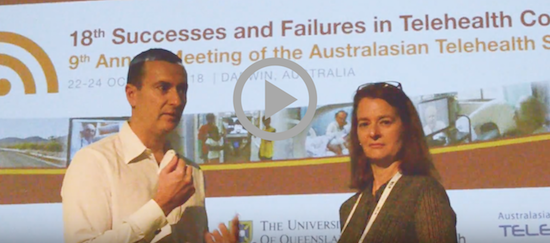 ​
Watch Anton and Silvia recount their learnings from SFT-18
RMA-18: Rural Medicine Australia
RMA-18 took place just after SFT-18 in Darwin and was packed full with rural clinicians with the most amazing stories and challenges. Anton and Silvia made contact with the rural colleges, discussed telehealth training and Medicare reimbursements and learnt a lot about the special conditions under which rural GPs have to work.
​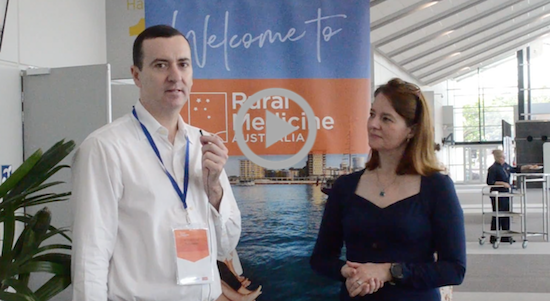 ​
Watch Anton and Silvia sum up their take-aways from RMA-18
​
---
​
As always, don't hesitate to contact us for a sneak-peak at the latest Coviu features - we're always busy developing new features to help improve your workflow, allowing you to work more efficiently to scale your telehealth business.
I look forward to showing you around Coviu!

Linzi Fine
Customer Success Manager