#17: Merry Christmas from Coviu
As the year comes to an end, we decided to share some of our great achievements with our customers. We've had more than a 240% increase in paying users over the last year and more than 200% increase in usage. And we're only just getting started with providing better workflows and clinician tools for healthcare video consultations.
Subject: "Merry Christmas from Coviu"
Date sent: 21st December 2017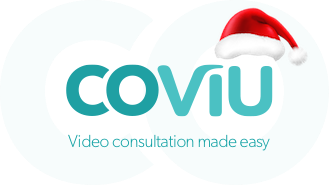 Thank you for an amazing 2017 — we wish you and your loved ones a very Merry Christmas and a Happy New Year!
As we look back on 2017, we can't but be amazed about everything we've achieved together. Coviu has come a long way and we'd like to give you a sneak peek into some amazing features we're launching for you in 2018.
Looking back
More than 9000 consultations were held over Coviu in the last year with more than 15% month-on-month increase — a huge achievement both for you — our customers — and us.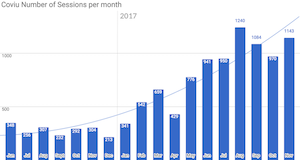 Coviu's focus now being on healthcare, this means we've enabled our customers to make a real difference to thousands of lives needing help with mental health, physical fitness, speech therapy, dietetics, and many other specialist areas.
Coviu is fast becoming the best choice for online healthcare consultations, because we simplify workflows and empower clinicians with the best digital tools.
Client Waiting Rooms
We're making a new features available to you today: waiting rooms for your clients to wait in while you're finalising consultations with others.
So now, if your clients turn up early for an appointment, they won't have to keep knocking on your door until you're ready.
Several of our users already enjoy this feature and we have received positive feedback.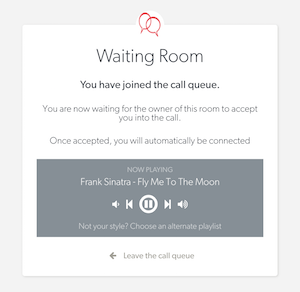 You, too, can now activate it for your account: Once logged into Coviu, go to https://coviu.com/addon and install it for your Professional account for a small extra monthly fee.
More information and a tutorial video are at https://help.coviu.com/faqs/keep-your-guests-waiting-with-music .
Looking forward
Other features we are ready to launch in 2018 are:
Online video appointment bookings — you can place a button on your Website and let your clients book their consult with you themselves, reducing your management overhead massively.
Integrations with practice management software — healthcare practices use software to manage appointments and patient health records. Video consultations need to integrate with those existing patient management tools. Coviu now has such integrations with HealthKit, Nookal and Acuity Scheduling and next year will see us release several more.

Custom branded mobile applications for your practice — so your clients can search for your practice's name in the Apple and Android app store rather than for Coviu to book appointments and meet you online.
In addition, we are preparing many in-call features for release in 2018, including consent forms, transfer of large files, and group session capabilities.
Upcoming pricing changes
As we prepare new products, features, and bundled solutions for you, we will need to revise our pricing.
Existing customers will remain on the current plans — we've really appreciated you as early users and want to continue to give you the early subscriber discount. There's no change for you.
From February next year, new sign ups to the professional account will be charged at $19.99 a user a month.
So, if you sign up before February, you have a final chance to reserve early subscriber discounts!
There's lots to look forward to in 2018!
Happy Holidays from all of us at Coviu!
— -
Don't hesitate to contact us at support@coviu.com should you have any questions.