#16: YouTube-style embedding of video consultation rooms
In the past, there has not been much of a touch point between running a Website and communicating with others via video. With WebRTC, the two worlds are starting to merge.
We've experienced this with many customers asking us for simple ways of adding their Coviu rooms to their Website.
Most people are not developers, so when it comes to publishing new things to their Website, simple cut-and-paste is the norm. That's what we have now also introduced into Coviu.
Subject: "Coviu update: YouTube-style embedding of video consultation roomsn"
Date sent: 11th September 2017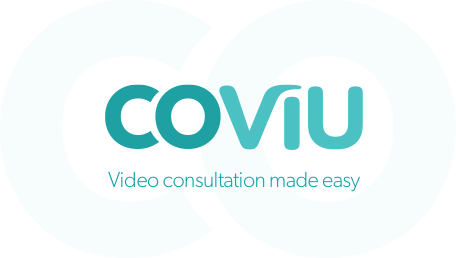 Hi user,
Did you know that when YouTube launched in 2005, it was the first Website to make available code snippets to re-publish a video on other Websites? Well, today we're stepping into YouTube's shoes and are launching code snippets to re-publish your video meeting rooms on your Website.
You can find sharing options and code snippets on the room pages in your Professional/Team account via the new "Share" button: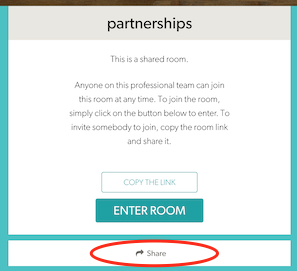 Here are the three ways in which you can share a Coviu room:
1/ Copy the Link
You are already familiar with this, because it's what you do to invite somebody to the room. This is easy and provides the click-to-call functionality that Coviu has been built around.
2/ Create a button
You can also put a link to a Coviu room onto your Website — maybe on a password-protected page that you can share with others. We've now made it really simple to create code for a custom button with colors of your choice, similar to how you can customise the colors of your video rooms. Once designed, you just need to click on the field with the code and paste it into your Web page.
This is actually the simplest way to share your video rooms with your clients: via a button on your Wordpress or Drupal or Joomla or Wix or Weebly or Squarespace or… Website! You'll be just a click away.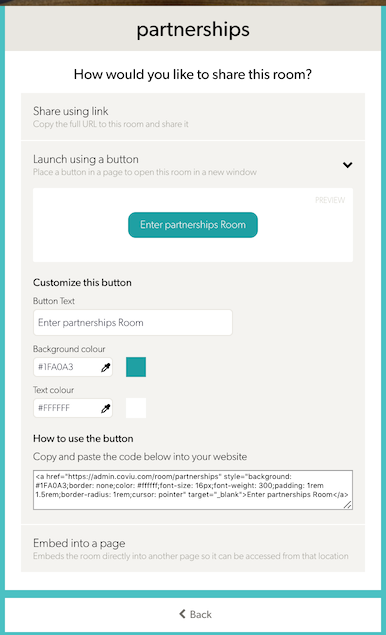 3/ Embed the Coviu Room directly
If you have a Webpage in which you'd like the Coviu room itself to appear rather than just a link to it, then you want to use the Embed Code. You will want to use a height that is appropriate for your Webpage, then click on the code snippet and paste it into the page.
Now, any time that somebody is loading that page, it will also be loading the Coviuroom. This is probably best used behind some other Website functionality that is not directly accessible to un-authorized users.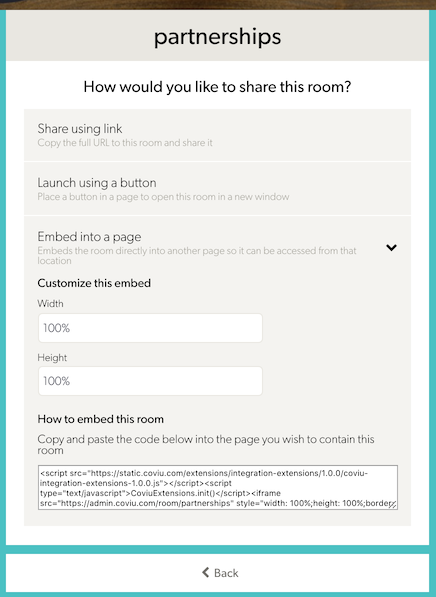 Note that these sharing features are only available on Professional/Team accounts.
Coviu has another means of sharing video rooms, which is through our API: there, we allow our customers to create appointment-related rooms that only exist for the duration of the appointment. Shhhh… here's a little secret: appointment booking functionality is also coming to Professional accounts soon! Keep your eyes open!
For now, have fun embedding your video rooms into your Websites to make it so much easier for your clients to join you!
— -
We love to get your feedback — simply email silvia@coviu.com or support@coviu.com.

See you on Coviu!