#9: Coviu comes to all platforms
For many months, we had been working on getting Coviu to work on iOS. Finally we were ready — and with it we were also ready to launch on all other platforms: Android, Windows Desktop, Mac Desktop and Linux Desktop.
For those with a technical interest: our special approach to making Coviu work on iOS built on Cordova. Rather than develop a custom app, we were going to extend Apple's browser rendering engine — Webkit — with the necessary adaptation layer to offer the WebRTC API and then "just" make the Coviu Web App work on iOS. That hit all kinds of complications — not least a need for decoding and rendering efficiency of video — but we overcame it all. Our iOS video quality is really quite exceptional making use of hardware for decoding and rendering where possible.
The different platforms all pose special challenges so some custom features are also necessary, e.g. iOS doesn't allow access to more than one camera at a time, screensharing is not useful on mobile, while on the other hand the desktop applications can actually provide additional functionality that the browser or mobile applications can't. The Coviu UI adapts nicely to the different restrictions and opportunities, and continues to provide a seamless experience.
Subject: "Coviu comes to all platforms".
Date sent: 28th July 2016.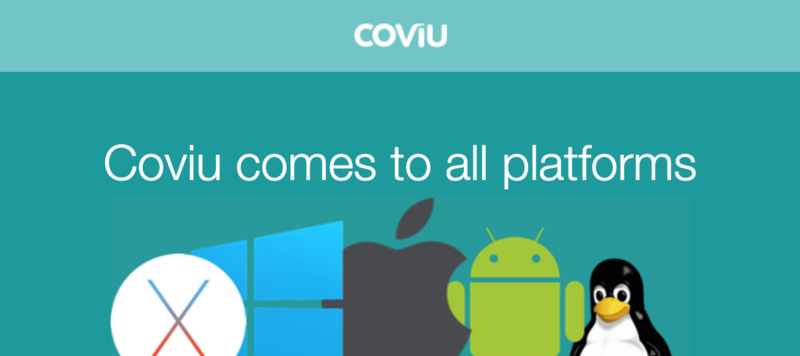 Hi user,
Today we have some really special news to share with you. For months, we've worked really hard to implement support for Coviu on all major desktop and mobile platforms and now, we can give you first access to Coviu apps.
Whether you have an Android phone, a Windows tablet, or an iPad — we now have you covered. All apps offer the same features as the Web application, including document sharing, annotations, whiteboards, text chat, and — where possible — screensharing and video sharing.
Get the app that you need for free from the Coviu downloads page.
Coviu on Mobile and Tablet Devices

On your iPad or iPhone, install the iOS app and initiate or join Coviu calls from anywhere where you're online. You will be amazed by the high quality of the video and the ability to authenticate with your fingerprint.

Coviu also works on Android, where you have the choice between using the standard Chrome Web browser or our native Android app. The app makes better use of the available screen real-estate.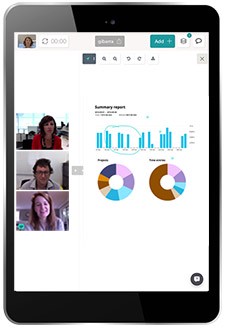 Coviu on Desktop
When you work a lot in Coviu, you might find a desktop app more useful than constantly keeping a browser tab open. We have you covered on Windows, Mac and Linux.
Install your preferred Desktop app now: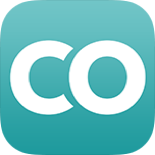 — -
Your feedback is always welcome and acted on — you can simply email support or me at silvia@coviu.com. We're also happy to join you in a Coviu call to walk you through the interface on any of these platforms.

See you on Coviu!